It's almost 6 p.m. on the East Coast and results are going to start trickling in. To keep track of when results come from where, check out this handy New York Times interactive map.
What's happened so far:
—Donald Trump got booed at his polling station. Then, he tried to sneak a peak to see if his own wife was voting for him.
—There are lots of long lines, which means higher voter turnout. In New York, machines have broken down in some stations and people have waited as long as five hours. Be grateful for mailer voting in Washington State.
The line this morning at my polling place on the upper west side. pic.twitter.com/KSY6EyxQNa
— Miles Doran (@MilesDoran) November 8, 2016
—Trump has already filed a lawsuit and lost it in Nevada. Trump complained that people had been allowed to vote past a deadline last week and wanted the records. The judge said nope.
—Two Broward County poll workers have been fired. Tonya Edwards, spokeswoman for the elections office in Broward told the Sun-Sentinel that "[The poll watchers] had to be let go because they were interfering with the voting process," Edwards said. "And the clerks were not adhering to the procedures set forth by our office, so they had to be let go."
—Slate's new Turnout Tracker is predicting a runaway win for Clinton in Florida. The website is trying out a novel way of measuring election results by looking at the data for people who've already voted and basing the results on previous voting patterns. It's real-time guesttimating, but based on their numbers, Clinton is ahead in Florida, New Hampshire, Pennsylvania and Wisconsin.
—Those worries about people coming to polls with guns and shooting weren't unfounded. One person dead, multiple people shot near a polling station in Azusa, near Los Angeles.

Follow the results on our own Results Page. Join us in a few hours at the ShowBox where we will be having a party. Or read Slog for updates on all the local and national races from our correspondents. If you haven't voted yet, WHAT ARE YOU WAITING FOR? Drop in a drop box, and use our Cheat Sheet.
Sponsored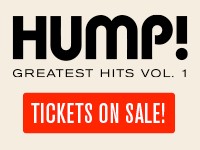 What are YOUR favorite HUMP! films? Start with HUMP! Greatest Hits, Volume One! Relive the memories!