11:38 P.M.: THE AP IS PUTTING WISCONSIN IN TRUMP'S COLUMN. HE'S PRESIDENT.

.@AP Gives Donal Trump Wisconsin putting him at 276; electing Donald Trump as President of the United States. #ElectionNight #YouDecide 2016 pic.twitter.com/nsyxIyHOs4
— Matthew Wood (@FOX19MattW) November 9, 2016
11:32 PM: I THOUGHT THE US WOULD NEVER BECOME A ZIMBABWE. I WAS WRONG
Sponsored

Join PNB for a timeless tale of holiday adventure performed by PNB's amazing dancers and orchestra.

11:13 PM: "THIS IS NOW A DEMOCRATIC DICTATORSHIP"

11:10 PM: A MODEST PROPOSAL
We build a wall along our eastern border and make Idaho pay for it.

10:50 PM: SEATTLE GIVES HOTEL WORKERS NEW PROTECTIONS BECAUSE THIS CITY STILL VIEWS WOMEN AS PEOPLE
City Initiative 124, which will offer hotel housekeepers panic buttons and new ways of reporting sexual harassment and abuse on the job, has passed with 77 percent of the vote.
"As a former hotel employee and lawyer for victims of workplace harassment, I've witnessed, first-hand, women shattered, deflated, and without hope," Seattle City Council Member Lorena González said in a statement. "When they had the courage to stand up to sexual assault or sexual harassment, they were fired, threatened, or subjected to even worse treatment. Initiative 124 is the solution those women have been waiting for."

10:25 PM: YOU KNOW WHAT HURTS THE MOST? PART MCMLXIV
Trump winning isn't evidence of democracy failing. It's evidence of democracy working.

10:18 PM: THE ONLY GOOD NEWS TO BE FOUND IS IN WASHINGTON STATE
Jay Inslee, Cyrus Habib, Pat McCarthy, Hilary Franz, Nicole Macri, Pramila Jayapal—most of the SECB's picks had a very good night. Washington State also voted to increase the minimum wage, mandate paid sick leave, and create a new gun safety measure (but rejected public campaign financing). The controversial carbon tax—Initiative 732—went down hard. And Republicans have lost at least one vulnerable state senate seat, though the full balance of the state legislature remains unclear. Find the full state results here.

10:04 PM: NOT MY WORDS
This election is a total sham and a travesty. We are not a democracy!
— Donald J. Trump (@realDonaldTrump) November 7, 2012

9:55 PM: YOU HAVE A TIME MACHINE
Do you go back to the '20s and kill Hitler, or go back to the early '00s and find a way to get them to hire Ted Turner to host The Apprentice?

9:50 PM: YOU KNOW WHAT HURTS THE MOST? PART XXVII
The fact that Newt Gingrich had a greater influence on this race by smearing Hillary Clinton in 1995 than any of the indisputable facts about Trump's colossal human flaws did in 2016.
9:49 PM: SOME GOOD NEWS FROM WASHINGTON

#BREAKING Gov. Inslee wins re-election via @NBCNews #waelex https://t.co/ngN2GNLY2j pic.twitter.com/qrrBUyiSPK
— KING 5 News (@KING5Seattle) November 9, 2016

9:46 PM: SENATE RACE STILL FUCKED AND GETTING MORE FUCKED AS TIME PASSES
In Penn, Toomey's pulling ahead by a point. In NH, Kelly Ayotte is staging a steady comeback and pulling ahead by half a point. In Missouri, Blunt is ahead by a comfortable five. The Senate is looking long gone.

9:38 PM: ANOTHER WORD—WHY?
The 5 top #ElectionNight Merriam-Webster searches: fascism, bigot, nerve-racking, socialism and deplorable https://t.co/xbqEiDCJHe
— Hollywood Reporter (@THR) November 9, 2016

9:33 PM: THE ENTIRE ELECTORAL MIND FUCK IN ONE GRAPHIC

9:29 PM: ST3 WINS
Fucking fuck, y'all. The SECB finally found some good fucking news and you're gonna need it.
Sound Transit 3—the biggest light rail measure ever put before voters here, a light rail measure that promises to radically reshape our region—has passed with 55 percent of the vote across three counties.
"Our region will be positively transformed forever," Transportation Choices Coalition Executive Director Shefali Ranganathan told an enthusiastic crowd.
"We are saying yes to a better economy," said King County Executive Dow Constantine, "yes to a cleaner environment, yes to a better quality of life."
The crowd here was happy but still palpably on edge from the national results. Soon, Seattle Mayor Ed Murray took the stage to praise ST3 and then offer his best (if awkward) attempt at consoling the crowd on the national front.
"Regardless of what happens, tomorrow morning Seattle wakes up the same city," Murray said. "Seattle wakes up as a city that welcomes immigrants... wakes up as a city that does not have a religious test."

9:26 PM: THE MOOD AT WALKINSHAW'S PARTY IS FOUL
.@BradyWalkinshaw isn't officially conceding yet, but he acknowledges a "big gap" and congratulates @PramilaJayapal on a strong campaign. pic.twitter.com/Bk8ni66MYC
— Ansel Herz (@ansel) November 9, 2016
With CNN blaring from all sides and Trump leading, there are tears, there's a drunk, dazed person stumbling around, and there's a lot of emotional embracing at Brady Walkinshaw's party at the Canterbury House on Capitol Hill. This is more of a group therapy session than a party.
The results from the first King County ballot drop show Pramila Jayapal, always the favorite to win the seat to represent Seattle in Congress, with a massive 16 point lead over Walkinshaw: 57 percent to 41 percent.
Walkinshaw gave a quick and classy speech, thanking supporters and congratulating Jayapal on a strong campaign—though not officially conceding just yet. He called the results "disappointing" and acknowledged it's a "big gap." He said the two candidates always had much more in common than they disagree about. And he did not hesitate when asked whether he would fully support her in Congress, should she indeed win: "Yes, of course."
"We as a progressives, especially from this place, the Northwest," Walkinshaw said, "have an opportunity to make this country better."
Supporter Laura Bernstein told me her husband is supporting Jayapal. "There's a lot of divided houses and friendships over this race," she said cheerfully. "And we're going to have to get over that." (She said she fully expected Trump to win and is looking forward to organizing against him.)
Walkinshaw gestured to CNN and called what we're seeing nationally "scary," and people began filing out of the bar to head home.

9:22 PM: "WE WILL HAVE TO FIGHT FOR SOCIAL JUSTICE LIKE NEVER BEFORE"
Many high-pitched screams and chants of "PRA-MI-LA" when the first (AND VERY DELAYED) King County results dropped: Jayapal has shot decisively into the lead with nearly 58 percent of the vote to Brady Piñero Walkinshaw's 42 percent.
Jayapal took the stage in front of a packed room of her supporters and called the election a historic one.
"We are electing the first woman in the 7th District," she said, "and the first South Asian woman in United States Congress."
But Jayapal also acknowledged the night's increasingly likely odds that Donald Trump will win the presidency.
"If our worst fears are realized, we will be on a defense starting tomorrow," Jayapal said. "And we will need to fight not just to our progressive ideals, but to stop a disastrous rollback of mainstream progress in this country."
Jayapal continued: "We will have to fight for social justice like never before, and we will have to fight to protect our very basic and freedoms and rights as citizens."
"That is not the fight that i would have chosen," Jayapal said, "but I will fight it."

9:16 PM: FIRST LATINA WOMAN ELECTED TO THE SENATE
AP calls Nevada for Claudia Cortez Masto. This is a good sign for Hillary in Nevada, which is the last brick in her western wall. Take heart.

9:15 PM: SOMBER FACES AS THE CARBON TAX FALLS
Pre-8 PM: Audubon man speaks about his passion for birds and says he is tempted to block the presidential election reporting on the screen behind him. He seems to betray an utter lack of ability to link the national disaster of racism, sexism, and ignorance of massive proportions unfolding to the...birds.
Slightly less pre-8 PM: "This would be the nation's first carbon tax and we could set a national precedent!" one of the organizers of I-732 announces.
8:39 PM: 732 going down with only Snohomish and Douglas counties not reporting: "Whatever happens, we're gonna keep fighting for good climate policy. ...We won King County and that's a start. ... Let's get as close as we possibly can and use that to set the stage for more progress."
9:10 PM: 732 goes down 58-41%. No announcement. Just me checking the state web site. Earlier I talked to one of the organizers who said he agreed with critics of 732 that the initiative wasn't perfect. But he was so hopeful that climate change could begin to become a mainstream issue.

9:13 PM: IN THIS HOUR OF DARKNESS, I THINK OF TRUMP'S LIES AND CLINTON'S STRATEGY
91% of the things that Donald Trump said during this campaign were lies. I hate that "I'm going to win the presidency" is starting to seem like an outlier. We're still holding out hope in Michigan, Wisconsin, and Nevada.
This analysis is looking more and more right:.
Not a single HRC visit to WI after D primary, and just two between spring and last Friday in MI. https://t.co/27w7PUJOHp
— Ronald Brownstein (@RonBrownstein) November 9, 2016

9:13PM: WATCHING THEM SPECULATE ON TV
Really is like going to the dentist and having them go, "well, I suppose i could drill this one BZZZZT... orrrrrr maybe this one? BZZZZZZTZTZTZ but then again..."
Such masochism.

9:11 PM: ANYONE BUT A WOMAN. SERIOUSLY, LITERALLY, AMERICANS WILL ELECT ANYONE FOR PRESIDENT, BUT A WOMAN.
The most qualified candidate you'll ever see, however "cold" she may be or however "fishy" her actions regarding email, it really comes down to: women are bad, and any man is good. Any man, even a racist, hatemonger with zero qualifications is better than a person with a vagina.

9:11 PM: OKAY, NOT EVERYTHING AT THE WA DEMOCRATS PARTY IS TERRIBLE THANKS TO THIS GUY
We can be sure we know Porter will do his job as an elector. Unlike someone else.

9:10 PM: DEAR JOHNSON AND STEIN VOTERS
Looks like you were fucking wrong. A fucking gain.

9:08 PM: WHAT SHE SAID
Rachel Maddow: "Well, it is what it is. People go into this eyes wide open. If you vote for somebody who can't win for president, it means that you don't care who wins for president."
9:07 PM: IT'S REALLY NOT FUNNY

I follow a lot of comedy writers. I love them. I really do. But no more jokes.
— Clay Tarver (@cbtarver) November 9, 2016

9:06 PM: EVERYTHING'S TOTALLY FINE AT THE WASHINGTON STATE DEMOCRATS PARTY
One member of the SECB damn near had an anxiety attack when they walked into the fancy schmancy election parties at the Westin hotel in downtown Seattle. As soon as we walked in, the Racist Cheeto had just won Ohio. You could basically feel the room's collective heart shatter.
And things didn't get much better. The grand ballroom teemed with the nervousness of hundreds of progressive Washingtonians trying not to shit their pants about the early Trump-leaning election results. Or maybe that was just the sweltering heat inside the room—WHO KNOWS!
When WA Democrats' chair Jaxon Ravens took the stage, he called for the room to stay positive. "We're still trying to keep the hope alive, right?" he asked. Despite Ravens's sweet smile, he was met with weak applause.
It was like a human reenactment of this:
via GIPHY
After Ravens shuffled off stage—thank god, his "encouragement speech" felt like Dementor sucking the joy out of a room—a marching band honked and drummed its way to the front of the room. It was a nice distraction from what was to come.
Okay,not going to lie, I'm super into this marching band here at the WA Dems party #ElectionNight pic.twitter.com/8SGTj93dTG
— Ana Sofia Knauf (@asknauf) November 9, 2016
Senator Maria Cantwell and state auditor candidate Pat (Patrice) McCarthy, currently a Pierce County executive, took the stage shortly afterward. Both spouted off the usual "stay strong" and "stick together" sentiments to some mild applause, but most of the room didn't seem convinced.
Some voters closest to the stage nearly lost their shit when Congressman Jim McDermott, who represents the 7th Congressional District, took the stage. The nearly 80-year-old congressman is clearly beloved by his constituents. McDermott, who donned a massive bolo tie made of turquoise, was easily the highlight of the evening so far. He truly is The People's Grandpa™.
After McDermott, precious as he is, drawled on for a tad too long, the first statewide election results began rolling in. Governor Jay Inslee was losing 47 percent to former Port of Seattle Commissioner (and current evil doppelganger of the Colonel Sanders?) Bill Bryant's 53 percent.
Even more disheartening: The Secretary of State's race was incredibly disheartening. Voters Rights Act-supporting Tina Podlodowski (38 percent) was trailing behind incumbent Republican Kim Wyman (62 percent).
A small sliver of light: Early results showed that 52 percent of Washingtonians were supporting increasing the statewide hourly minimum wage to $13.50. Finally! Something good!
But the joy was short-lived. Donald "Rape Culture Incarnate" Trump won Florida shortly after.
BRB, this SECB member might fight their way to the front of the bar line.

9 PM: ON THE IMMINENT COLLAPSE OF FINANCIAL MARKETS
Will it be spun as a function of Trump's powerful anti-Wall Street message?

8:55 PM: BECAUSE ONE'S BRAIN NATURALLY GRAVITATES TOWARD WORST-CASE SCENARIOS
• The Obamas having to sit in the box with him on Inauguration Day.
• Secretary of State Newt Gingrich.
• Attorney General Giuliani.
• Poet Laureate Ray Stevens.

8:50 PM: EVERY POLLING PUNDIT GOT IT WRONG, INCLUDING THE NATES

Today Nate Silver wrote: Final Election Update: There's A Wide Range Of Outcomes, And Most Of Them Come Up Clinton
"Throughout the election, our forecast models have consistently come to two conclusions. First, that Hillary Clinton was more likely than not to become the next president. And second, that the range of possible Electoral College outcomes — including the chance of a Donald Trump victory, but also a Clinton landslide that could see her winning states such as Arizona — was comparatively wide."
Yeah, that's pretty wrong.
The other Nate (Cohn) at the Upshot wrote three days ago in an article titled, Clinton Has Solid Lead in Electoral College; Trump's Winning Map Is Unclear."

"Hillary Clinton has a consistent and clear advantage in states worth at least 270 electoral votes, even if the race has undoubtedly tightened over the last few weeks. But even that understates the challenge facing Mr. Trump's campaign: It's not at all obvious where he has his best chance of breaking through, making it harder for him to concentrate his efforts over the last days of the campaign."
Also, wrong. How is this race so close and why didn't they predict this? Even the polls aren't accurate.
Slate's Votecastr doohickey looks pretty fucking stupid right about now. They have Florida, a state just called for Trump, as being in Clinton's column.
Everyone should be fucking fired tomorrow.

8:38 PM: WATCHING THE STOCK MARKET FALL AT THE PRAMILA PARTY
The SECB has been trying not to throw up for the past hour. At the Pramila Jayapal party at Capitol Hill's Optimism Brewery, we are sitting on top of a keg, one of the only free spaces available, and refreshing both the King County Elections page, which is delayed, and results for the national election. Nothing is reassuring.
Among this crowd of progressives, we've started to transcribe bits of overheard conversations.
"I can't believe this is happening," one well-dressed woman told her friend.
"What is happening," her friend replied.
We got in line for a beer.
"It's going to work out," a man in a dark gray T-shirt behind us kept repeating. "It's going to go well."
When we moved back to the spot where we left our things, another man showed us the Dow on his phone. CNN was calling North Carolina for Donald Trump, and the stock market had plummeted 750 points.
"This is the scariest shit I've ever seen in my life," a young woman who looked like a campaign staffer remarked to a friend.
"It's like Brexit, isn't it?"
We're still waiting for King County results.

8:36 PM: JILL STEIN IS ALREADY SHIELDING HERSELF FROM CRITICISM
If this isn't a sign of a guilty conscience, I don't know what is.
There's a simple upgrade to our voting system that eliminates the "spoiler effect": it's called #RankedChoiceVoting. https://t.co/9W9ECAWOv0
— Dr. Jill Stein (@DrJillStein) November 9, 2016

8:28 PM: CALIFORNIA AND NEVADA POISED TO APPROVE RECREATIONAL MARIJUANA, BUT NOT ARIZONA
A dim, dim silver lining out of California: With 8 percent of votes reporting, 55 percent of Californians say yes to recreational weed, 45 percent say no. In Nevada, only 2 percent of the vote has been counted, but 54 percent of voters there say yes to recreational weed, with 46 percent saying no. But Arizona's not having it. In Arizona, only 47 percent of voters say yes, while 53 percent of voters say no. Just a reminder: More white people smoke weed than people of color, and yet people of color get locked up waaaaaaaaaaaaaay more for marijuana than white people.
8:25 PM: WASHINGTON STATE RESULTS STARTING TO COME IN
Don't believe anything you see until King County has reported, but we're starting to see results in statewide races in Washington. Again: If you see Republican Bill Bryant winning the governor's race right now, or something like that, it's because King County (and others) haven't reported yet. Hang on.
Here's our Stranger statewide results page.

8:21 PM: FOR WHAT IT'S WORTH, ALL THE DEMOCRATIC SENATORS IN THE WEST HAVE WON
NYT is calling Washington for Patty Murray (woo!), Oregon for Ron Wyden, and California for Kamala Harris. Nothing moving in Pennsylvania. Missouri looking worse, in that Jefferson County's all in and has gone red. KC's half in and Clinton's leading by double but there's a lot of red counties that aren't even reporting yet.
this is the best episode of Drunk History ever
— Matt Oswalt (@MattOswaltVA) November 9, 2016

8:19 PM: THE MAP THAT GETS US TO A TIE
Okay... Say Hillary does win Michigan but loses Wisconsin. And say, at the same time, she manages to win New Hampshire and both districts of Maine. This gets us to a 269-269 tie, which throws the election into the hands of the Republican-controlled House of Representatives. Which probably isn't much better than an outright Trump win.

8:11 PM: WE ASKED THREE PEOPLE IN THE CROWD WHAT THEY WILL DO IF TRUMP WINS

8:11 PM: THIS SHOULD COME IN HANDY
Voters in Florida legalize medical marijuana and voters in Colorado legalize physician-assisted suicide.

8:07 PM: I WOULD JUST LIKE TO USE THIS MOMENT TO SAY:
Fuck you, James Comey.

8:05 PM: THERE'S A REASON THEY CALL IT THE BEST COAST
California, Washington, and Oregon are all predicted for the Clinton column by CNN, which has the number at 209 electoral votes for Clinton to 172 for Trump.

7:54 PM: MSNBC CALLS WISCONSON FOR RON JOHNSON (R)
Wisconsin was, as the pundits are now saying, supposed to be a pretty easy take for the Dems.

7:57 PM: STRESSED OUT AT THE PRO-ST3 PARTY
One member of the SECB was too fucking stressed out to keep watching those presidential results and blogging in front of a couple hundred people, so she took her self-driving car to the Sound Transit 3 party, hoping the mood there might be a little less anxious. No luck.
The crowd at the Crocodile is watching the presidential election results roll in with the same hyper-nervous energy we left back at the Showbox. "I have whiskey in my glass and that's all the matters right now," one city hall staffer told the SECB right after the SECB word-vomitted fears about six terms of President Trump on said city staffer.
When the SECB caught up with Shefali Ranganathan, executive director of the Transportation Choices Coalition (which has been running the pro-ST3 campaign), Ranganathan gave us the classic politician's line: She said she's feeling "cautiously optimistic."
Ranganathan said the Mass Transit Now campaign has called 255,000 voters. "When we're on the phones and out in the streets," she said, "people are tired of doing nothing [about traffic] in our region."
Ranganathan has worked on tons of transit campaigns, including the last Sound Transit measure in 2008 and last year's biggest-ever city levy for transportation, Move Seattle. She says the campaign for ST3 has been dramatically different because of one thing: Light rail is open in our city.
In 2008, Ranganathan said, "we were selling a vision." Now, "we're not having to convince people that light rail is a good idea."
As the SECB was outside The Crocodile stress-smoking—even though the SECB doesn't smoke because smoking is dumb and DOES NOT MAKE YOU LOOK COOL—Seattle Mayor Ed Murray arrived, looking as confident and fake-friendly as ever. The SECB, too stressed out to function, did not say "hi."
The first local results drop at 8:15.
Per tradition, Ranganathan isn't drinking yet. If the results come in looking good, she'll have a vodka soda. And if they don't? "I'll be doing shots."

7:54 PM: THERE IS NOW A 95% CHANCE THAT THE DEMOCRATS WILL NOT FLIP THE SENATE
Well, there goes that idea.

7:54 PM: DETROIT FREE PRESS CALLS MICHIGAN FOR CLINTON
Hang on, people. If she can hold Wisconsin and grab Nevada, she's got this.

7:39 PM: THANK YOU, GRANDMA, FOR THIS TRUTH
"Praying or freaking out is not going to change anything. It's time for cool heads to prevail."

7:38 PM: OFFERED WITHOUT COMMENT

7:36 PM: HILLARY TAKES COLORADO
Michael Bennet (D) won the Senate as he was expected to. At least the projections haven't been TOTALLY wrong this evening.

7:35 PM: SHE HAS TO WIN NEVADA, BASICALLY
If Hillary can take Nevada, then she can take the country. If Ohio and Florida go to Trump, then Nevada is the great hope of the country having a Democratic president. That makes a judge's decision earlier today to throw out Trump's case to "preserve and segregate ballots from voting machines in four early voting sites in the Las Vegas area where Latino voters showed up in record numbers," very, very, very important.

7:32 PM: DISPATCH FROM GRANDMA IN BOCA RATON, FLORIDA
People of Florida, listen to my grandmother:
How did it feel to vote for a woman president for the first time in your life?
I never thought much about Hillary being a woman. As much as I like her, I think she'd make a great president. What I love about Hillary is she's a hard worker. She's got a lot of experience. She's level-headed. I think Trump is a complete moron. He's uncouth, he's got no political experience. He's immoral.

7:30 PM: AT BRADY WALKINSHAW'S PARTY, PEOPLE CANNOT BELIEVE WHAT THEY ARE SEEING
Outside the frame of this shot, a woman has her hands on her head, and the man next to her is clasping his hands together in a praying gesture. A man in a checkered shirt to my left is nervously chewing on his nails. There are a few dozen people here. Everyone seems to be glued to their phones while the CNN anchors blather. Some of Walkinshaw's supporters are hoping, at the very least, that he pulls nearly even with Pramila Jayapal tonight and that we won't know the outcome of the race until tomorrow.

7:26 PM: WELL, AT LEAST HILLARY WON VIRGINIA
The state for lovers apparently went for Clinton, which Fox News called 30 minutes ago and MSNBC just called a few seconds ago. She still could lose the presidency. But at least she has Virginia.

7:24 PM: THERE'S A FOURTH QUARTER IN ELECTIONS, RIGHT?
Maybe this is like a Seahawks game, where we are in a mega-stressful nailbiter and we come back from behind to "win" and score a game-changing touchdown? Right? That can still happen, if she loses key states like Ohio and Florida, but wins places like Nevada?

7:20 PM: IT'S COMING DOWN TO MICHIGAN AND WISCONSIN
For those of you who are (like us) now furiously flipping states around on "270 to Win," try this: Give Trump Florida. Give him North Carolina. Give him Ohio. Give him New Hampshire.
Now, take a deep breath. Give Hillary Michigan, Wisconsin, and all the rest of the states she's supposed to win. Unless we've had too many shots... She gets to 270. COME ON MICHIGAN AND WISCONSIN.

7:19 DISPATCH FROM GRANDMA RENEE IN BOCA RATON, FLORIDA
At this point in the evening, I have decided to start talking to my grandmother for comfort and reassurance. She's a no-nonsense 6-foot tall Jewish woman who takes absolutely no shit from anybody and who sticks around for hurricanes.
I asked her what the scene is like in Florida and she says:
The results are not in for Florida but they're going to be coming in from The Boondocks and this is where you have to watch all the Rednecks

It doesn't look too great. I'm totally surprised. We still have a way to go. Surprisingly enough a lot of the people here are for Trump.

7:16 PM: WORLD MARKETS REACT
They're tanking—you know, tanking along with our democracy, our futures, and our climate. Also, too: racial justice, immigrant rights, LGBT rights.

7:09 FUCK FUCK FUCK RON JOHNSON IS CRUSHING RUSS FEINGOLD IN WISCONSIN and BURR (R) JUST WON NORTH CAROLINA
So, with 35% reporting, Johnson is ahead of Feingold, but the blue counties are underperforming and a lot of the red counties haven't even started reporting yet.
Doesn't look like the Democrats are going to flip the Senate right now. They have Illinois, but they were hoping to nab Nevada, North Carolina, or Missouri. NC went to the Republican incumbent and Missouri is reddening. Jefferson County is looking red, and Missourians were hoping that Jefferson County would not go red.
I have just sobered up.

7:08 PM: RECREATIONAL WEED LOOKS LIKELY TO PASS IN MASSACHUSETTS AND MAINE
The Stranger doesn't have any "analysts" or "number crunchers" or "people good at math" looking at these numbers, but with 30 percent of the vote counted, 53 percent of voters in Massachusetts say yes to doobies, and 47 percent say no. The margin is exactly the same in Maine. With 21 percent of the vote counted in Maine, 53 percent say yes, 47 percent say no. There's no data yet on California, Arizona, or Nevada, which also have recreational weed on the ballot.

7:07 PM: A FEW THINGS THE SECB DIDN'T WANT TO HEAR TONIGHT
"It's great news for Donald Trump so far." — Jake Tapper on CNN
"Trump is ahead in the popular vote by more than a million votes." — Wolf Blitzer on CNN
"We're fucked, man. It's over. She's going to lose." — the guy at the next urinal

7:01 PM: HOW'S EVERYONE FEELING RIGHT NOW?
Ivana: "I'm from Argentina and this is unbelievable for me. I can't understand how people vote for Trump. It's crazy for me. The U.S. is a country with lots of immigration. Trump is a very [disrespectful] person when it comes to that!"
Tricia: "This [party] is my third stop. Right now, walking in here, it felt very depressed," she said. "When we walked in, we saw Ohio on screen and it was pretty grim. There's some heaviness in my heart right now."
Spencer: "I have mixed emotions because I just saw that Gary Johnson won a county somewhere. My home County in Michigan is usually Democrat, but it just went Republican."
Anna: "I'm nervous, but after they showed the New Hampshire results with a 72 vote difference, it's proof that your vote fucking matters!"

6:47 COLORADO JUST LEGALIZED ASSISTED SUICIDE
If it weren't already semi-legal here, Stranger staffer Kim Selling, Gillian Anderson, and me would be seriously consider a move to Colorado to get REALLY Rocky Mountain high.

ONE MEMBER OF THE SECB HAS AN ESCAPE PLAN
This just in from a good friend in Canada:
"It's uncomfortably close. If it all goes to shit, you have a place to stay in Canada."
Do you have a friend in Canada? If you don't, you might want to get one.

6:42: I APOLOGIZE FOR TURNING AWAY BRIEFLY FROM THE SENATE RACE TO LOOK AT THE PRESIDENTIAL RACE WHICH IS NOT DOING SO GOOD OH MY GOD WHAT IS HAPPENING
This shit:
How the @nytimes election forecast has changed throughout the night... pic.twitter.com/m0MR7Q9DEz
— Annalyn Kurtz (@AnnalynKurtz) November 9, 2016
Is not helping the Dems flip the Senate.
6:41 PM: TWITTER SAYS, WTF AMERICA, WTF
Chilling fact that you can literally insult and degrade every subset of the American public and they will still vote for you #ElectionNight
— Brandon Cloud (@theclobra) November 9, 2016
America right now. #ElectionNight pic.twitter.com/RyH9aU4oPi
— Secular Talk (@KyleKulinski) November 9, 2016
Clinton possibility crashing from 80 to 54 percent via @nytimes - See it https://t.co/bzSWocfsnI pic.twitter.com/yIuYTRYaYL
— David Beard (@dabeard) November 9, 2016
In case you were wondering, it's time to panic https://t.co/IjZC6Xl1zX
— Matt O'Brien (@ObsoleteDogma) November 9, 2016
Does your third party protest vote still feel worth it when you look at these margins? #ElectionNight pic.twitter.com/wKj9B7jzAy
— Nasty Silverwoman (@LJSilverman1) November 9, 2016

6:36 PM: SECB FINDS DISTRACTIONS IN CROWD AT SHOWBOX
Instead of looking at the distressing/depressing news on the TV—Trump ahead in Michigan, New Hampshire, Florida—the SECB is looking at the pretty, long-haired boys in the crowd. Enjoy.

6:30 CHARLES MUDEDE, IN A MOMENT OF DESPAIR, HAS WALKED OFF THE STAGE TO FIND SUCCOR
I miss you already, my stagemate, my king.

6:29 DAKOTA ACCESS PIPELINE DRILLERS SAY THEY WILL DEFY OBAMA ORDER, DRILL UNDER THE MISSOURI RIVER IN TWO WEEKS
Energy policy has barely made a blip on the presidential candidates' radar this election. It's too bad; now it looks like the company behind the most controversial energy project in the country is suddenly declaring that it will defy Obama administration orders and drill under the Missouri River in two weeks without a permit. I'm talking about the Dakota Access pipeline, of course, which has sparked an unprecedented movement of US tribes and non-Native allies occupying US Army Corps of Engineers land in rural North Dakota. So where are the candidates on this issue? Trump has nonsensically fashioned himself as a champion of coal, and Clinton released a mealy-mouthed and noncommittal statement on Standing Rock last month.

6:09 NYT CALLS SEVERAL STATES FOR REPUBLICANS THAT WE ALL THOUGHT WERE GOING TO GO TO REPUBLICANS
First of all, Chuck Schumer has won New York. That's good but expected news.
John Hoeven won North Dakota, John Thune won South Dakota, and Jerry Moran won Kansas.
Still nothing matters.
6:15 PM: TOO MANY STATES TOO CLOSE TOO CALL
The early giddiness we all had when it looked like Florida and Ohio and Texas were all tilting Clinton has worn off. The room is now a lot more anxious, as Trump takes the lead in Florida, which will likely grow more and more as the votes that were counted early on were from Dem-leaning counties. We go through this ever four years, biting our nails, wondering how close it's going to be and marveling at how divided we are. But the fucked up thing is that THIS IS NOT A NORMAL ELECTION. A racist reality TV star who was a fucking born millionaire is THIS CLOSE to an insanely overqualified woman. Even if she wins in a pinch, we should all be mortified that we came so close to electing a fucking Fascist windbag. We should all be ashamed of ourselves, embarrassed on behalf of our county. It is unacceptable. And this is why, as Sean Nelson says, Trump has already won. Trump Dread has been unleashed and it is a monster that is here to stay.

6:13 PM: HERE'S KRUGMAN ON A TERRIFYING NIGHT SO FAR
A terrifying night, and not just because Trump might win. It turns out that there is a deeper rage in white, rural America than I knew 1/
— Paul Krugman (@paulkrugman) November 9, 2016

6:08 PM: HOW ARE YOU FEELING TONIGHT?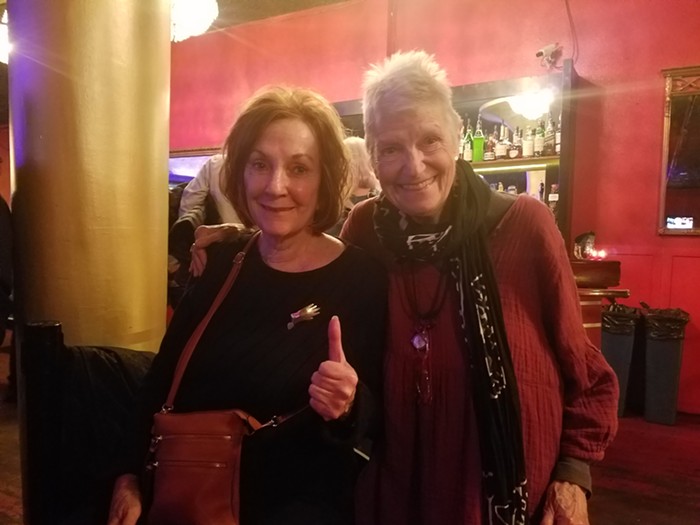 Mary: "I'm a woman and I'm 82. To see a woman be elected president, is so important to me. I'm so thrilled!" she said. "She shattered the glass ceiling. It's going to be hard for her with all those Republicans though."
She added: "I was always a Hillary supporter. Years and years ago, I'm a Democrat because I'm pro-choice. One in three women have had an abortion. I happen to be a woman who hasn't had one, but I've always supported them!"

6:06 PM: RED STATES, BLUE STATES, ONE SHOT, TWO SHOTS

So... red states are coming in strong for Trump, while way too many blue states still "too close to call." It's going to be a much longer night than we expected. The SECB hasn't reached the pants-shitting stage of panic yet, but several members of the SECB have entered the earliest stages of panic, i.e. the shot-slamming stage.

6:06 PM: MSNBC CALLS ARIZONA FOR JOHN MCCAIN (R)
Ah yes, John McCain, the man who endorsed Trump even after Trump insulted him for being a POW: "I like people who weren't captured," Trump said.
But still, no surprise.

6:05 PM: 1 DEAD, 2 INJURED AFTER SHOOTING NEAR CALIFORNIA POLLING STATION
As if this election wasn't terrifying enough already, a gunman opened fire near a polling station in Asuza, Calif. this afternoon, killing a man in his 70s, The Los Angeles Times reports. Two other victims were airlifted to a nearby hospital. As the gunman fled on foot, he use an assault rifle with rapid-fire capability to "fire at least 20 shots at police," the newspaper reports.
The gunman is still at large.

5:59 PM: RECREATIONAL WEED LEGALIZATION IN MASSACHUSETTS AND MAINE TOO EARLY TO CALL
With 5 percent of the votes counted in Massachusetts, the votes are 50 percent yes, 50 percent no. With 3 percent of the votes in Maine counted, the votes are 53 percent yes, 47 percent no.

5:53 CNN CALLS INDIANA FOR TODD YOUNG (R)
Todd Young is a red young man swimming in red state that has a serious HIV problem due to intravenous drug use (cheap heroin), and I'm sure he's the kind of Republican who is sensitive to those kinds of issues oh wait no he's never talked about it he's just a regular Republican gun nut taking advantage of a vulnerable constituency.

5:56 PM: NBC CALLS A REPUBLICAN HOUSE MAJORITY
NBC is calling the House. It goes to the GOP. That was expected. It is 200 to 235. The GOP is in force in the moment. Let's turn back to the presidential election, which has become a nail-bitter.

5:47PM: NYT CALLS ALABAMA FOR RICHARD SHELBY (R), MARYLAND FOR CHRIS VAN HOLLEN (D) AND CONNECTICUT FOR RICHARD BLUMENTHAL (D)
No surprises there.

5:44 PM: TRUMP LEADING IN VIRGINIA
Clinton in currently trailing in Virginia by a semi-significant number: Trump is at 50%, Clinton is at 45% with 63% of counties reporting. Lots of votes left to be counted in parts of the state where Clinton is expected to do well. But Virginia wasn't supposed to be close. Clinton's running mate, Tim Kaine, is the junior US Senator from Virginia, and the state's former governor. If they don't take Virginia... it's going to make Clinton's choice to go with Kaine instead of, oh, Elizabeth Warren look like a mistake.

5:38 I REALLY HOPE JASON KANDER WINS MISSOURI, AND SO SHOULD MISSOURIANS
Polls are about to close in Missouri, and I really kinda hope that Kander joins Claire McCaskill so that the state will have two Dems in the senate.
Now listen, I don't like this kinda shit at all:

But Kander is pushing for background checks in a state that just passed a law that lets you buy a gun WITHOUT HAVING A GUN PERMIT. The state has also passed a voter ID law, a stand your ground law, and, oh yeah, there's this blatant attack on the poor:
SB 608 allows doctors and hospitals to fine Medicaid users if they show up to the emergency room and are determined to not have an emergency. It allows them to fine the poorest people in our state if they miss a doctor's appointment.
Stay safe my brothers and sisters and nonbinary family members.

5:32: LET'S CHECK IN WITH SOME PARTYGOERS

How are you feeling tonight?
Harish: "I'm excited to see if it's going to be a tightly contested election or if she's going to win be a landslide." He said he was hoping for the latter.
Shreya: "I'm excited to see her win! She's the most qualified person to run ever. She's probably the best representative of the changing demographics [in the U.S.]," she said.
Partha: "I'm kind of excited, kind of nervous. It's my first time to vote and it's crazy that it's this close. I'm 21 so I couldn't vote in the last one," he said. "I've always been a Hillary supporter. She's the most qualified for the election since she's always been in politics."

5:27 ORLANDO SENTINEL CALLS FLORIDA FOR MARCO RUBIO
Sorry, Florida. The guy who only ran for the Senate to save a shred of dignity after losing to a dissembling, xenophobic / greatest threat to democracy since WWII—and badly—will continue to push his patented "free market solutions" down your throat.

5:26 PM: MEDICAL MARIJUANA PASSES IN FLORIDA—BY A LANDSLIDE
The state of Florida appears to be catching up to Washington State circa 1998! Look at that! Florida's Amendment No. 2, with the catchy title "Use of Marijuana for Debilitating Medical Conditions," has 70.99 percent approval. Not all of the votes in Florida have been counted yet, but only 60 percent approval was required to pass it. It's going to pass.
5:22 PM: FACEBOOK LIVING THE PARTY AS THE RESULTS ROLL IN
Florida keeps swinging back and forth and Dan is freaking out.
5:18 PAY ATTENTION TO THE GOVERNOR'S RACE IN NORTH CAROLINA
According to ABC exit polls from North Carolina, seven out of 10 voters reject HB2, a piece of legislation also known as the "bathroom bill." HB2, enacted earlier this year, discriminates against trans people from using the bathrooms in which they feel safe. There's not an actual referendum on HB2 tonight, but the issue holds huge significance for the governor's race. North Carolina Governor Pat McCrory supported HB2, which is increasingly looking like a political miscalculation. Right now, exit polling shows McCrory at either a slight lead or dead even with his Democratic opponent, North Carolina Attorney General Roy Cooper.

5:17 WHERE REPUBLICAN SENATORS IN TIGHT RACES STAND ON TRUMP
The basic rule: if the state was heavy read, the Republican senator supported Trump.
Wisconsin
Johnson pulls a Mitch McConnell and says he'll "support the Republican nominee."
Pennsylvania
UNDECIDED. Toomey is those idiots who said he wouldn't endorse Trump but would never vote for Clinton.
New Hampshire
Ayotte was a "support but not endorse" Trump supporter. After Trump bragged about sexually assault she changed her tune. She didn't withdraw support after Trump attacked a gold star family, nor after he called roughly 30K of her constituency rapists.
Nevada
Joe Heck withdrew support after pussygate, not after he called 285,764 of his constituents' rapists. He's now in the unenviable position of hoping Latinos vote for him but not for Trump, and he's running against Catherine Cortez Masto, who, if elected, would be the first Latina woman in the Senate AND the first woman senator from Nevada. Ever. It is 2016.
North Carolina
Richard Burr (R) Total support. He thought about abandoning Trump after pussygate, but he forgave him after Trump's "apology." Of course, Trump didn't apologize. He dismissed it as "locker room talk" and said he was sorry "if" anyone was offended. So, fuck Burr.
Burr had this to say to the Raleigh News & Observer: "As a son of a Presbyterian minister, my dad always taught me that when people ask for forgiveness, you should give it to them. He did that, and I've certainly forgiven him."
Indiana
Todd Young, who took his first lead a couple weeks ago but who is, well, young compared to veteran and former Sen. Evan Bayh (D), has ALWAYS SUPPORTED Trump because of course he has.
Missouri
Roy Blunt has taken the coward's way out the whole time, saying that he will "support the nominee."

5:12 MSNBC CALLS ILLINOIS SENATE FOR DEMOCRAT TAMMY DUCKWORTH
That's one. The sure thang happened, but it's nice when reality aligns with projections.
5:09 PM COME PARTY WITH US!
We went live on Facebook with a quick video at the party. As results for Clinton trickled in with her winning people were pretttttty excited. Take a look!


5:04 PM HILLARY CLINTON STOMPS ON HEARTLAND STATES, HEARTLAND VOTERS, HEARTLAND DREAMS
This is the floor of the stage at the Jacob K. Javits Center in New York City, where Hillary is having her victory party tonight—and Hillary will be standing at the podium sometime tonight, giving (PLEASE GOD) her victory speech. Wanna take bets on the rightwing media talking about how Hillary Clinton wiped her feet on the United States, showed her contempt for the heartland and its voters, such disrespect, such hubris, etc., etc., blah blah blah, how dare she plop her fat podium down on a state she lost, etc., etc, blah blah blah.

5:03 PM:OHIO IS GOING TOWARD CLINTON, THIS MIGHT BE A VERY EARLY NIGHT
Get ready to party all night, because if she takes Ohio and Florida there is basically no way for her to lose.
Also leaning toward Clinton: New Jersey, Massachusetts, Maryland, and Rhode Island.
Feeling gooooooood about this one, folks.
4:58 PM: NOTES FROM THE TWITTERVERSE
The other Nate (Cohn) at the New York Times says to R-E-L-A-X
Trump winning big in rural America
Trump is running ahead of Romney in the areas in red.
Clinton running ahead of Obama in blue. pic.twitter.com/Irjrb250eR
— Nate Cohn (@Nate_Cohn) November 9, 2016
Meanwhile, Nate Silver says that the Senate is not flipping.
7:40 update. #ElectionNIght https://t.co/4dfUMs75Cj pic.twitter.com/JkjGnvTJj5
— FiveThirtyEight (@FiveThirtyEight) November 9, 2016
Which is making people be like ....

Watching these Florida poll results like.. pic.twitter.com/EYnYrd7GTM
— Ry (@JustRyCole) November 9, 2016
I'm stress eating the children's Halloween candy. #ElectionNight
— Shawn Hatosy (@ShawnHatosy) November 9, 2016
4:55 PM: NINE STATES ARE VOTING ON MARIJUANA MEASURES
There are nine states voting on marijuana measures in this election. Five states are voting on legal recreational weed: California, Arizona, Massachusetts, Maine, and Nevada. They want to be just like us. Four other backwoods states have medical marijuana on the ballot: Arkansas, Florida, Montana, and North Dakota. They're trying to be just like Seattle in the 1990s. And in other weed news:
All these Johnson/Stein voters from the polls seem to have stayed home smoking pot.
— Matthew Yglesias (@mattyglesias) November 9, 2016

4:53 STATE OF THE SENATE RACE
Hiiiiiii. I'll be covering the senate races. Right now the general consensus is the race is tight, and that truth seems to be holding.
The likeliest outcome is a 50/50 Senate with Tim Kaine tipping the balance in favor of the Dems (this count includes two independent senators and assumes a Clinton victory). Here's the state of the top races.
SURE THANG
The only sure thing here is Illinois, where Tammy Duckworth is clobbering Mark Kirk.
RACES TO WATCH
Dems are also likely to pick up seats in Pennsylvania and Wisconsin, but the story's been that Ron Johnson's (R) has made a surge and is giving Russ Feingold trouble.
RACES TO REALLY REALLY REALLY WATCH
If they pick up all those seats, they need Missouri, Nevada, or New Hampshire to get the tie and thus the majority. If high hispanic turnout holds in Nevada, Dems will likely prevail there.
CNN is calling Patrick Leahy (D) for Vermont, Rob Portman (R) for Ohio, and Tim Scott (R) for South Carolina. Rubio is way ahead in Florida despite his cowardly, dehydrated, tryhard careerism—or because of it.
None of those are surprises, and none of this matters much anyway because 2018 is going to be a huge shit show but who knows maybe Democrats will be able pass at least ONE bill with the year they may have.

4:49 PM: CNN JUST PUT HILLARY AHEAD IN FLORIDA
49 PERCENT TO 47 PERCENT.

4:49 PM: T-SHIRTS AGAINST TRUMP

The SECB appreciates the sentiment and their hearts/parts are in the right place. But the SECB feels obligated to point out that cunts are lovely and useful (and will be with us always), unlike Donald Trump, who is ugly and useless (and will hopefully be consigned to the ass heap of history this evening*).
* Ass is lovely and useful too.

4:35 PM: CHECK THE FUCKING PERCENTAGE BEFORE FREAKING THE FUCK OUT
One member of the SECB had to dash across the stage at the Showbox to comfort another member of the SECB. Early returns came in showing Trump ahead by a wide margin in Florida, a crucial state. Not quite a must-win for Clinton (she has a path without it), but a must-not-lose for Trump (he doesn't have a path without it). A newer member of the SECB started to have what sounded like a panic attack. A more experienced/old-and-decrepit member of the SECB dashed across the stage and pointed out that Trump was ahead with only 2% of the vote in. So nothing to freak out about. Five minutes later, with 15% of the vote in, Clinton moved into the lead.
The moral of the story: Always check to see what percentage of the vote they're talking about before freaking out about who is ahead or behind by what. And remember: results from big cities—Democratic strongholds—take longer to come in because they 1. have more votes to count and 2. they have been systematically starved for resources by GOP-controlled legislatures, compounding the problem.
So breath, check both percentages (percentage of the votes counted so far, percentage of the total votes) before freaking out.

4:02 PM: CNN AWARDS INDIANA AND KENTUCKY TO TRUMP
Wolf just awarded Kentucky and Indiana—and their electoral college votes—to Donald J. Trump. This line from the Stranger's 2004 Urban Archipelago—written after George W. Bush won a second term outright—leapt immediately to the SECB's collective hivemind:
The Republicans have the federal government—for now. But we've got Seattle, Portland, San Francisco, Chicago, Los Angeles, San Diego, New York City (Bloomberg is a Republican in name only), and every college town in the country. We're everywhere any sane person wants to be. Let them have the shitholes, the Oklahomas, Wyomings, and Alabamas. We'll take Manhattan.
They can have the Indianas and Kentuckys too. But they don't have and can't have all the Indianians or all Kentuckians. Because not everyone in those states is a Republican and/or a Trump voter. There are millions of Democrats, liberals, and progressives and plenty of big, blue cities in Indiana, Kentucky, Oklahoma, Wyoming, Alabama, Texas, etc. But the cities in those states aren't big enough or blue enough to flip them into the Democratic column. Not yet.

3:45 PM: HERE WE GO!
Stranger staffers will be live blogging anything and everything about the 2016 election. We'll be reporting from election night parties across Seattle, sending live dispatches about the future of the country, the city, King County, and Washington state.
Here's where to find results as they come in.
Here's where to party.
And here's some stuff to read before things really get going:
•Election Results are About to Come In. Here's What's Happened So Far
•An Election Day Note from Dow Constantine: Vote "Approved" on Proposition 1!
•What Will It Take for ST3 to Win?
•The State of American Democracy In the Form of a Two-Minute Chase Scene with Lizards
•Trump Dread
Stay tuned.