"In two months, Republicans will have a clear path to unleashing their vision for America at every level of government," Heidi Groover wrote on Wednesday. "Surely, there are some nightmares we haven't even realized yet."
One of the clearest promises from Trump's campaign was to deport millions of undocumented immigrants living and working in the United States. He didn't just use dog-whistling—he's called Mexicans "rapists" and spread lies about Muslims celebrating after 9/11. Immigrant communities and religious minorities now face four years in which their basic safety and human rights could be compromised by actions at both the executive level of government and in everyday life.
Here's how to help.
Donate money to these local organizations:
• OneAmerica, an organization formed after 9/11 to respond to increased reports of hate crimes targeting Arabs, Muslims, and South Asians. Now the organization also plays a leading role in fighting for immigrant justice in eastern Washington.
• El Centro de la Raza, a local social justice powerhouse for Seattle's Latino community.
• Northwest Immigrant Rights Project, a legal services group that helps immigrants in Washington State. According to NWIRP's mission statement: "Without appropriate legal assistance, the men, women and children served by NWIRP may be less likely to obtain legal immigration status, and more likely to be returned to a country where they face ill treatment, torture, or even death."
• 21 Progress, a local social justice organization dedicated to cultivating youth leadership from immigrant communities.
Additionally, if you witness, experience, or report a hate crime to the police, please write to me here. It's important that we all stay vigilant.
Sponsored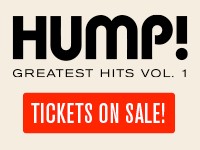 What are YOUR favorite HUMP! films? Start with HUMP! Greatest Hits, Volume One! Relive the memories!