Variety calls Lindy West's book Shrill a "novel," which it's not. But Variety is the whole reason I know that the book's rights have been optioned for television, so I'm not complaining, Variety! Thanks for the scoop!
As you probably know, Lindy used to work at The Stranger, and some of the scenes in Shrill take place in our office. As you may not know, I have Lindy's cell phone number.
I wasn't going to say anything until we were a bit further along in the process, but I guess if it's in Variety... https://t.co/6Q7IbeHVyE pic.twitter.com/zbRpANyJen
— Lindy West (@thelindywest) December 5, 2016
So when I saw this tweet, I decided to give her a call and see what I could find out.
Short answer: not much.
"We're still in the really early stages, but I'm working on it personally," Lindy said.
Variety reports it's been optioned by Elizabeth Banks and Max Handelman's production company, Brownstone Productions.
"The company landed an overall deal with Warner Bros. last year and has since sold four different projects to four different networks. It has new series in the works with ABC, The CW, CBS, and an unannounced series with an unnamed cable network," according to the blog Women in Hollywood. "All of them have either a female protagonist, or an ensemble cast that can allow for additional female roles."
I tried to get Lindy to tell me about the Shrill show, but the project is in such early stages that she was reluctant to. "I can't really talk about the show at this point," she said. "I haven't asked them what I'm allowed to talk about and what I'm not."
But she did say, "Elizabeth Banks is great and cool." And also, "I have a lot of confidence in the team that's working on it and I think it's turning out really well." According to Variety, it's being conceived as a half-hour comedy.
When I asked what she did to celebrate when she found out her book had been optioned, she said, "We've been working on it for months now, it just hadn't been announced anywhere. I think [my husband] Aham and I probably went and ate fancy food or something, but I don't remember specifically. But it was really exciting."
We talked more generally about the book.
"People on the internet have come to me with a little bit of worry about how is the story going to be told. Is it going to be responsible with issues about bodies and all the stuff I write about? And the answer is yes, because I'm heavily involved."
She added, "I think that even in 2016 there's still a shortage of shows that really treat women like complex human beings. And beyond that there are hardly any shows that have fat characters where being fat isn't their main personality trait, and where they don't every episode cut to them binge eating in the dark. So, that's not what we're making."
When I asked if there's anything she's always wanted to see on TV, she said: "Fat people having sex."
When I asked what TV shows she's watching these days, she said, "I am obsessed with Broad City. I am obsessed with Transparent, although everyone is so horrible sometimes it's hard to watch, but I watch it anyway because it's so good. I just started watching Chewing Gum on Netflix—it's a British comedy and it's really funny. I've been watching shows made by women. My natural state is to just watch home improvement shows and murder shows, so I've been getting caught up on the last decade of comedy, specifically shows written by women. So these are all part of my research."
Lindy West won a Stranger Genius Award for her writing a few months ago. Read her all-time funniest Stranger pieces here. After a few years at The Stranger, circa 2009 to 2011, she left to be a staff writer at Jezebel, and after Jezebel she wrote Shrill and became a Guardian columnist. Watch her acceptance speech at the 2016 Genius Awards below:
In honor of Lindy's career-long battle against the trolls, I'm turning comments off on this post. Deal with it!
Sponsored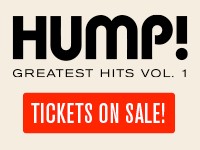 What are YOUR favorite HUMP! films? Start with HUMP! Greatest Hits, Volume One! Relive the memories!