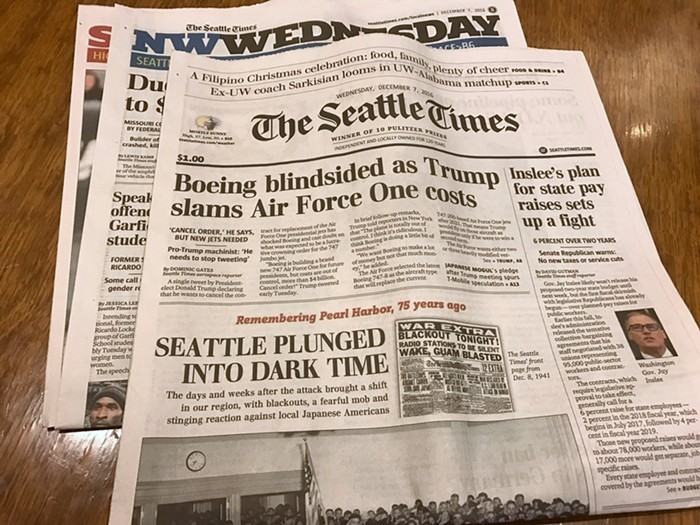 In what has become a grim holiday tradition, the Seattle Times told staffers today it is offering buyouts ahead of expected layoffs.
It's unclear how many positions will be cut and how many of those will be in the newsroom. In a memo to staff today, Times Executive Vice President and Chief Financial Officer Alan Fisco said the paper will offer "unaffiliated employees in certain departments" buyouts over the next week and a half. (Read the full memo at the bottom of this post.)
UPDATE: In another email sent today, editor Don Shelton told the newsroom "significant staff reductions are necessary" and will be worse than the last round of cuts. Newsroom staffers should prepare for their jobs to change, he wrote. Read the full email at the bottom of this post.
After buyouts, the paper will determine how many layoffs are necessary. After a similar process last year, 15 Times staffers, including some who had worked there for decades, left the paper.
One staffer on the Times metro desk told The Stranger today that more than a dozen people could be laid off. "We are into the bone," the staffer said. "Every cut means news won't get covered. I question how we can do it."
In the memo, Fisco wrote that the Times is "forced to join the rest of the industry in adjusting to ever-lower advertising revenue. Industry advertising trends worsened in the second half of the year nationally. This trend is anticipated to continue for 2017."
"On the bright side," Fisco added, "we continue to grow subscriber revenue which is key to the future. Unfortunately, the increases aren't sufficient to offset structural advertising losses."
Here's the full memo sent to staff today:
To: All Seattle Times Employees

From: Alan Fisco

Date: December 7, 2016

Subject: Important Changes Coming

As we all know, the newspaper/digital journalism and advertising business model continues to transform to the future. While The Seattle Times has made excellent progress, we are forced to join the rest of the industry in adjusting to ever-lower advertising revenue. Industry advertising trends worsened in the second half of the year nationally. This trend is anticipated to continue for 2017.

On the bright side, we continue to grow subscriber revenue which is key to the future. Unfortunately, the increases aren't sufficient to offset structural advertising losses.

The purpose of this communication is to give you an update on our 2017 budget process and parking changes that are coming in early January.

As we are finalizing the 2017 budget, we need to realign expenses to our advertising revenue realities. We know this is going to require difficult expense cuts, including staff reductions. These actions, along with other operational changes, will allow us to continue our business model transformation journey and our mission of independent journalism and public service.

Before we begin 2017, we are inviting unaffiliated employees in certain departments the opportunity to offer an Expression of Interest (EOI) in being considered for severance benefits in exchange for ending their employment.

For affiliated employees in impacted areas, Reduction in Force (RIF) communications will go out in early January and we will follow the processes for reductions contained in your collective bargaining agreement, which in some cases include opportunities for volunteers to supplant those scheduled to be laid off.

Severance benefits
· Unaffiliated full-time employees whose EOIs are accepted will be eligible for severance equal to one week of base pay per year of completed and continuous service with a minimum of 2 weeks and a maximum of 13 weeks.
· Affected employees will receive regular pay for any accrued but unused vacation consistent with company policy.
· Affected employees' employer-sponsored medical and dental insurance coverage continues until the last day of the month in which their employment terminates. Under
a federal law known as COBRA, terminated employees are eligible to continue existing group medical and dental plan insurance for themselves, their spouse and/or any covered dependents at their own expense for up to eighteen months from the date employment terminates.
· The Seattle Times will report to the Washington State Employment Security Department that your employment was terminated due to a Reduction in Force.
The period to express interest begins tomorrow, and will conclude at Noon, December 19th. If you are in a department offering EOIs, you will receive more information about the EOI from your department managers tomorrow, including a form to use if you choose to express interest.

All offers of EOI will be handled confidentially with only those who need to know involved.

Every effort will be made to accommodate expressions of interest, but we cannot guarantee that if you submit an expression of interest it will be accepted. Based on the results of the EOI's, the extent of staff reductions necessary will be determined.

The last day of work for most impacted employees is scheduled to be February 3, 2017.

We appreciate the impact this action has to Times employees and their families. We will strive to implement these changes in a way that honors the great work, and people who are impacted.

Parking

For those of you who work here at 1000 Denny Building, we now have definitive news on the development of the parking lot across the street. You will recall that we sold this property a few years ago to invest in our journalism and business model transformation. This investment has enabled significant transformational progress.

In early January, the property owners will break ground on a major construction project. During construction, the property owners are required to find alternative parking locations for us. After lengthy negotiations, we agreed to be moved to parking located at 1220 Howell Street. This is a relatively short walk, but for those who prefer, shuttle service will be provided every 15 minutes from 7 AM until Midnight, Monday - Friday. This change will go into effect on January 1, 2017. We anticipate new parking passes being available the week of December 19th.

Please note, we will have fewer spaces during this transition time (anticipated to be at least 18 months). We are attempting to secure additional parking at another location which is less than a block from the 1220 Howell parking. However, even with these additional spots, we may not have enough parking spots available. Because other lots do not offer the flexibility that we have, there may be significant changes or elimination of afternoon and weekend parking.

We hope to have more details for you, including specific start dates and plans for what parking is available in the next week.

Thank you all for your patience, understanding and professionalism as we navigate these changes.

Alan
UPDATE: Here's the email sent from editor Don Shelton to newsroom employees:
To: News- All Employees

From: Don Shelton

Date: December 7, 2016

Subject: More on budget cuts

I want to follow up on Alan Fisco's memo about deep expense reductions throughout The Seattle Times in 2017. The newsroom will be sharing in those cuts, and they will be larger than in 2016. Managers around the newsroom are finalizing budgets and looking for other places to trim, but significant staff reductions are necessary. As painful as that will be, it is essential to keep The Seattle Time[s] healthy and continue our incredible legacy of strong, independent journalism.

I want to be very honest: The impact of these cuts will be significant. This will be a different newsroom next year, and every one of our jobs will change as we reduce staff and move ahead with changing our culture to become more digital, more nimble and more reader focused. And we must do that while protecting The Seattle Times' brand and commitment to quality journalism and community service.

How will your job change? That's something for you, your editor and senior managers to determine, but it will change. I hope you're up for this challenge. All of us have to be pulling in the same direction.

We'll have an informal gathering in the fishbowl today at 4 p.m., and more formal question-and-answer sessions tomorrow in the fishbowl, 10:30 a.m. to 11:30 a.m. and 3 p.m. to 4 p.m. I'm also available one-on-one.

Don
Sponsored
A weekend of art, performance, readings, & more! Festival ends at Seattle's sexiest Halloween party.