New documents in an ongoing lawsuit against the King County Sheriff's Department allege that King County Sheriff John Urquhart told investigators in his department to ignore a woman who claimed Urquhart raped her, the Seattle Times' Lewis Kamb reports.
The alleged 2002 rape was reported to the FBI in June of this year. According to depositions, numerous people were made aware of the claim. After then-Detective Sgt. Mike Mullinax learned of the claim, he notified his supervisor, Capt. Jesse Anderson, and the two then told Urquhart.
Writes Kamb:
Anderson asked if he wanted it entered into Blue Team, the department's computer system that formally tracks personnel misconduct complaints.

"I asked the sheriff if he would like this documented in Blue Team and he said no," Anderson reported in notes he took about the conversation.
Kamb reports that a deputy also complained that Urquhart and the woman had an affair but Urquhart's chief of staff allegedly told investigators the sheriff didn't want that complaint documented. Urquhart denies the allegations, citing the woman's mental health and the FBI's decision not to pursue action based on the allegations.
The new documents are part of a lawsuit alleging harassment and retaliation against women deputies at the department. (The woman who accuses Urquhart of raping her is not a party to the lawsuit, Kamb reports.)
A judge ruled recently that the harassment case should go to trial. Read the Times' full report on the allegations here.
UPDATE: In a statement, the sheriff's office disputes the characterization that Urquhart told his subordinates to "ignore" the complaints:
The headline and story in today's Seattle Times is intentionally misleading. At no point has Sheriff Urquhart ever ordered an investigator to "ignore" complaints against him. He, himself, has been the subject of allegations made against him since he has assumed the Office of Sheriff, and each time they have been found to have been frivolous or untrue.

According to the FBI, the complainant in this case was not credible and they ended their investigation. Likewise, the Sheriff's Office typically does not investigate claims where the complainant does not have credibility.

The allegations against Sheriff Urquhart are categorically false. The statement the Sheriff's Office provided to the Seattle Times is included below, but inexplicably was not included in its final story.

The Sheriff's Office has already provided a tremendous amount of information in writing to the Seattle Times and other media outlets, and we have responded to false allegations in court filings. We have no intention of assisting the plaintiffs in taking advantage of a woman who admits to severe mental health issues. We look forward to court where witnesses will be under oath and subject to cross examination."
Sponsored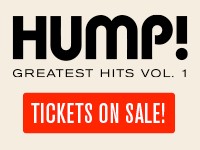 What are YOUR favorite HUMP! films? Start with HUMP! Greatest Hits, Volume One! Relive the memories!