Capitol Hill's Saint Mark's Cathedral Wants to Protect Marginalized Groups from Hate: "We will identify, report, and confront hate speech and behavior — against all ethnic and religious groups, women, LGBTQ people, immigrants, people with disabilities, and all marginalized groups. Our church stands as a sanctuary and safe haven for people threatened by those who would attack them," they write on their website as part of a 12-part statement of commitment to action.
That Commitment Is Core to the Church's Values and History: Seattle Times columnist Jerry Large writes:
The church invited back Bishop Cabell Tennis, a former dean at the cathedral, to deliver an MLK weekend sermon. In 1972, from the same pulpit, Cabell denounced U.S. bombing of North Vietnam.

Taking sides is a part of living out religious values. [Rev. Steven L.] Thomason said, "Jesus was always siding with those who were oppressed and marginalized, hungry, hurting. ...

"If political leaders are not going to set an example," he said, "someone has to, and we're stepping forward to say we want to be in that role."
Hate Crimes Increase by 50 Percent in Bellevue, Police Say: The north side of the Islamic Center of Eastside in Bellevue was destroyed in a suspected arson attack, allegedly committed by a homeless man. Bellevue Police Chief Steve Mylett told KING 5 that the incident "does not appear to be a hate crime," but hate-related incidents in the area "were up 50 percent."
Although the number of reported crimes has risen, cases of hate crimes in 2016 were primarily against property, not people. Many of the cases were vandalism at schools, including graffiti on bathroom stalls and desks. ...

"Based on some of the conversations I've had with students, I don't think they fully understand the impact of their actions on individuals on the receiving end of that type of speech. Once that happens and they realize that this has harmed someone, you see a change in behaviors," Mylett said.
A man held for torching the Islamic Center of the Eastside is due in court next hr. Not yet accused of a hate crime. https://t.co/PY2O4tiYAL pic.twitter.com/OKqymjZpZw
— KING 5 News (@KING5Seattle) January 16, 2017
ICYMI—Angela Davis Rejects Proposed Youth Jail: The renowned activist, author, and scholar spoke at Town Hall last Thursday where she and Seattle City Council members in attendance were greeted by people opposing the $210 million Children and Family Justice Center. "Davis stated her support for the No Youth Jail movement while standing side-by-side with Seattle City Council President Bruce Harrell," writes Chloe Collyer for The Seattle Globalist. "'Our prisons need to be abolished,'" Davis said.
You Can Watch Davis' Talk Here:
The Seattle Womxn's March Will Be Held in (Mostly) Silence: Many of the women, queer, trans, and gender-nonconforming people planning to participate are not happy about this recent announcement from the organizing committee, reported Rich Smith. While the organizer's aim is to echo other historical silent marches, some participants feel as though they're being silenced. One person wrote on the march's Facebook page: "So the only way to make our voices heard is by NOT using them?? I'm mad as hell. I want to feel powerful and have my voice heard." The march itself will begin with a reading of a poem and will include several soapbox speakers along the 3.5 mile route from Judkins Park to Seattle Center.
Tonight's the Night—Come Watch Blabbermouth Live! Eli Sanders, Dan Savage, and Rich Smith will be talking to Rep. Pramila Jayapal and other special guests at Town Hall tonight and Sean Nelson will provide live music. See you there!
There's Just Three Days Before Trump Is Sworn In: How will you fight back?
Sydney Brownstone and Heidi Groover Will Be at the Inauguration: Follow them here and here. Send them strength. And whiskey. Lots of whiskey.
Speaking of Trump: A new study shows that nearly 18 million U.S. residents could lose their insurance if major portions of the Affordable Care Act are repealed. That could mean 32 million Americans would be uninsured in 10 years, the New York Times reports. This should scare you senseless.
Sponsored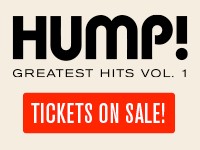 What are YOUR favorite HUMP! films? Start with HUMP! Greatest Hits, Volume One! Relive the memories!