Mainstream media and also the left has to realize that Trump is not about displaying competency as a leader. We need to let that go. Why? Because that's precisely what Obama did, and well. He showed he could do the job, focus on details, deliver the goods. A black man came, saw, and did it. That was settled. Remember, conservatives argued that Affirmative Action was bad on the grounds that it put incompetent blacks in positions of power. After Obama, that racist argument lost much of its anecdotal/popular power. The white racist had to shift to a new gear of justification. It's Trump. The justification? Not that he knows anything or will deliver the goods or can even make coherent statements. Trump represents what's left for the white male justification after Obama: I'm in power because I'm a white man.
The sooner we grasp this, the sooner we will understand why he, for example, absurdly announced April is sexual assault awareness and prevention month. In British slang, this is taking a piss on something; but in Trump language, it's showing powerless white males, not that he knows anything or cares, but that he can do anything. This is precisely what Obama could not do: do anything he wanted. And this is the last ditch of white male superiority—rule sans any justification. This is why he is loved, and why he will avoid anything that compares his intellectual capacity with Obama's, with the superior intellectual capacity of a black man. Welcome to the desert of white racism.


Here's Fox claiming Trump worked all weekend at the WH.

Here's a picture some random took of him watching TV at his golf course today. pic.twitter.com/kwNA1AiqQc
— Rob Flaherty (@Rob_Flaherty) March 26, 2017
Sponsored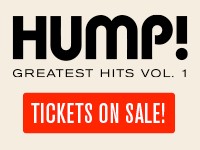 What are YOUR favorite HUMP! films? Start with HUMP! Greatest Hits, Volume One! Relive the memories!