Today (coinciding with Earth Day) in Washington D.C. and across the nation, scientists, data nerds, and civic-minded citizens marched to defend science. In Seattle, several thousand people gathered at Cal Anderson Park to hear speeches from Gov. Jay Inslee, (the embattled) Mayor Ed Murray, UW physics student Tyler Valentine, and others.
What do they want? Evidence based science! When do they want it? Following peer review! "You know things are serious," one sign said, "when the introverts arrive."
What brought them here? A litany of attacks on science from the climate-denying Trump administration, including threats to dismantle and the censoring of information from the EPA, and plans to cut funding for National Institutes of Health, STEM-based education, and a host of other science-based government departments and programs. We caught up with some protestors as they headed downtown to find out why they made it out to The March for Science on a rainy Seattle Saturday.
Amy Harris, 15, Meghan Park, 14, and Peja Shymko, 15
So, you're all biotech nerds here? Is that what you were saying?
All: Woooo biotech nerds! Woooo!
Meghan: Yeah, we're going into the STEM biotechnology pathway, there's also aerospace, and computer science too.
Whoa. Is that intense?
Meghan: I guess. We take classes for biotechnology, and then for aerospace it's principles of engineering and aerospace, and comp sci is where you do intro to electrical engineering…
Amy: And it draws kids from all over the district; it's a really inclusive program. They've been really embracing equality, and it's filled with a bunch of great teachers.
So, you're sort of here today to fight for your own education?
Amy: Yeah. It's our future. Like all of these old people that are here (group laughs) well, they will not be around to see the consequences, but we will. And we want to enter a world where science is embraced, but at the current juncture, I don't think that's going to happen. So we just really want to make it a world where we can thrive and achieve our goals and things like that. Which is kind of selfish, but whatever.
Meghan: It's not! We want to do this to help people. So, if they cut the funding for classrooms then we can't help out other people.
Amy: I think just in general what's bad is just the anti-science attitude, because even if it isn't mattering as much now, it will build to a point where it will be oppressive on actual facts. And I think that's a very dangerous and toxic attitude to have.
Niko Battle, 16 and Bridjette March, 71, Mukilteo
What brings you both here today?
Niko: Well I just feel like it's our duty to reject Trump.
Bridjette: We're from Mukilteo so we came a ways. But we feel this is the only way we can get out a message. To counteract the fear and the changes in our life.
Niko: It's scary times. And we're not policymakers, but we can send the message policymakers across the country and to Donald Trump himself, that we're not going to tolerate him and his policies.
And what's the one hot-button science issue for you?
Niko: Climate change. The fact that he thinks that climate change is a hoax by the Chinese is really problematic for me. The fact that he wants to take away money to help keep Puget Sound clean is problematic for me. Our schools already have underfunded science departments. My biology classes don't even have working microscopes, and he wants to cut the budget for education even more. I just don't see how anyone could support that.
Bridjette: It all comes down to science in the long run. I mean, science has been around a long time. People have died for science before, (whispers) at the hands of the Catholic Church in some instances.
I'm sorry, what did you say?
Bridjette: Oh, that was a long time ago. But um, you know I'm very happy to be here, I was at the Women's March and I try to pick the ones that I feel are really critical. And this one just really speaks to me heavily.
How did you meet?
Bridjette: We worked on the Hillary campaign together. I was a caucus captain, and he would help me get the words right to speak, and that was invaluable. So yeah, we've worked as a team to a great extent. And I think we're going to continue to do that at least till Niko is 18 and then he can begin to do a lot of these things on his own.
Can I get your names?
Niko: Oh yeah. And Niko Battle and I'm 16.
Bridjette: I'm Bridjette March, and I'm 71.
Wait...your last name is Battle, and yours is March?
Bridjette: Yeah...he's in the Battle, and I'm in the March, we like to say.
Kailey Shakespear, Photographer, and Bethany Plewe, Chemist, Maple Valley
What brings you here to the science march today?
Kailey: My best friend is a scientist and I love her, and I love our planet.
Bethany: Yes, we're fighting for…science. And to make sure that policies are based on peer-reviewed evidence and research, and not on just whatever makes the most money for the 1 percent.
What do you do?
Bethany: I am a chemist for a government agency.
Hm, sounds mysterious, what agency?
Kailey: She can't say.
You really can't say?
Bethany: It's better if I don't.
Kailey: It's kind of crazy in this agency right now. Which is another reason to march.
Bethany: A very fundamental agency.
I get it…wink, wink, nod, nod. Gotcha. So, what disturbs you most about what's happening with this administration's attack science?
Bethany: Denial of climate change, when it's been proven worldwide by thousands of scientists, peer reviewed evidence based research. And to have people don't believe scientists, who are not in the pursuit of making money, they're in the pursuit of obtaining truth. And serving human and environmental health.
Kailey: And you know, we're both Christians too. I mean the thing is, that science is everyone, it is everything. It doesn't matter who you are or what you believe, it's who we are, it's part of our world. It's just so important. And these people, who are denying it, it just doesn't make any sense. And it is very scary, especially when you have kids.
Have you been to any of the other marches around here lately?
Kailey: No, this is my first march.
Bethany: Me too. I didn't even get to do the Women's March, which I wanted to do.
So, for both of you this your first march? How does it feel?
Kailey: It's great. Yeah. (yells). It feels powerful. You can tell a lot of these people are really thinking about what they're doing here today.
Bethany: Science is getting straight up attacked and straight up deleted from government support. Period. And that's how the EPA got started was because of the Cuyahoga River in Ohio in Cleveland, it was on fire. And we're just going to go right back to that. It's just going to happen again. And it's so ridiculous because that was only in 1969. It's ridiculous.
Is this your nerd posse?
Bethany: Yes, we have some other ones wandering around, in the lab Coats.
Kailey: Did you see the backs? It says, "Talk Nerdy to me." We're all about puns and clichés over here.
Lisa Anderson
Scientific Illustrator, Beacon Hill
So, you were brought here today by the eagle?
Lisa: Yes, well when I was younger it was really rare to see an eagle, and it was a great honor. They almost disappeared completely, these symbols of our country. And now through science we've taken away the pesticides and pollution that caused them not to breathe, and we've made it safer for them, and now you can see an eagle and it's a more common sight. All through science, and the fact that now the Trump administration is saying they are going to allow some of these very same poisons back, that makes me really angry, because I have grandchildren I want to leave the eagles to as is their right.
What disturbs you the most about Trump's attack on science?
I think that this whole administration and the fear that it's engendered as far as our natural world, well, we better get busy. That's what I believe. We'd better get busy. We have grandchildren to leave this to.
Sponsored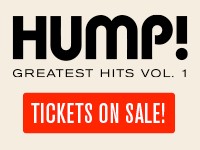 What are YOUR favorite HUMP! films? Start with HUMP! Greatest Hits, Volume One! Relive the memories!