The Seattle Police Department this morning released audio from a confrontation yesterday in which two Seattle police officers fatally shot Charleena Lyles after Lyles called them to report a burglary. The fuzzy four-minute audio clip, which was recorded by officers' dash cam system, which includes microphones on each patrol officer, offers little insight into what happened immediately before police shot Lyles. Officers can be heard shouting "Get back!" before firing five shots.
While the SPD has not released Lyles' name, her family identified her yesterday. The 30-year-old woman had four children and was several months pregnant, according to her family. At least one child can be heard crying on the audio.
The clip, which you can listen to here (caution: graphic), begins with a brief conversation between two officers about Lyles' prior encounters with police. Officers can then be heard taking a report from Lyles, who told officers "someone broke into my house" while she was away at the store. Officers ask if she knows who may have broken in and she says she doesn't. She says an Xbox was stolen and then, the situation escalates quickly. Officers can be heard saying "Get back, get back, hey, hey, get back, get back" before they fire five shots. It's difficult to make out what Lyles says before shots are fired. (The audio includes some redactions. The SPD says those were to remove Lyles' personal information like her address.)
Police said on Sunday Lyles was armed with a knife. Her family questioned why Lyles, who they say weighed about 100 pounds, couldn't be subdued with a non-lethal weapon like a Taser.
According to the SPD, both officers at the scene "were equipped with less lethal force options" and "all Seattle police officers receive Crisis Intervention Training." Only one officer usually responds to property crime calls, but two officers were sent to Lyles' home "because of a recent officer safety caution associated with the caller," according to the SPD.
The nonprofit Solid Ground owns the building where Lyles lived and says there are cameras in the hallway. A spokesperson for Solid Ground told Crosscut police have already taken footage from those cameras.
At a vigil in front of her home last night, Lyles' family mourned her loss and called for changes to the SPD.
"My sister's full of life—she was full of life," Lyles' sister said, sobbing. "She's a kind person and her kids were her everything... I'm just going to miss my sister. I'm going to miss my best friend."
Sponsored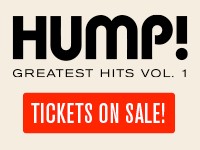 What are YOUR favorite HUMP! films? Start with HUMP! Greatest Hits, Volume One! Relive the memories!