President Donald Trump and his goons have been targeting so-called sanctuary cities for months. He's tried publicly shaming King County for refusing to comply with immigrant detainer requests and even threatened to strip federal funding from cities vowing to protect undocumented residents.
To further build up a culture of fear, Immigration and Customs Enforcement Acting Director Thomas Homan said this week that he planned to send more resources and ICE agents to sanctuary cities "to arrest illegal criminals," the Hill reports.
Homan told Washington Examiner on Tuesday that he plans to address "ludicrous" sanctuary cities.

"In the America I grew up in, cities didn't shield people who violated the law," Homan told the publication. "What I want to get is a clear understanding from everybody, from the congressmen to the politicians to law enforcement to those who enter the country illegally, that ICE is open for business."

"We're going to enforce the laws on the books without apology, we'll continue to prioritize what we do," Homan continued. "But it's not OK to violate the laws of this country anymore, you're going to be held accountable."
Although officials with the Trump administration have called for additional enforcement previously, Homan's statements are "troubling on many levels" and "make it seem like we are punishing people," said Jorge Barón, executive director of the Northwest Immigrant Rights Project.
Barón also took issue with the acting ICE director's framing that sanctuary city officials are "sheltering or concealing" people who are undocumented. In reality, sanctuary cities are refusing to use law enforcement resources to follow the immigration department's detainer requests "because the courts have found them to be unconstitutional," he said.
People calling the Northwest Immigrant Rights Project for help are wary of accessing services for undocumented immigrants because they fear any information they provide will be shared, Barón said. With statements like Homan's, people worry "they will be caught in the ICE dragnet" during sweeps or simply in the wrong place at the wrong time, creating "a tremendous amount of fear and anxiety" in the community, he said.
"This fear in the community is not an unintended consequence, but an intended objective that they agency, at least the agency director, has articulated," Barón said.
Local Immigration and Customs Enforcement representatives did not return calls for comment.
Barón commended King County and Seattle city officials for their decision to launch a $1 million immigrant legal defense fund, which should open in October.
Sponsored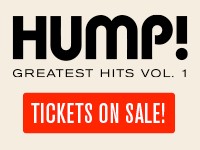 What are YOUR favorite HUMP! films? Start with HUMP! Greatest Hits, Volume One! Relive the memories!