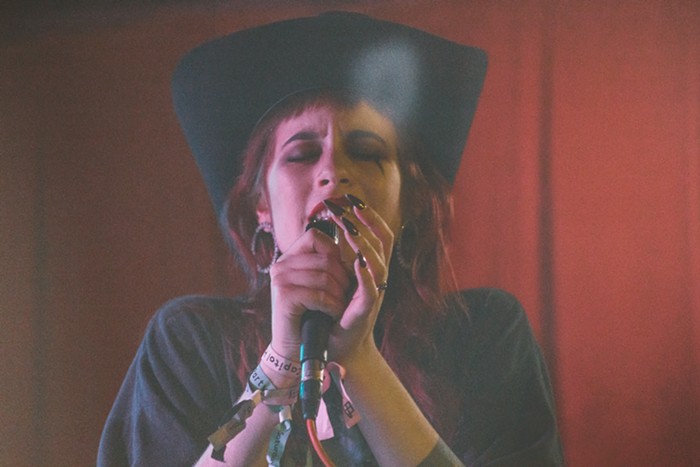 Sponsored

Do not miss this event! 125+ local retailers, food trucks, beer & booze, contests & live entertainment.
YOURYOUNGBODY AT THE BARBOZA STAGE
Maybe it's the moodiness of midsummer, or maybe it's the end of Cancer season, but this time of the year always makes me horny for synth-pop. My yearly synth-pop spell has returned this week, the most obvious indicator is that I've been playing Poliça's "Give You the Ghost" on repeat. Another indicator is how blissed out I was when Youryoungbody started their early Saturday set at Barboza. Duh Cripe, the band's chanteuse, sauntered onstage in a black cowboy hat, black goth jeans, and a black tee featuring Shania Twain. Visually, it was all very dark and spooky, from the venue to the performance. And sure, witchiness is trendy right now, but it was Cripe's melancholic sound and swagger that made my little gay heart swell.
In our Complete Guide to the Capitol Hill Block Party, Kyle Fleck wrote that Youryoungbody mines "the emotive, rain-swept strains of '80s dance, goth, and synth pop," although the band labels themselves as dark electronic on their Facebook page. If it wasn't dark enough at the top of the set, Cripe told the crowd that she and Killian Brom, the other half of the Youryoungbody duo, were "gonna make [their] set* satanic." This translated to a gothic light show of reds and blacks, more intense thrashing, and the cowboy hat flying off Cripe's head and onto the floor. It made my cynical self warm and cozy, but that might have just been the Jell-O shots some bro handed me at the door. When in Rome...
After the show, my friend Jed said Youryoungbody are "kind of like if Beach House and the Knife got together and Netflix and chilled to Stranger Things." I agree.
Youryoungbody are best known for their 2015 EP, Betrayer, but you can listen to the new stuff below.
*Cripe may have said "sex satanic" instead of "set satanic." I prefer "we're gonna make our sex satanic," but I don't think that's what she said.
SLEEPY GENES AT THE CHA CHA STAGE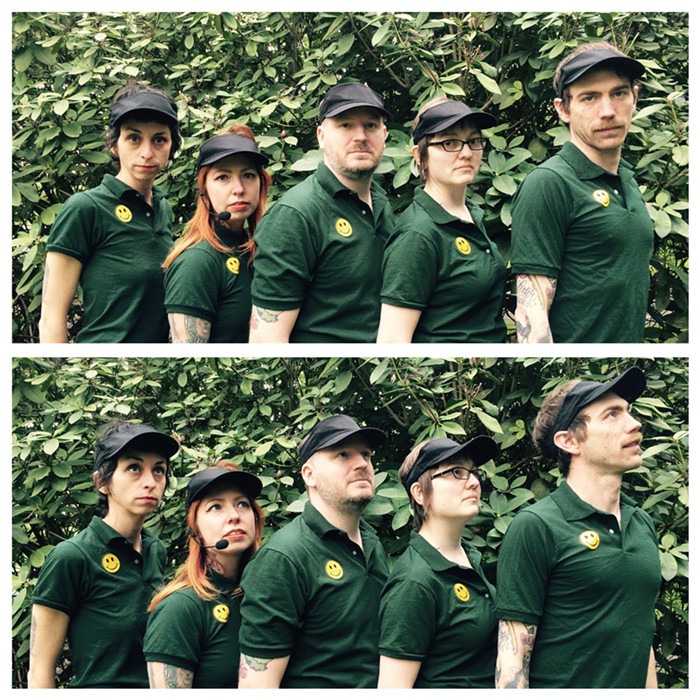 I hadn't heard of Sleepy Genes before Capitol Hill Block Party. The Stranger's Kim Selling says they pull "from '90s classics and bold arena-style energy." Just like witches, the '90s are trendy right now. Well, they were a few months ago. Or was that last year? I'm not sure. But fads be damned: I'm into Sleepy Genes.
From what I gather, the new band can often be found wearing uniforms. Sometimes they're dressed up like PNW hipsterfantasy fast food workers (see above). "PNW hipsterfantasy" is not a confirmed genre, but it seems like an appropriate term to describe the twee/vintage/sleepy-rocker vibe that Sleepy Genes are presenting. But don't let their tweeness give you the impression that they can't rock. The dude in front of me was HEAD-BANGIN', and a bro was aggressively fist-pumping by the end of their set. (I imagine this was a first for Sleepy Genes.) Ever polite, Sleepy Genes' lead singer Jess Bonin closed out the show by reminding the bros to drink some water. As aforementioned fist-pumping bro was leaving, he bumped into his friend and mumbled, "I'm gonna get some water, man." Sleepy Genes' charm is strong enough to penetrate a frat house.
LIZZO AT THE MAIN STAGE
I'm a documented fan of Lizzo. You can find an illustration of me attending this very Lizzo set in the last few copies of Seattle Art and Performance loitering the streets of this city. That same illustration hangs above my bed. It's not like a stalker-obsession thing. It's just that my loyalty to this Minneapolis-based act runs deep.
Yes, Lizzo is a feminist rapper. She's a body-positive big GRRRL. She has really good merch. But focusing exclusively on the niche markets that Lizzo appeals to ignores the now undeniable reality that Lizzo is a fucking superstar. Few performers command a stage like Lizzo. And that voice. (Here she is singing "The Beautiful Ones" in the streets of downtown Minneapolis shortly after Prince's passing.)
Lizzo's latest, a debut EP released through Atlantic Records called Coconut Oil, is her most mainstream offering. "Phone," a funny and rowdy single off the EP that features lines like "Walking home and it's damn near 4/What the hell these Louboutins for?" was the first to get the CHBP crowd jumping. But Lizzo's most adventurous and reflexive work comes from her 2015 album, Big GRRRL, Small World, which was created at Justin Vernon's April Base Studios in Wisconsin. While the drunk and pushy crowd arguably wanted her louder hits, we were treated to some of Big GRRRL, Small World, too.
Other highlights: Lizzo yelling "TAKE A PICTURE OF MY AAAAAAAAASSSSS" (multiple times); A sample of Donna Summer's "Bad Girls" at the top of the set; Lizzo bringing someone up from the crowd named Shana,* who then proceeded to grind on Lizzo.
*I obviously have no idea how to properly spell Shana's name. Shana, tweet at me if I fucked it up.