Sponsored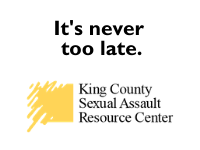 Free, confidential, inclusive support and information about sexual assault is available 24/7
Of the Republicans, McCain, Murkowski, and Collins voted NO on the GOP's effort to kick 16 million people off of healthcare and to raise premiums by 20 percent, aka "skinny repeal." The rest of those motherfuckers DID vote to needlessly kill tens of thousands of people.
On McCain, briefly: The vote, though he didn't have anyone else with him besides Murkowski and Collins, was not heroic. It was the absolute least he could do to help his own constituents keep the healthcare that he's relying on to keep his body alive.
"This is clearly a disappointing moment," McConnell said as the bill the GOP had seven years to write but instead wrote over lunch failed on the Senate floor. "We told our constituents we'd vote that way, and when the moment came—when the moment came—most of us did."
Never forget.
But also never forget the disability activists who protested in the halls of Congress and in the offices of Republican Senators.
Don't forget the calls, the die-ins at district offices, and all the other grassroots activism spurred and fostered by national groups like Indivisible and local groups like Washington CAN. That's what killed this bill.
But also don't forget that Democrats didn't include Medicare for All on the list of policies they'll be pushing in 2018. Until they earnestly fight for a solution that guarantees coverage for everyone, we'll keep having to play whack-a-mole with this ignorant, cynical Republican bullshit.