Sponsored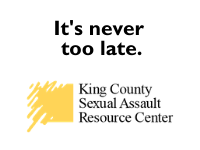 Free, confidential, inclusive support and information about sexual assault is available 24/7
Jupiter Sets a Date
The buzzy Belltown art bar will be open on September 14, Seattle Met reports. Our art writer Emily Pothast was lucky enough to get a preview, and she was thrilled by the space. It is, after all, chock full of murals by such local greats as Baso Fibonacci. She also had high praise for its grasp of neighborhood character.
"I got the opposite of the feeling you get when your favorite bar closes down: the rush of excitement at seeing what creative people can accomplish with the right space, a lot of work, and a large community of talent to draw on."
Indeed, with the recent additions of Neon Boots and Screwdriver, there are a ton more reasons to head to Belltown after your shift nowadays. Looking forward to this one!
Lauren the Butcher Will Become Lauren the Restauranteur
Lauren Garaventa, more commonly known as "Lauren the Butcher," who runs the popular Meat and Noodle Soup Club pop-up series on Vashon Island, is getting her own place, she recently announced.
"Where do I submit my resume?" joked Dre Neel, who owns the very excellent Gravy about a block down from Garaventa's new location. Hopefully he doesn't get hired, because his Sunday ribs are vital, but it certainly seems like everyone is excited for another option on the island.
Poulet Galore No More
After a conversion to a more grab-n-go, lunch-friendly model at Vestal, Josh Henderson's fancy wood-fired adventure in South Lake Union, they've called it a day, Eater reports. This also includes Poulet Galore, his roast chicken rotisserie, and beer bar Cantine.
"We weren't able to make these concepts work in this location," their website reads. This is actually shocking because, besides the original Vestal, all these places sounded like exactly what SLU is hungry for: Craft beer and quick, simple lunch food. Apparently not!
Yoroshiku Gets an Update
Popular Wallingford Japanese joint Yoroshiku just completed an addition of a more casual bar area, Wallyhood reports. The post conversion Yoroshiku is, they say, a little different than your old favorite.
"The decor has substantially changed. The entrance has moved to the newer side, which is a bar, while the older side is more like a restaurant. The bar side has a very long bar with a small selection of microbrews and a larger variety of cocktails. Sake and Japanese whisky are clearly the signature options, however. Aside from the seats at the bar, there are wooden bench tables, which remind me of the seating you would find at a German beer hall."
The writer concludes, after a bowl of veggie ramen and a mishap with octopus, "As a completely separate entity from the restaurant, it is awesome. For those clinging to the past, it's an adjustment."
Let us never cling to the past!
Alice Waters Gets Spicy With the NYT
In an interview entitled "Sex, Drugs and Sustainable Agriculture," famous farm-to-table chef Alice Waters does quite a bit of dishing. She's done acid, she confesses, but it was really good acid and she knew the producer. Would you expect anything less from the woman who wants Jeff Bezos to help her bring the nation free, organic, hyperlocal school lunches?
Chocolate Pizza Lunchables Are Back
Thankfully I never experienced this phenomenon as a kid, but apparently enough people were exposed to the tiny, cold Lunchables pizza and it's chocolate-and-candy-covered cousin to have nostalgia for it. The return of the "Treatza" has, according to POPSUGAR, been eagerly awaited.
"The Pizza and Treatza Lunchable has not been available in stores since the early 2000s, and the brand's truest fans didn't let it go unnoticed," they wrote. "People even created a Change.org petition to bring back the beloved lunch staple, and the dream has finally come true."