Seattleites have been finding rainbow-striped origami butterflies at parks in downtown, Capitol Hill, South Lake Union, and the University District since yesterday. When unfolded, each sheet displays a message saying, "You are not safe," alongside today's date and a link to ALLGODSMUSTDIE.com. They also include illustrations of Seattle icons: Kurt Cobain, Russell Wilson and the Starbucks siren.
The internet sleuths over on the r/SeattleWA Reddit page discovered that Javascript on the website refers back to TheTenthMark.com and AbolishHumanAbortion.com, both right-wing Christian anti-choice sites. (CW: If you decide to go to either of the sites, prepare yourself for photos of aborted fetuses.)
Today happens to be International Safe Abortion Day. The assholes leaving these origami butterflies around town do not want uterus-havers to have access to such life-saving services.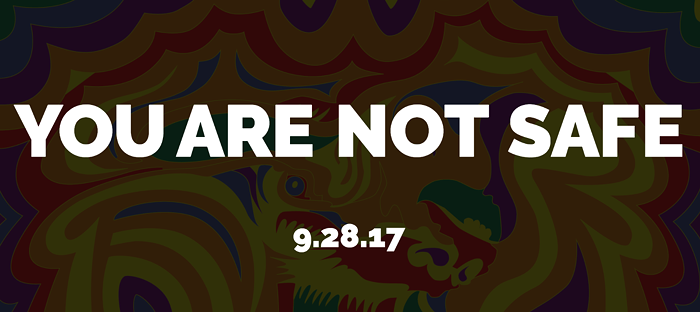 In a Facebook post, Seattle resident Sarah Guthu posted photos of men in black t-shirts gathered at Cloud City Coffee in Maple Leaf.
"They had backpacks full of colorful pamphlets that, when opened, depicted an aborted fetus and bloody hands," Guthu told The Stranger via e-mail. "They were loudly proclaiming that abortion is our 'national Holocaust.' When one café attendee protested their use of that term, one of them was loudly holding forth about etymology, claiming that because the word predates its use in reference to Nazi genocide of Jewish people in Europe that it's not disrespectful for them to use it however they want. Pretty gross stuff."
Cloud City Coffee Manager Steve Appel said the group of about 10 men and a few women stayed at the coffee shop for about two hours. He spoke to them twice "about the level of tension" they were creating in the café.
"They were trying to talk to customers about abortion... Customers were getting quite upset," he said.
Appel said he "[allowed] free speech to happen" and didn't kick the anti-choice activists out, but they eventually left.
Feel like combatting their hateful, unscientific bullshit? Donate to Planned Parenthood, The CAIR Project, and/or NARAL Pro-Choice Washington to ensure people have safe access to abortion and other medical services.
Origami butterflies with ominous message appear in Seattle parks https://t.co/Mq1jCEcZAX pic.twitter.com/OjS3HRMIlI
— KING 5 News (@KING5Seattle) September 27, 2017
This is a developing story. Stay tuned for updates.