TANYA BAGLEY, 41
Mom
Who did you vote for mayor?
Cary Moon
Why?
I feel she will be more collaborative in her dealing with problems. I think she will get more diverse voices at the table. We kinda know what Jenny Durkan will do. She knows a lot of people, but she knows the same people we've always been dealing with. I feel like we need more people who are affected by the problems in this city, and there were some other things I just don't really like about Jenny Durkan.
What was the most important issue for you?
It's the social justice aspect of it. I am actually a PCO (Precinct Committee Officer) in the 37th District and Jenny Durkan did not come to one of our meetings. They put us off by saying, "Oh, she had a prior engagement." And then of course she did show up and was kissing babies and was just kinda like, a little more over-the-top. She was saying, "I'm so sorry I wasn't there. I was with my family." Well, okay. Who was always there? Cary Moon was always there in our endorsements meetings. She was talking about how she wants to include people and that was important to me. South Seattle Emerald had a really good piece about anti-racism. That's a huge deal for me. Of course I voted for Nikkita Oliver in the primary, and I think that would've been great. But we didn't get that, so here I am.
Who did you vote for in Position 8?
Mosqueda.
How come?
There's a couple different people I follow on Facebook. I like what they had to say about her. It seems like she has a little more experience. I don't love Kshama Sawant, even though I voted for Nikkita Oliver. I think there's things about that. What I did is, I said, you know I like this person? And also frankly? We have enough white men in politics.
Is there anything else you want to add?
I just wish more people voted. I just wish we had a more civically minded culture. I know we can't get everything but I am really frustrated that people are just like, "Well, I'm just not going to vote." There are many people who can't vote. And they're making it harder to vote.
PAUL PIERCE, 50
Self-employed graphic artist
Who did you vote for mayor?
What are the options?
Jenny Durkan and Cary Moon.
Jenny Durkan
Why did you vote for Durkan?
I had a couple friends posting on Facebook about her and I think she was the first openly-gay U.S. Attorney and that struck a chord with me.
Who did you vote for in City Council Position 8 between Teresa Mosqueda and Jon Grant?
I believe the first one.
Do you remember why?
I don't. I actually followed—you're from The Stranger? I followed your voting guide with the exception of Jenny Durkan.
We endorsed Jon Grant.
Yeah, I know.
So you did vote for Jon Grant.
No, I voted what you said except for Jenny Durkan and that one, just because friends had mentioned her.
JEWEL SAM-KPAKRA, 50
Owner, SODO Pizza
Who did you vote for mayor?
Cary Moon.
Why?
Well, she seemed to be more Bernie-like.
Who did you vote for in Position 8 between Teresa Mosqueda and Jon Grant?
Jon Grant, and I filled this out last night. It's horrible to say I did. I should've been paying more attention to this election, but you know. I failed to vote in the primary. Again, he just seemed more aggressive, which is what I feel we need right now.
And you say that as a business owner?
Yes, and it's interesting people think all business owners are somewhat anti-liberal, which I don't believe is the case at all. It's just stereotyping people.
ABRAHAM WONG, 34
Software engineer
Who did you vote for mayor?
Jenny Durkan.
How come?
Well, despite the SECB's compelling endorsements, I felt like Jenny Durkan is a little more practical. She has more details in her plans.
What issue was more important to you?
Nothing in particular. Obviously, Durkan and Moon are both liberal and have general agreement about priorities. If there was a big spot against her, it would be her opinion on homeless camp sweeps, which I disagree with. But besides that, Moon maybe has some good ideas but if she doesn't have a great way of implementing them, maybe they won't be worthwhile.
Position 8?
I voted for Jon Grant.
Why?
I don't remember, honestly. I did look at the SECB endorsement, and that was a factor.
Did you vote in the primary?
Yes.
Who did you vote for mayor then?
I did vote for Cary Moon in the primary because I like her big ideas. But partly after some more careful research and more careful reading up and partly because this is the real deal and not just the primary, I voted for Durkan.
Anything else you want to add?
I think we're fortunate in Seattle and King County that we don't have too many serious measures out there. It's not like we're Virginia or even New Jersey. We're lucky enough to live in a liberal enclave, speaking as a liberal. It's a little unfortunate in a way that it's hard to impact other places where perhaps other people aren't getting their fair say.
A previous version of this post misspelled Tanya Bagley's name.
Sponsored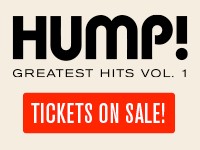 What are YOUR favorite HUMP! films? Start with HUMP! Greatest Hits, Volume One! Relive the memories!