It's great that Bridget Everett's (potential) new Amazon series, Love You More, is going through a pilot process, but the (very, very remote) possibility that it won't get picked up for series gives me the nervous sweats.
Bridget Everett has come a long way from playing "Drunk Party Girl" on Sex and the City. Just this year, the comedian and cabaret performer has been in Netflix's Lady Dynamite and the acclaimed Patti Cake$, and is now at a breakthrough moment with her potential new series, Love You More. The show, written/produced by Michael Patrick King, Bobcat Goldthwait, and Everett (among others), is bold and sentimental in the way TV is allowed to be. It focuses on Karen Best (Everett), a frustrated woman in her 40s who works as a counselor at a home for people with Down syndrome. But the show isn't saccharine—Best is a character that matches the persona Everett has crafted for over a decade: large, confident, and preoccupied with her own boobs.
Love You More is concerned with Karen Best's boobs because Bridget Everett is concerned with Bridget Everett's boobs. (Everett's large breasts have been a focal point in her beloved cabaret acts, which have earned her a cult following.) The pilot's first episode follows Best as she tries to find a bra that fits, a journey that should be incredibly boring yet manages to be funny and insightful. But, as Everett told Vulture, "You have to balance the tits with some heart," and Love You More is as sweet as it is crude. The surprising involvement of Loni Anderson (TV's sex symbol during the late '70s and early '80s) as Best's 71-year-old roommate, Jean Carlyle-Dixon, is particularly notable. Anderson weasels her way into your heart and stays there.
It's curious why Amazon is putting Love You More through a pilot process since the show is helmed by Michael Patrick King, creator of Sex and the City and cult favorite The Comeback. (Full disclosure: I love The Comeback so much that I have the name of Lisa Kudrow's character, Valerie Cherish, tattooed on my thigh.) Channels and streaming services are in an arms race to produce as much original scripted material as possible, and pilot processes are, well, slow. It's the age of Peak TV in America, and streaming services like Amazon have publically speculated that pilots are unnecessary when a show is led by A-list creators. As Vulture stated back in August:
Much the same way a big star like Tom Hanks usually doesn't have to audition for a role, A-list series creators whose ideas are in demand generally don't want to put their ideas through an extended pilot process — particularly not one as public as Amazon's pilot season.
Woody Allen skipped over Amazon's pilot season for Crisis in Six Scenes, but that was a disaster, so maybe Amazon is learning from its mistakes. Good things require development, even during the pressure cooker of Peak TV.
Chatter aside, here's what you need to do: Amazon's new pilots are free to watch during pilot season, so it doesn't matter if you're a faithful Amazon drone / New Seattleite™ with an Amazon Prime subscription. Watch Love You More and then complete this short survey where you can tell Amazon to PICK IT UP AS A SERIES. Thanks.
Sponsored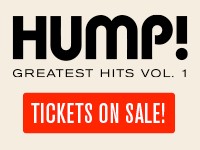 What are YOUR favorite HUMP! films? Start with HUMP! Greatest Hits, Volume One! Relive the memories!