Northwest actor, teacher, musician, dancer, father, and friend G. Valmont Thomas died of bone cancer early Monday morning. He celebrated his 58th birthday with friends and family last Friday, Dec. 15, shortly after entering hospice care in Ashland, Oregon.
He's survived by three children—Aria Thomas, Langston Thomas, and Oliver Hansen—and also by a theater community in Washington and Oregon who sewed his costumes, hung lights around him, directed him, and acted alongside him throughout his storied career.
Longtime friend Patricia Bonnell Hasko said G. Val—as he was known to those who knew him—performed straight through his four-year battle with cancer. This past summer, she said, the accomplished Shakespearean actor played Falstaff in Henry IV: Part I and II at the Oregon Shakespeare Festival, where he worked as a teacher and an actor for 14 seasons.
He worked long enough to open the second Henry play on July 8, which ended up being his final show. Combined with his performance of Falstaff in the Merry Wives of Windsor years before, Thomas played every part that Shakespeare created for one of the most complex comic characters in history.
"Do you know how rare it is for an actor to play Falstaff in all three Shakespeare plays?" Hasko recalls Thomas asking her. "Let alone a black actor," he added.
A friend who saw the show told Hasko that G. Val "blew the roof off the theater."
***
Thomas's range as a performer was astounding. "Some people are wonderful in traditional roles, some are strictly contemporary actors, G. Val could do both," Hasko told me.
The late great playwright August Wilson knew Thomas and worked with him on a production of The Piano Lesson, one of the most critically acclaimed plays in The Pittsburgh Cycle. After watching Thomas's performance of Boy Willie, Wilson said Thomas "taught him some things about the character he didn't know," according to Hasko. Later on in his life, Thomas would go on to play the older character, Wining Boy.
His daughter Aria remembers him rehearsing for Boy Willie at home. "He was describing the process of stepping into this character as a fight with a ghost. It was a very physical thing for him," she said. "I loved seeing my dad work through these things, and develop these characters, and make these roles whole. Dad was a really hard worker, he was a people pleaser, he was always funny, and he was always able to make anyone laugh. Once you met him you remembered him."
***
Friends say Thomas made his big break into Seattle theater with his portrayal of Dr. Frank N. Furter in a production of The Rocky Horror Picture Show at The Empty Space Theater in 1986-87.
"Take thick thighs. Add a rock-'n'-roll musician's repertoire of raunchy stage moves. Slip a rich alto voice between the layers. Slick it with adrenaline, and you have Thomas' audition for the Rocky Horror Picture Show," writes Elizabeth Cronin in a 1990 profile of the actor for the Seattle Times. "He sang the 'Sweet Transvestite' and bowled over Walker, then Empty Space artistic director." He was apparently so good that "several theater-goers would sit through intermissions to watch Thomas move furniture in character."
"His smile had a range," said John Langs, artistic director of ACT Theatre, where Thomas performed as a core company member. "It could be incredibly menacing or totally warm and loving."
Langs said he's been a fan of Thomas's since he saw him play Macbeth at OSF under the direction of Libby Appel. But Langs first directed Thomas when he played Jacob Marley in ACT's production of A Christmas Carol.
"A lot of people know G. Val was a huge fan of hair band music," Langs said. "Well, Jacob Marley has a big wig. And I can just remember standing around in tech and watching him headbang to a Van Halen song. He absolutely had us in stitches."
Langs added that he'd just received a letter from another core member at ACT, Lorenzo Roberts, who wrote that he remembers Thomas for being a terrific mentor who "taught him about his history and lineage in American theater."
(ACT is currently putting up a wall of photos in the lobby and dedicating the last week of their production of A Christmas Carol to him.)
Aria told me Thomas taught at home just as often as he taught onstage. "Dad was very smart," she said. "He was constantly teaching me. If I went to rehearsal with him, he would give me a book—and a lot of times it was black history—and he would say, 'I want you to read from this chapter to this chapter, and later on I want you to tell me what you learned."
"I remember rehearsing lines with him," she added. "And even as a kid he never let me do it willy-nilly. We'd always have to do it for real. He's just been such a mentor, and a leader, and an inspiration to so many people. It makes me really proud."
***
Toward the end, Hasko said, a group of past and current members of OSF—some performers, some not—worked in shifts to help care for Thomas. They went to the doctor, they picked up prescriptions, they provided food, and they did it for months. When his condition became more severe, a second wave of people volunteered.
"He was so beloved," Hasko said. "He wasn't a perfect fellow. He was a complicated man, and he might not have allowed himself to feel that love. But I believe in the last year of his life it was extraordinarily clear to him how much he was loved." Actor Eric Ray Anderson organized a fundraising concert for him, and a restaurant in Ashland donated an evening's worth of sales to help him pay for medical expenses.
Hasko organized a GoFundMe campaign to help out, and she said they'd almost made their original goal within a week. "When I told him that 560 people donated to the fund, he thought about it for a moment and said, 'Jeez, that's almost enough to fill the Bowmer," referring to the Angus Bowmer Theatre in Ashland, which seats 600 people. Three days after that he drew enough donors to fill the Bowmer.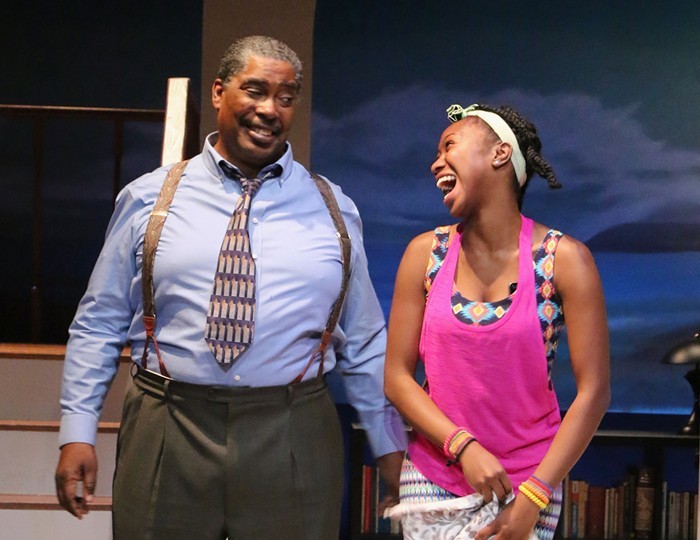 Aria said she called her father a few times the Sunday before he died. The first time he was asleep. The second time a friend put the phone to his ear, but he wasn't able to speak. She could only hear labored breathing. But as she talked to him and told him she loved him, a friend in the room told her that he was smiling the whole time. Around 5:24 the following morning, she got a call saying Thomas's breathing and heart rate had slowed. She asked if someone could put the phone to his ear again, but the friend said he'd already passed. One of his attendants had read selections from Henry IV: Part I to him the evening before, which may brought him some comfort, Aria said.
Thomas was a talented musician all his life, and Aria said it was important to her father that his children inherited his instruments. During her "rebellious pre-teen phase," Aria said she chose singing over finger-picking. But now she plans to pick up her dad's guitar and learn to play.
Family and friends are organizing two memorial services—one in Ashland, OR and one in Seattle, WA. They anticipate dates will be mid-to-late January.