On Tuesday, Lambda Legal filed a federal lawsuit against Department of Health and Human Services (HHS) and the U.S. Conference of Catholic Bishops (USCCB). The suit was filed on behalf of a same-sex couple who says they were denied the opportunity to serve as foster parents for refugee youth because, according to the lawsuit, they don't "mirror the Holy Family."
The "Holy Family" presumably refers to Joseph and Mary Christ, a couple often credited with giving birth to Jesus H, the alleged "son of God," through a mysterious process known as "immaculate conception" roughly 2018 years ago. Studies have been unable to replicate immaculate conception in humans, although "virgin birth" does occur in some species of nematodes, water fleas, scorpions, aphids, mites, bees, and parasitic wasps, as well as some snakes, birds, and lizards.
Lambda's lawsuit claims that HHS—a federal agency currently run by Republican donor and pharmaceutical exec Alex Azar—is violating the Constitution by allowing USCCB to impose a religious test on applicants. The Constitution guarantees a separation of church and state, although certain people serving in the administration of the current and future ex President have spoken in favor of remedying this.
USCCB receives millions in grants from HSS's Office of Refugee Resettlement to assist with finding homes for refugee children. According to Lamba Legal, the couple, Fatma Marouf and Bryn Esplin, applied to foster with a Fort Worth, Texas, USCCB affiliate, when the affiliate's Director of International Foster Care informed them that that were ineligible to foster because of their "family structure." The program they attempted to apply for is exclusively funded by taxpayer dollars.
Marouf and Esplin have been married for three years and they both teach at Texas A&M University.
"Being denied the opportunity to foster a child because we don't 'mirror the Holy Family'—clearly code for being a same-sex couple—was hurtful and insulting to us," said Esplin in a statement. "More than that, though, insisting on such a narrow, religious view of what a family must look like deprives these children of a nurturing, supportive home."
"Refugee children have been through enough trauma to last a lifetime," said Marouf. "They need love, stability, and support, which Bryn and I have in abundance. But in discriminating against us, the agency put their religious views of LGBT people above what is best for the kids in their care."
While Pope Francis, the current leader of the Catholic Church, has said that LGBTQ people should be welcome in the faith, Catholic doctrine still considers homo sex a punishable sin—at least, when it's consenting adults doing it instead of priests and little boys.
Sponsored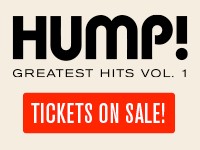 What are YOUR favorite HUMP! films? Start with HUMP! Greatest Hits, Volume One! Relive the memories!