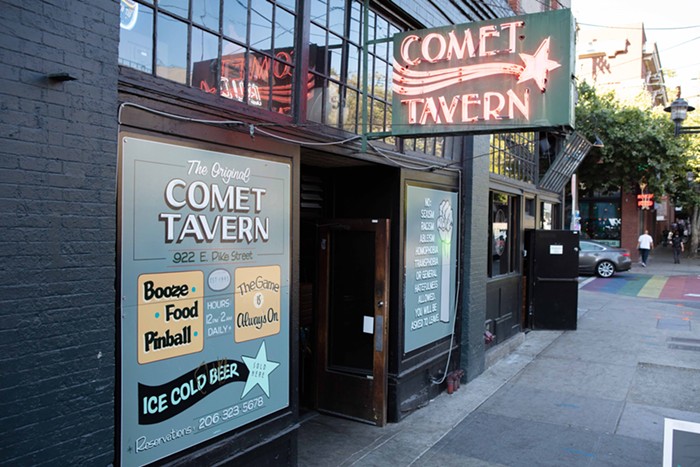 David Meinert, the embattled Seattle businessman recently accused of sexual misconduct and rape, has sold his stake in the three bars that formed the centerpiece of his nightlife empire, according to his business partners.
Sponsored
The Prom is a musical comedy about big Broadway stars on a mission to change the world.
"David is officially no longer an owner at Lost Lake, Comet, Guild Seattle or Grim's," said Joey Burgess, one of Meinert's former business partners.
Meinert was accused of sexual misconduct by five women in a story published by KUOW two weeks ago. Meinert, speaking to KUOW, denied the specific accusations but said he had "crossed the line of respect" with women in the past.
Meinert has not returned The Stranger's request for comment since the allegations first surfaced.
Meinert has long been a fixture in Seattle's nightlife community. He co-owned the Capitol Hill Block Party for ten years and transformed the small neighborhood festival into one of Seattle's biggest and most popular music festivals. He has enjoyed worldwide success with his band management label with bands like The Lumineers and Hey Marseille. He has also been active in local politics, giving over $36,000 in political contributions to local candidates.
But the allegations against Meinert have quickly cut down his business empire. In just two weeks he has seen all of the musical acts abandon his management company, nearly all of his wide ranging business partners distance themselves from him, and vows from the governor and the King County executive to return thousands of dollars in contributions.
Calls to boycott Meinert's businesses were sent around social media and posted on flyers on Capitol Hill following the allegations. We'll see if any boycotts continue following today's announcement.
With Meinert's departure from Lost Lake, The Comet, and Grim's, his business footprint on Capitol Hill has essentially evaporated. He still owns the Five Point Cafe in Belltown and the new Gridiron Building near CenturyLink Field, which he planned on building four restaurants inside of. That project has not been developed and The Gridiron Building's owners have not returned a request for comment about the allegations.
Meinert also owns a stake in Torch Northwest, a legal pot company in Tacoma.
Sponsored
Featuring The National, Mitski, Mac DeMarco and more! Full lineup and tickets at dayindayoutfest.com