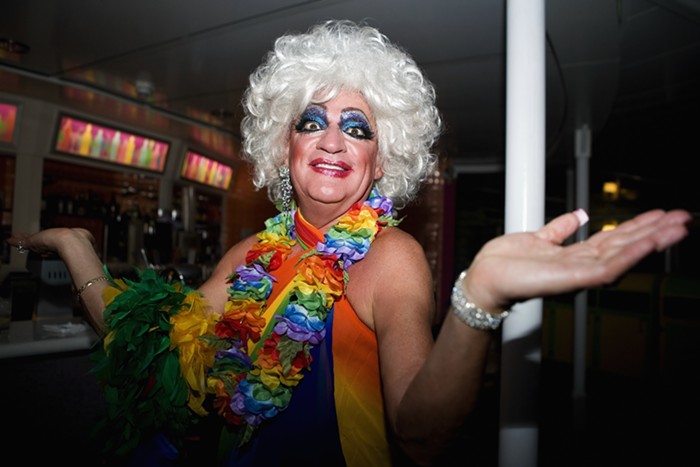 If you want to be an ethical consumer of art, you should also understand how artists get paid.
A few weeks ago, I wrote about the economics of drag, including firsthand accounts of how expensive it is for drag performers to put a single look together. That piece focused mostly on the costs of drag, with only brief mentions of how much performers can expect to make for their art, but what quickly became apparent was how little people understand about the basics of how drag performers make money and what kinds of labor issues they face. (Side note: for those of you who still insist that drag is a hobby and not a performance art worth getting paid for, I challenge you to provide an example of the last time Stamp-Collection Night at your neighborhood bar netted thousands of dollars in sales and an Absolut Vodka sponsorship. My Twitter DMs are wide open.)
Sponsored
A world premiere musical that you can really sink your teeth into Get your tickets
HERE
!
To help educate the world on its Good Judys, I've identified three issues that drag performers have to contend with and the potential dangers they represent. Obviously, this list is not exhaustive, but my hope is it helps show how much shit a queen has to deal with in order to get on stage and shake her padded ass for your dollars.
Contracts Are Rare
Let's get like Maria and start at the beginning. Drag shows are generally structured in two acts, with an emcee and a lineup of five to seven performers each performing a lip-sync number in the first half, followed by a second, different number in the second half. Generally, for these kinds of performances, performers are paid a flat, agreed-upon fee ranging from thirty to sixty dollars.
When a queen is booked for a show, she'll usually be contacted by the venue's in-house booker or an independent promoter (oftentimes another queen) who's producing the show. Every performer I spoke with said that they're most often contacted via Facebook Messenger or Instagram DM, rather than an email. They're almost never asked to sign any kind of contract unless the performance is part of a corporate event. Once a queen performs, she'll usually be paid by the queen producing the show or by a designated employee of the club.
Since bookings are often done over social media, miscommunications are frequent. Some of the performers I spoke to described showing up to gigs unsure of how much they were being paid for the evening. Additionally, since performers aren't on contract with a venue, offers can be rescinded without consequence.
"Bookings aren't guaranteed," Londyn Bradshaw, the reigning Miss Gay Washington, told me. "I've had a somebody book me for a date and then replace me because somebody else complained. It's actually happened twice in the last few months."
The major exceptions are performers who have appeared on RuPaul's Drag Race, whose booking fees are often in the thousands of dollars and who almost always require a contract. "Contracts are normally only done with RuPaul girls. That can be an intensive negotiation process—you have riders to deal with and all that" explains Floyd Lovelady, R Place's manager and talent buyer.
Payment Is Unpredictable
There's no industry standard for how much a performer is paid for a standard gig, which means payment can change wildly between different venues and show producers. Smaller shows often pay cast members a small flat fee or a percentage of the money made on tickets at the door. Larger, more established shows sometimes pay higher fees. Pay also tends to vary between girls who are cast members of a given show—which is to say, they appear in the show every time it's produced—and those who are featured or one-off performers.
Some of the differences in pay make sense: if a queen has committed to appearing in and promoting the same show every month at a club, or if she is producing the show on behalf of the venue, it makes sense to pay her more than somebody who might be guest performing for one show. However, since there is no standard base rate across the industry, performers often have to contend with several different, sometimes inconsistent pay structures.
"I had one gig that started out paid where we took shifts working the door and dancing in the floor with the guests until the show started," says Baby Guuurl, a local queen who performs around town. "Then suddenly we stopped getting paid for a while. Thankfully, we started getting paid again during 2018 and have been getting regularly paid since."
When I reached out to a number of local venues for comment, each described different ways of tabulating how much queens should be paid. "As for specifics, I can't get into too much," said R Place's Lovelady, "but generally, it's a standard offer that we agree upon, plus tips. I like to make it so that each person working at the bar—bartenders, barbacks, go-go boys, and drag queens—are all walking out at the end of the night with a similar sum."
Neighbours, which hosts the 18+ show Vibes, operates slightly differently. "As far as structure, we give a flat fee to the queen hosting and the hostess decides how to divide the money up to pay the cast. Every week it changes based on the size of the cast," explained Alexander Kane, Neighbours' Operations Manager.
Jessica Nelson, the Guest Services and VIP Event Coordinator Le Faux at Julia's (billed as "Seattle's longest-running continuous drag show") declined to respond entirely: "At this time it's our policy to keep performer compensation private between our Director and the performers."
No Entity Is Advocating for Drag Performers
There is nobody overseeing the treatment of nightlife performers, which mean that performers are often at the financial mercy of venues and promoters. "I always do a little Nancy Drew-ing detective work if I get asked to be a part of an event that's in a space I'm not super familiar with, or get asked to go to a show that's being put on by someone I don't know that well," says Cookie Couture, who will host the upcoming So You Think You Can Drag competition show at R Place. "It's tough though because there are so many drag queens now that a newer performer will take a sketchy-sounding gig just to take any opportunity. There are certain people that I think we'd all be better off not working for."
Americano, who performs at a number of local clubs and hosts a monthly show at Kremwerk, described a particular issue she'd encountered while working an event for Nark Magazine, a local independent production company run by promoter Kevin Kauer.
The issue began when she was booked to—as she understood it—emcee an Adore Delano concert at Neumos, which Kauer produced. According to Americano, when she arrived at the venue the night of the show, her name wasn't on the guest list and Kauer could not be reached to let her in. Eventually, she says, she convinced a member of the security team to let her in, hurriedly changed into her outfit and found Kauer. "I go find Kevin who's running the photobooth and I asked what he needed me to do," she explains. "I asked 'Do you need me to introduce her or talk on the mic or hype the crowd up or anything?' and he was just like 'No, just hang out.' I was kind of frustrated because I put all this drag on just to hang out in the crowd in this dark venue. There ended up being no emcee or anything for the night and I was really confused."
Americano had also assumed that she would be paid, but alleges that Kauer left without paying that evening. "He never said anything about it not being a paid gig, and I assumed since it was such a big event, and for a RuGirl, that I'd be paid. I figured I'd make like forty bucks at least. And then at the end of the night, everyone goes to leave together and Kevin just walks by on his phone. I don't even remember if I confronted him about it because I felt so uncomfortable."
Angela Visalia, who also hosted at the event, says that she was told the gig would not be paid, but also cited a lack of clarity surrounding the event. "He told me up front that it wouldn't be paid," Visalia says. "I accepted because I was still a younger queen and didn't have any regular gigs at the time. Then as the event got closer he said we'd be working the photo booth and VIP area and that'd be our hosting." However, Visalia says that once she arrived at the event, she wasn't given any directions regarding her role or responsibilities. "Basically we just showed up in drag for free and got to go to the show and be backstage, but we didn't have any duties or actual 'hosting' to do. He never really communicated throughout the whole experience."
Visalia also alleges that, later, after being booked for one of Nark's annual "Alternative Pride" events, she attempted to clarify with Kauer what pay for the event would be and never received a response.
Two other queens I spoke to in the course of reporting this piece also cited instances in which Kauer did not pay them for working Nark events, though both asked to remain anonymous for fear of endangering any future bookings.
In a statement to The Stranger, Kauer denied ever knowingly not paying a performer, except in situations where mutually-agreed upon. "The fact is I pay everyone, period, unless there's some pre-agreed reason why not," he says. "That being said, sometimes there are communication errors where a performer didn't pick up their pay from the door, then didn't ask about it night-of, and never said anything about it. There isn't an HR department in this business or a squad of people working for me to keep everything organized so sometimes things slip through, but I have never, repeat, never refused to pay someone."
Whether because of miscommunication or a lack of clarity throughout the industry, these are primary examples of the kinds of issues facing drag performers, promoters and venue operators as drag becomes, more and more, a form of mainstream entertainment. For decades, drag existed largely outside of a commercial framework and now, suddenly, it's become a bonafide industry, with some queens having booking fees in the thousands and RuPaul's DragCon quickly becoming a multimillion-dollar conference. The drag economy is booming but it's still in its infancy, which means that we as consumers have the power to decide what shape it will take and who it will serve. I don't know about you, but I'd like to continue to throw my dollars at those padded asses long into the future.