In case you missed it: There's this thing called bucking. It's what horses do, but it's also what people do. It's a style of dance that derives from Jackson State University in Jackson, Mississippi. It originated from the school's majorettes. Originally, the dance looked something like this:
Sponsored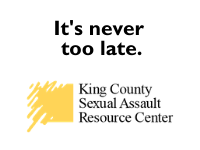 Free, confidential, inclusive support and information about sexual assault is available 24/7

But then the gays picked it up in the late 1980s/early '90s, around the same time ball scenes were coming up around the country, à la Paris Is Burning. Starting in gay clubs around Atlanta, then formally evolving into teams, bucking has ended up looking more like this:

And now, thanks to director Jamal Sims and the production company World of Wonder, bucking's gay underground is coming out to the mainstream with When the Beat Drops, a new documentary making its Seattle debut this weekend as a part of the TWIST Seattle Queer Film Festival.
Sims's documentary will likely only be of interest to queers who love balls and people who love majorettes, but, as someone who fits into both of those categories, I can say the doc is an important addition to the growing canon of documentaries about gay (mostly black) dance subcultures. (This One's For the Ladies, another new addition to that canon, was my favorite film at SIFF this year.)
When the Beat Drops primarily focuses on raising awareness of bucking—an important task, as it's a dance subculture that parallels voguing in importance and influence—but analyzing the art of bucking means analyzing the ways gay black men, especially gay black men in the south, are often forced to compartmentalize their identities. In one standout segment, the doc's bucking teams differ on whether they should buck in public during Atlanta Pride. Big Tony, the film's principal narrator, repeatedly says that bucking shouldn't be done in public out of "respect" for families and majorettes. While Big Tony is a charismatic man who could charm the panties off a preacher, it's hard to agree with him or see his response as anything other than internalized homophobia. That said, in a country with minimal workplace protections for queers, these men understandably feel wary about bucking in public.
The boundaries of bucking are a tad confusing, although Big Tony does a good job describing it when he says it's "a creative style of our own. It's a melting pot. It's like gumbo. It's real good." But the bucking that seems to be closest to the original form is sort of like drag performance, in the way voguing is a type of drag. With voguing, performers serve the drag of an untouchable supermodel. With bucking, performers serve the drag of proud majorette, but elevated to high fantasy. During a bucking competition, successful teams aren't just performing for a small hotel room, they're presenting as if they're actual majorettes performing for an entire football stadium. Their fantasy imagines a world where they are celebrated and writ large like the majorettes they admire. When the Beat Drops allows them to take it one step further: These men are bigger than the football stadium they imagine. Now, they're performing for a nation.
When the Beat Drops screens this Sunday as a part of the TWIST Seattle Queer Film Festival. Check out the festival's full schedule here.