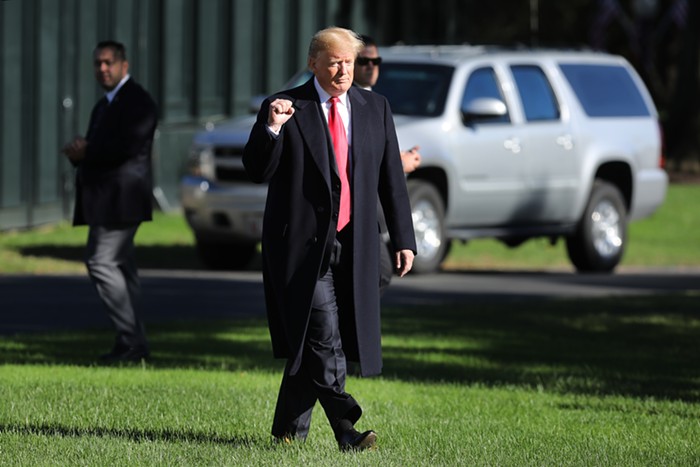 • As the world learns more gruesome details about the assassination of
Washington Post
columnist Jamal Khashoggi (chopped fingers, torture, dismembered limbs, a plea from the Saudi consul general to "do this outside") Trump has used the world's greatest intelligence apparatus to deduce that...
Kashoggi is in fact dead
. What will he learn next, that it happened at the Saudi Consulate in Istanbul? That the Saudi's have produced no credible evidence to refute that they executed a columnist for an American newspaper? Don't hold your breath.
• Donald Trump defended himself for never visiting U.S. troops overseas during his first two years in office because he's "very busy with everything," and that he doesn't think "it's overly necessary." What is necessary for Trump? Golfing. He's gone 68 times during his presidency according to Newsweek.
• Donald Trump stepped in to defend "Lyin' Ted Cruz" from his Democratic opponent Beto O'Rourke, calling Beto "a flake" in a Tweet. Doesn't sound as good as Lyin' Ted, Trump's insult for Cruz.
• NPR's Terry Gross talked to two of the New York Times journalists that broke that incredible story earlier this month of how Trump was gifted—probably illegally—over $400 million from his father. Listen or read the whole interview and then think about your looming tax bill and how America's rich don't pay their fair share. It'll be fun.
• Donald Trump personally met with senior government officials in an effort to scrap a long-planned effort to move the FBI headquarters out of D.C., according to documents released by House Democrats Thursday. The headquarters are a few blocks away from Trump's D.C. hotel and the planned relocation would have given other hotel companies the chance to compete with Trump's Hotel. So Trump squashed quashed the move, even though we are now spending more money keeping the FBI in the city. Like so many stories, this would tank any other administration. But with Trump it's hardly a scandal.
• After handing out billions of dollars to Wall Street and the mega-wealthy in his "Friends and Family" tax bill, Trump is now asking for a 5 percent cut in federal spending. That's not likely to actually reduce our deficit, so expect massive cuts to entitlement programs like Medicare and Social Security. Yay!
• Former Vice President Joe Biden told CBS that he doesn't think "there's a basis for" impeaching Trump and hopes Democrats don't impeach Trump if they take the House next month. Well guess what Biden? I hope you don't run for president. ITMFA!
• Which leads us to this massive lie of a tweet from our Liar-In-Chief. Denying healthcare because of someone's pre-existing conditions is a key principle of Republican health care plans and they are currently planning on gutting Medicare.
All Republicans support people with pre-existing conditions, and if they don't, they will after I speak to them. I am in total support. Also, Democrats will destroy your Medicare, and I will keep it healthy and well!
— Donald J. Trump (@realDonaldTrump) October 18, 2018
• Paul Manafort has visited Robert Mueller's office at least nine times in the last four weeks, hopefully indicating that we will soon have Manafort, the man who picked our vice president, in jail.
• CNN's Jake Tapper pointed out that Trump is harsher in his criticism of Taylor Swift than he is of Saudi Arabia over their apparent assassination of Jamal Khashoggi, which is totally true. You know who Trump doesn't criticize? Kanye West. With that, I leave you with Kanye's best collaboration with Justin Vernon and Gil Scott-Heron:

The only good part about today, the 635th day of Donald Trump's Presidency, is that tomorrow is Friday.