Supposedly, there's going to be a
massive protest
in Cal Anderson Park tonight. You may have heard of it. It's the Mueller Protection Rapid Response.
Sponsored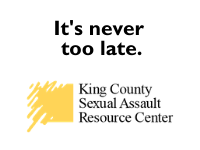 Free, confidential, inclusive support and information about sexual assault is available 24/7
There's nationwide hype. Over 900 protests have been planned across the country. All at 5 p.m. local time. That means people on the East Coast should be turning out in droves right about now.
These protests have been planned since April. They're rapid response protests designed to trigger the day after Trump makes significant moves to impede the Russia investigation overseen by Special Council Robert Mueller. Two things were meant to trigger the protests: Trump firing Mueller, or Trump firing deputy Attorney General Rod Rosenstein who has been overseeing the investigation since Attorney General Jeff Sessions recused himself. Those were the proverbial red lines.
But, neither of those things happened and the protests were still triggered yesterday. That's because Trump convinced Sessions to resign. A resignation allowed Trump to appoint an acting AG without Senate approval, which would have been needed if Sessions were fired. Since the new acting AG hasn't recused himself from the Russia stuff like Sessions did, oversight of the investigation switched from Rosenstein's hands to Matthew Whitaker's, the new acting AG. It seems to basically be a move to take over the investigation while circumventing the need to fire Rosenstein.
So now, Whitaker, a man who has penned many a negative opinion piece on the Russian investigation and who is friends with Donald Trump, is in charge of the investigation into Trump's collusion with Russia. That's no good. That's why hundreds of people are expected to turn up to Cal Anderson Park—and the 900-and-counting other locations across the U.S.—this evening.
According to a press release for the event, Congresswoman Pramila Jayapal is expected to speak along with several other local leaders. The event is designed as a rally and a march. It will start in Cal Anderson and make its way to Henry M. Jackson Federal Building. It's planned from 5 p.m. until 8 p.m.
Here are some tweets to show you that this is a big deal:
Apparently 900+ #ProtectMueller events and protests planned for tomorrow already.

List is here by state and town...https://t.co/faUwNbPy0L
— Rachel Maddow MSNBC (@maddow) November 7, 2018
Firing Sessions is a clear attempt to stop the Mueller investigation in its tracks.

Trump is feeling emboldened by the midterms. But so are we, and we're not backing down.

Take action: https://t.co/bv3SgE6sOx
— Women's March (@womensmarch) November 8, 2018
There's this dispatch from last night:

Day 115, week 17! Welcome to the #KremlinAnnex protest! pic.twitter.com/pRaZOHhMCi
— Kremlin Annex (@KremlinAnnex) November 8, 2018
And currently, in New York:
Thousands already gathered in Times Square to #ProtectMueller pic.twitter.com/g0AYxgfaU6
— Beau Willimon (@BeauWillimon) November 8, 2018