On Tuesday night at the
Crocodile Back Bar
, musician/chill dude Juan Wauters told the group of us, sullenly looking up at him on stage, wrapped in our winter jackets, that it was our own responsibility to get what we wanted out of the show.
Sponsored
Join PNB for a timeless tale of holiday adventure performed by PNB's amazing dancers and orchestra.
He said all of this to us in a bright yellow sweater and green pants, his mullet tidily brushed into a ponytail, looking down at the stage. He resembled, and I say this fondly, Arthur the Aardvark with a mullet. Wauters continued, telling us that it was our duty to shape the night as much as it was his. He seemed to say this out of love; for performance, for music, for sharing this thing he likes to do with us.
Last week, Wauters dropped his latest album, La Onda de Juan Wauters. I wrote about the album and about a conversation I had with Wauters here. It's his first album entirely in his mother tongue of Spanish (Wauters is from Uruguay and moved to the States in his teens) and he recorded it over a seven month trip across Latin America, where he collaborated with local musicians at every stop, incorporating the sounds of each locale. The result is a lush and very beautiful record, many-fingered, reflective, good.
On Tuesday, playing with an acoustic guitar he bought off Craigslist in California after leaving his own guitar somewhere in Canada, Wauters had no backing band—just a stool and microphone.
Wauters, throughout his hour-and-a-half set, was intent on fucking with the power dynamic between performer and audience. He repeatedly rejected the microphone in the middle of songs, getting up from his stool and walking away from the mic, swinging his hips around, running across the stage, miming smashing his guitar on the floor. He told us he doesn't like performing to darkness; the sound guy promptly brought out a lamp to shine on our faces, illuminating us for Juan.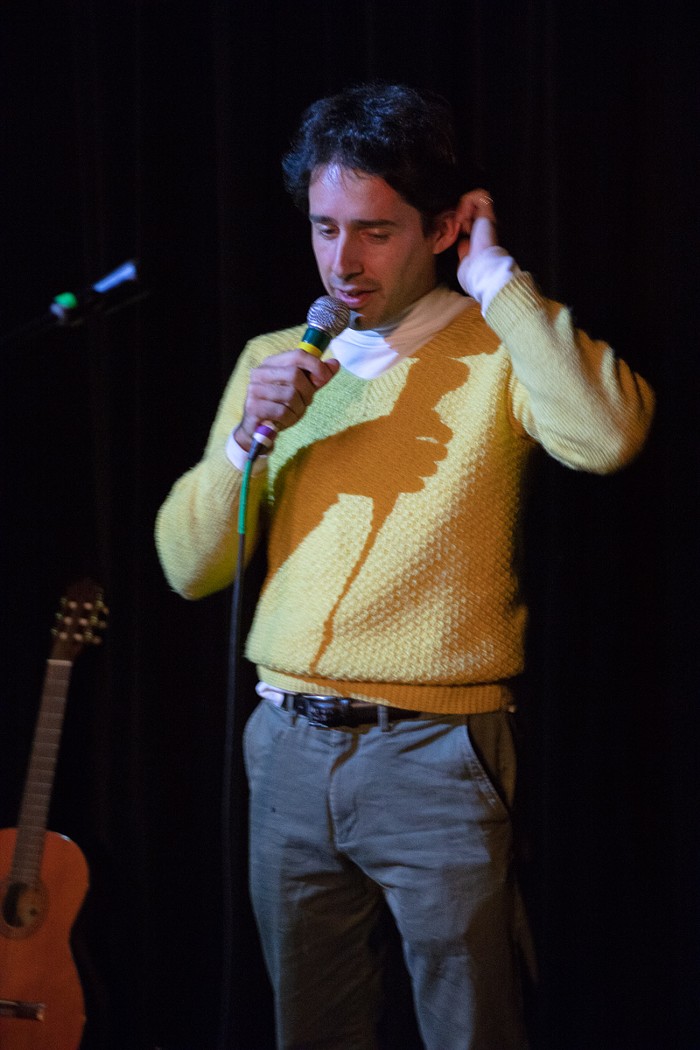 Wauters played a mix of songs from his previous English language albums and his most recent one, taking requests from the audience. The tensest part of the performance was when he decided to conduct his "social experiment." Translating six lines from his song "Disfruta la Fruta" into English, he sang the lines over and over again, so that we could memorize them, and then had a person from the audience sing each line. If someone got it wrong, we started over.
He told us this experiment sometimes takes three hours to get right and that if we didn't complete it, then we'd be the first city to do so. Yikes.
Wauters was lovingly stern with this, like a teacher, accepting no cheats and no long pauses. We ultimately finished without fulfilling his charge. The show felt incomplete without it. But with audience members failing to perform "Disfruta la Fruta," which translates to "Enjoy the fruit," we got a taste of what it's like for him, as a person who plays music, to get up on stage and do something that's expected of you. It was an exercise in failure and what it means to perform for a paying audience.
All of this was done in earnest. At no point did it feel like eye-roll inducing performance art (though I'm also down to fuck with that). Rather, it was an exploration of musical performance. It was punk. It was folky. It was populist. It was fun. And Wauters makes you feel in on it. Toward the end, he reminded us that "the concert is only happening because we are all here." We're here, Juan, we're here!