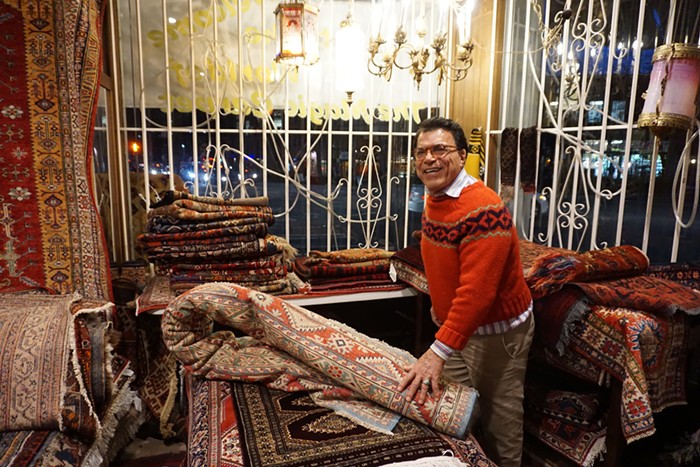 When you buy a carpet from
Caravan Carpets
in Fremont, the owner, Reza Katirayi tells you to go home, light some candles, drink some wine, and dance on the carpet. The rug will speak to you if you dance on it. It's kinda like the Tempur-Pedic Mattress glass of wine test. Except, to Reza (he's just Reza to anyone he meets) a rug is more than a product; it's an experience, it's a history, it's a connection.
Similarly, Caravan Carpets, a storefront you'd probably recognize and an interior you've never set foot in, is more than meets the eye. For 36 years, the shop has been located at the heart of Fremont kitty-corner to the literal Fremont "Center of the Universe" sign. At the end of March, that won't be the case anymore.
Sponsored

Click here to see what people are saying about Judge North.

Paid for by Committee to Reelect Judge North, P.O. Box 27113, Seattle, WA 98165
There are signs and banners announcing a perpetual going out of business sale. Those have been around for years—it's a boy-who-cried-wolf sort of thing for carpet shops, Angela Katirayi, Reza's daughter, said. But now, they're finally accurate; Caravan Carpets is being evicted.
"Sometimes if you don't move yourself then nature will move you and you will be happy," Reza, who is 74-years-old, told me. Angela said they're treating the news as an excuse to have him finally retire.
Reza is originally from Shiraz, Iran. He brought the Middle Eastern Bazaar to Seattle. Caravan Carpets was where Angela and her two sisters were raised. And it's where Paul Fuesel, a longtime customer, met Reza and fell in love with carpets. Fuesel owns a rug that Reza's grandfather traded back in the 20s. It's usually in his living room. He brought it to Reza's retirement party at Caravan Carpets to show me.
"Reza really opened up my eyes," Fuesel said, "the beauty is in the eye of the beholder, you learn that. When you appreciate something it's because you understand it."
Fuesel went on a trip to Turkey where he was inundated by people buying carpets. All he bought was a couple of postcards. He put them up in his house and, for about 10 years, just admired them. Finally, one day, Fuesel wandered into Caravan Carpets. He'd walked past it so many times.
"I just came in and Reza and I started talking and I liked what he was saying," Fuesel said. "I kept coming in because he's engaging and fun; it's not about carpets, it's about life."
Reza wasn't selling so much, he was just talking to Fuesel. And now, Fuesel is a part of the family.
Every inch of the store, every surface, was covered in carpet. Splashes of indigo. Veins of pomegranate on wool and silk and cotton. I sat on stacks of rugs from Persia, from Northern India, from Morocco. Ornate light fixtures and oil paintings were tucked into any spare real estate—Reza appreciates all art, Fuesel told me. Angela pointed out his shoes to me: red, yellow, and blue sneakers with black laces.
There was music playing, there were friends and family and former customers. They all knew each other. Reza's sister had made a whole table of food. There was wine and brandy.
Arshia Fathali, Reza's former employee and now close friend, said that this was how the shop normally functioned, like a meeting place. Except, he pointed out that the food was usually in a different part of the room.
A father and son peered into the store from the sidewalk. Reza opened the door. "Please come in," he said in real time while the people closest to him were telling me about how welcoming he was.
He crouched down next to the boy. "Do you want to jump on the carpet stacks?" Reza asked. "You can jump from stack to stack. Would you like to do that?"
Carpets are unique because they're a type of art that's meant to be stood on and lived on. "Textile is the closest to human as you can get," Reza said.

Creating one of these rugs takes a village—sometimes, literally. Fathali and Fueselo, both whom had taken Carpets 101 from Reza, showed me how rugs are made, how a row is weaved one at a time, that "a rug is like building a wall," Fathali said, grabbing my hand. "Here feel this rug." Some of the more intricate ones are like woven pointillism, according to Fueselo.
"The beauty of this store is what he has to work with," Fathali said, leaning toward me as if he was letting me in on the trade secret. "You've got to get your energy from some place. Location is good, he's got the personality, but he pulled the energy out of an artifact that's very rich. It's ties that bind. There's a lot of work that goes into the ceremony of how you weave a rug."
Reza can seemingly form ties with anyone who walks in the store. In the middle of me interviewing him, he paused and asked about my life, where I was from, what my family was like, where I went to college. He found common ground—all of his daughters started off studying journalism too—and launched into more about his life. He showed me (and the young family he had invited in) pictures of his daughters and his grandchildren, doling out names and life histories; he even brought out his eldest daughter's PhD thesis. He keeps it behind his desk.
"So many people come to visit me over all these years," Reza said. "I build up this relationship with these customers. Even when they had nothing to do they'd come by to remind me how much they love my carpet."
Reza said he'll miss that the most when Caravan Carpets closes for good on March 31.
Sponsored
The all-digital festival features one-of-a-kind performances and panels streamed straight to you.