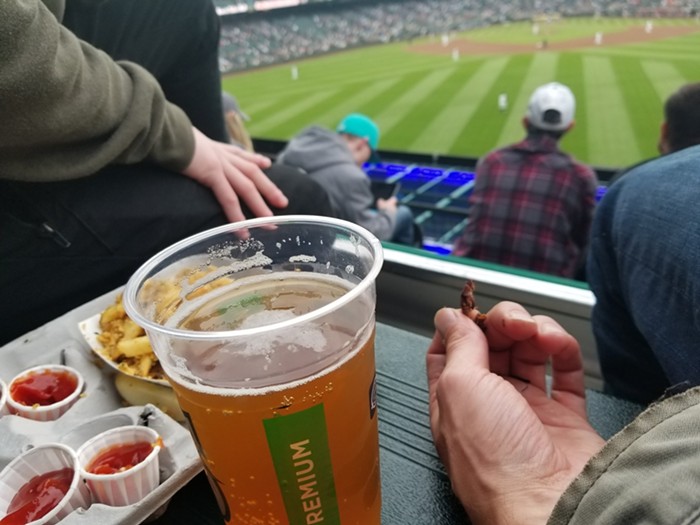 Beer has always been an integral element of baseball, but there's no place in Major League Baseball where beer is more important than
at Mariners games
. The Mariners are a dreadful baseball team. We haven't made it to the playoffs since 2001,
the longest playoff drought for any team
in the MLB, NBA, NFL, or NHL. But luckily for us Mariners fans, our team might be terrible but the beer at their games is not.
Sponsored
Join PNB for a timeless tale of holiday adventure performed by PNB's amazing dancers and orchestra.
In fact, the beer at Mariners games might be the best in the entire country. You can get barrel aged beer, amazing IPA, sexy lager, and even cask ale (!) from some seriously great local breweries. There are over 30 different types of draft beer available at each game, but each individual beer is only sold at a couple of different locations. That means you need to know where to look. It also makes for a great distraction for when the Mariners are losing. Tired of watching a Mariner strikeout with two men on base? Let's go to section 185 for a Chuckanut Kolsch! Can't stand watching a reliever blow a 5-run lead? Sounds like a trip to The Bullpen bar to get a Breakside Pilsner is in order.
There's also a lot of terrible, fake craft beer being served at Mariners games. That's where I come in. I've obtained the list of beers on tap at T-Mobile Stadium and grouped them based on beers not to be missed, beers that are good, and then corporate beer that tastes like trash and should be avoided. To find out the current location for each tap use this MLB beer finder website.
Your first stop for great beer should be the specialty beer station in Section 129, just behind home plate. This is the kiosk where you can find cask ale, the delightful, naturally-carbonated English style of beer. Cask beers are wonderful and this year's cask program will feature a rotating list of beers from Reuben's, Maritime Pacific, Sumerian, Diamond Knot, Double Mountain, Stoup Brewing, and Machine House.
In addition to cask ale, the specialty beer station will also serve a rotating list of sour and barrel-aged beers that will rotate constantly. They haven't announced what specific sours will be on tap, but the rotating list includes Stone Brewing, Samuel Smith's Brewery, Founders Brewing, Crooked Stave, Black Raven Brewing, Big Sky Brewing, and "many others."
Also, I should note for the cheap folks out there: the bar right next to the Bullpen, which is now being called "The 'Pen", has a happy hour with pints of craft beer for $7 from when the gates open until one hour before the first pitch. There are also two "value" beers for sale throughout the game: cans of Reuben's Crikey IPA [section 105, 132, 136, 319, 330, Hit it Here Café] and Bale Breaker Top Cutter IPA [sections 111, 137, 221, 243, 328] are only $6.
Now, let's get drunk and forget we are Mariners fans.
Draft beers not to be missed:
-Chuckanut Kolsch
-Breakside Pilsner
-Reuben's Brews Crikey IPA
-Ecliptic Carina Peach Sour Ale
-pFriem IPA
-Bale Breaker Leota Mae IPA
-Georgetown Bohdizafa
Totally great draft beers:
-Double Mountain Vaporized IPA, Vaporizer Pale
-Ecliptic Carina Peach Sour
-Mac & Jack: Porter, Serengeti Wheat, Resolution IPA, Amber
-Big Sky Moose Drool
-Ninkasi Prismatic IPA
-Diamond Knot IPA
-Maritime Pacific Old Seattle Lager
-Black Raven Trickster IPA
-Sumerian Narcissism IPA
-Pike Place Pale Ale
-No-Li Big Juicy IPA
-Aslan Dawn Patrol Pacific Ale
-Fremont Summer Ale
-Manny's Pale Ale
-Sierra Nevada Hazy Lil Thing
-Stone Delicious IPA
Dreadful and terrible beer that should not be ordered or drank because corporate beer sucks:
-St. Archer Mexican Lager, Hazy IPA, Blonde
-Elysian: Avatar Jasmine, Dragonstooth Stout, Immortal IPA, Superfuzz
-10 Barrel Apocalypse
-Blue Moon
-Coors Light
-Hop Valley: Alphadelic, Bubble Stash, Citrus Mistress
-Miller Lite
-Modelo
-Pacifico