Let me summarize
The Aftermath
for you as briefly I can:
Keira. Knightley.
There. In two simple words, you already have all the background info you need. You have immediately intuited that The Aftermath is a period drama, in which succulent costumes and lavish sets do most of the visual work. You also have instantly sensed that The Aftermath is a stiff yet gooey story about repressed emotions, in which lip-quivering restraint is the characters' default emotional setting. And you also know—instinctively, somehow—that The Aftermath is not particularly good.
The time period, in this case, is right after World War II, and Knightley plays the mopey wife of an English colonel (Jason Clarke), joining him in British-occupied Hamburg where he's cleaning up the post-war mess. Because this is a fantasy and not a story about actual humans or ideas, the house they've been assigned to live in is an immense, ornately designed mansion, with a full staff and built-ins to die for. The mansion also comes with its previous tenants: a German architect (Alexander Skarsgård) and his daughter.
The movie doesn't go to particularly great pains to show us that the German architect is a good, not-an-actual-Nazi German, but Knightley's character falls for him all the same, unable to resist his sad eyes and perfectly fitted sweaters. Dumb things ensue, because these are dumb characters in service of a dumb script, and the movie uses every period romance that's come before it as a shortcut to doing any actual storytelling work.
In other words, it's a Keira Knightley movie. The costumes look great.
The Aftermath is currently screening at local theaters. For more film reviews, visit our Film & TV page. For a look at what else is playing this weekend, visit our Movie Times page.
Sponsored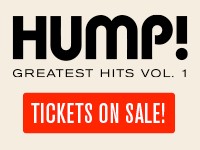 What are YOUR favorite HUMP! films? Start with HUMP! Greatest Hits, Volume One! Relive the memories!