Being a lawmaker in Washington State is allegedly a part-time job, a setup that evokes olden times when, according to lore, citizen legislators would leave their farms and shipyards and factories for a few months every year, tend to the people's business in Olympia, and then get back to their hard work in whatever small town or bustling proto-city they came from.
Sponsored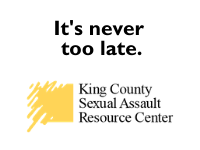 Free, confidential, inclusive support and information about sexual assault is available 24/7
The pay reflects this, with a lot of lawmakers making a lot less per hour in Olympia than they could in other jobs.
So it's super common for legislators in Washington to get "second jobs" during the rest of the year. Democratic State Senator Manka Dhingra, to take just one example, also works as a King County prosecutor, enforcing state laws when she's not busy making them.
But Republican State Senator Doug Ericksen, who represents a district up near the border with Canada, has taken this second job thing to a seemingly new level. As Politico reported on Friday, Ericksen is currently registered as a foreign agent, reflecting a $500,000 gig he's landed doing lobbying work for the government of Cambodia.
"I am just trying to make my way in this world," Ericksen explained to The Seattle Times.
And apparently nothing in the state Ethics in Public Service Act prevents this kind of thing.
If it all sounds like a very Trump-era income scheme, well, Ericksen was vice chairman of Trump's Washington State campaign in 2016 and then, after Trump won, briefly worked for Trump at the Environmental Protection Agency while still serving as a Washington State legislator.
Ericksen firmly believes his new second job is legit, which suggests he'll probably have an opportunity, in the not too distant future, to vote on a measure in Olympia related to whether lawmakers like him should really be allowed to serve a foreign government and the people of Washington State at the same time.