Holy shit, the Mariners
: At this point, I'm basically obligated to tell you that the Mariners are doing... incredibly? They're 13-2,
have broken the record
for home run streaks (they've had home runs in each of their 15 games so far this year). I haven't watched a full game (please do not skewer me), but I've been shown the highlights from each game. That counts, right? Anyway, I'm happy for you, Mariners fans. Keep knocking on that wood.
15 games, 15 games with a homer.

The @Mariners set a new record to start a season. 💪 pic.twitter.com/CIEU6TNKYo
— MLB (@MLB) April 11, 2019
This Renton baby fell 60 feet from a window and survived: A 20-month-old boy fell out of an open window on the six story of an apartment building. A Mazda broke his fall. The boy was in serious condition but survived the fall and was awake and crying when paramedics arrived. The owner of the Mazda was amazed the baby survived: "That's a big dent," he said.
23andMurdersuspect: Cops caught another killer thanks to DNA genealogy tests. A Snohomish County cold case is one step closer to being solved after investigators utilized public DNA databases to match DNA evidence from a 1972 murder. Jody Loomis was raped and killed in Bothell in 1972. Today, a suspect has finally been arrested in the case. Investigators matched the suspect's DNA from a coffee cup to semen found on Loomis's boots.
SeaTac Airport's parking lot is full: As you'll recall, SeaTac Airport has the second largest parking lot in the world. Well, all of it is fucking full so go park your cars elsewhere. The airport is saying it's because local schools are on spring break and that's what's filled the 12,000 spaces in their parking garage. Off-site lots are also full. How many of you people drive to the airport???
Uber is ready to IPO: The ride share service has filed its IPO prospectus, a month after its competitor Lyft went public. It reported $11.27 billion in 2018 revenue, a 42 percent increase from 2017. Though Uber has a bunch of different components like Uber Eats and Uber Freight, the ride sharing is where Uber gets most of its revenue. Uber's IPO could be the biggest in years.
Shuttle yourself to a hike, King County: Starting April 20, the Trailhead Direct shuttle will start up service again. You can catch it in a number of areas around the county, from Capitol Hill and Bellevue to new pick up points in Tukwila and Renton. It will also take people to new hiking destinations like trails at Cougar Mountain and a stop in Issaquah.
Welcome to the dystopia: The EPA is on the side of fossil fuels and is defending new proposals to speed up permitting decisions for pipeline projects. EPA Administrator Andrew Wheeler doesn't think climate change is a problem.

U.S. EPA chief defends big energy projects, says climate not top priority https://t.co/HIN1RD9gNC pic.twitter.com/LJrCFSZ1oU
— Reuters Top News (@Reuters) April 11, 2019
Speaking of terrible news: David Bernhardt was confirmed by the Senate as the Interior Department secretary on Thursday. He's a former oil lobbyist. Bernhardt has been the acting head of the department since Ryan Zinke's exit from the role in January. Berhnhardt allegedly keeps a list of people he used to work for and recusals in his pocket so as not to commit any conflict of interests. It's apparently a very long list.
Once again, these are not normal times. Senate Republicans are forcing through the nomination of David Bernhardt to serve as Sec of @Interior. He has so many conflicts of interests, he carries a list in his pocket to remind himself what they are. https://t.co/fLR7ktXI6U
— Senator Mazie Hirono (@maziehirono) April 10, 2019
This Mississippi police department would like the wheels to their cruisers back: This has happened multiple times to the Jackson Police Department. Most recently, someone stole the wheels off of three police cars on Saturday.
Sen. Patty Murray introduces Digital Equity Act: Murray wants to fill the gaps of digital access and education in our country. She introduced new legislation Thursday that would ensure that communities don't get left behind digitally by establishing inclusion programs across the country. She wants to invest not only in broadband access but education.
NASA's twin study has some weird results: NASA wanted to know what effects space travel has on the human body. They used some twins to figure it out. One pair, Scott and Mark Kelly, were split up; Scott went to space, Mark remained on earth. They each conducted tests on their body (blood samples, urine samples, you get the idea). But, when Scott got home, NASA noticed some weird shit had changed: he had unknown species of bacteria in his microbiome, new genes were activated in him, and his cells appeared to be... getting younger. Then, when he returned to earth, some of the changes seemed to disappear. NASA doesn't know what any of it means, really.
Dolphins surf for fun:

SURF'S UP: Drone footage captured a pod of dolphins joining surfers in Sydney, gliding along in the waves below them. https://t.co/Wv7VGkG25W pic.twitter.com/XzBGbSsUru
— ABC News (@ABC) April 11, 2019
Sponsored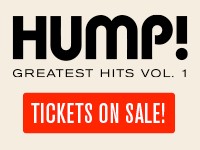 What are YOUR favorite HUMP! films? Start with HUMP! Greatest Hits, Volume One! Relive the memories!