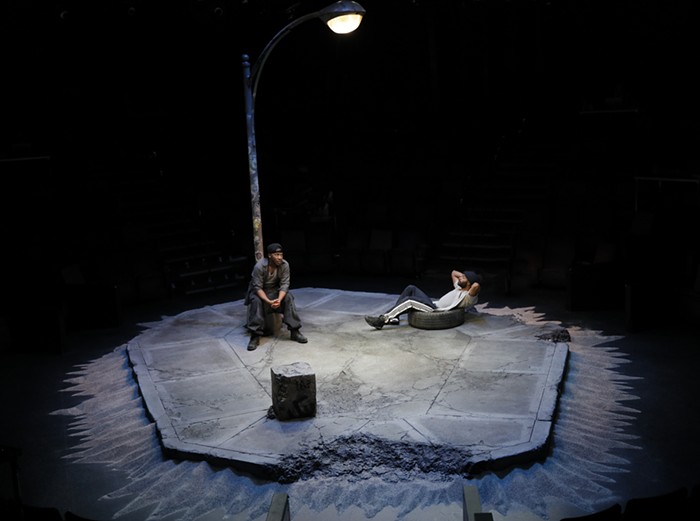 This is what you see when you walk in: two men sitting on a traffic island. They are already onstage as you take your seat. This traffic island is where the show begins, and it's where the show—80 minutes long, no intermission—ends. Everyone who sees or reads
Pass Over
compares it to
Waiting for Godot
, and it's an apt comparison, but with all due respect to Samuel Beckett, in
Pass Over
,
things actually happen.
What happens? It's better knowing nothing going in, so I'm hesitant to tell you. Let's see how well I can dance around that issue. New York playwright Antoinette Nwandu has done something incredibly difficult, creating two protagonists—Moses and Kitch—who are many things at once: individuals standing on a street corner, figures representing the universal experience of black men in the United States, and characters who seem lifted out of time (though they are in the present, they also seem to belong to 1855, or 13th century BCE).
Moses is played by
Treavor Lovelle
, a 2013 graduate of Cornish College of the Arts, who is making his ACT debut. On paper, Moses is a hard role because it is dynamic in inexplicable ways, alternately dejected and soaring, powerless at one moment and almost god-like at another—but Lovelle, in his command of the character, somehow makes it look easy, makes all the edges of the guy feel real.
Compared to Kitch, a character who is easier to please, eager to play and talk and eat and joke around, Moses is inward, wary, haunted. But make no mistake, Preston Butler III brings Kitch to fantastic life as well, with depths of his own, and Butler's performance is joyful to watch.
The director Tim Bond, a professor on the faculty at UW School of Drama, has done a fantastic job setting these characters in time and space and giving them room to make discoveries, while also making clear the limitations imposed on them by the outside—limitations literally represented by the audience members (on risers on all sides).
Out of nowhere, almost as if he is emerging out of the audience, or thin air, a man in a white linen suit appears, holding a picnic basket.
What the hell?
you think, and that is what Moses and Kitch think too.
Who the hell is THIS guy?
becomes one of the essential questions of the play.
And what is he after?
Following a surreal interlude involving the food in the picnic basket (see photo below), the man in the white linen suit leaves, and another character emerges, a white cop, played by the same actor, Avery Clark, who is no slouch in the acting department, and is a member of ACT's core company. What happens when the two characters Clark plays interact with Moses and Kitch sets off a chain of events that... I am not going to tell you about.
I saw the production last night, and afterward I was texting a friend who'd seen it the night before, a friend who used to live in LA and has lots of experience in the entertainment industry and is never satisfied by theater here, and she texted:
"Those actors!"
And also: "Such a good production for Seattle." Couldn't agree more. Everyone from the playwright to the director to the actors to the designers (also including costume designer Ricky German, lighting designer Andrew D. Smith, and sound designer Sharath Patel) really has it dialed in. This is a high-quality production of a play that will shock you, and will take your breath away, and will leave you thinking about the present—and the sweep of history—in a new way.
The last word in the play is the word "Anyway." When I say it took my breath away, what I mean is it knocked the wind out of me. It knocked me out of my chair. I was on my feet the second the lights went down. Pass Over is not to be missed.
Pass Over
plays at ACT through June 23.