Boris is fucked:
It's a
showdown in the UK Parliament
, baby! Honestly, I have no idea what's going on over there. The
Guardian
has live updates
here
. But basically, Tories defied their leader and seized control of the Commons. Whatever that means. Boris Johnson is blubbering. He's still in power but
not in control
.
Theresa May looked thrilled
.
Some guy
was slouching. It's confusing, but I think this aptly sums it up:
Brexit.pic.twitter.com/rLa7qyKx9I
— James Melville (@JamesMelville) September 3, 2019
Sponsored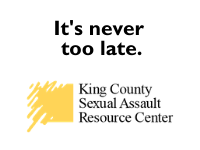 Free, confidential, inclusive support and information about sexual assault is available 24/7
Dorian, now a Cat 2 hurricane, barrels up the East Coast: The NYT has good live updates of the hurricane here. The storm is off the east side of Florida, sparing the western portion of the state its wrath. But while the hurricane parties on that side of the state are swinging, the full devastation of the storm's path through the Bahamas is being revealed. The death toll in the Bahamas is rising and officials have called it "a crisis of epic proportions."
Should part of the Pike/Pine corridor transform into a "superille"? The Barcelona-imported concept, also known as a "superblock," would deprioritize car traffic in the 6-block area between Pine to Union and 12th to Broadway—the area where Neumos, Elliot Bay Books, Vermillion, and Stranger World Headquarters is located. "This is an opportunity to look at what other cities like Barcelona have done to change street design elements to reduce traffic and improve pedestrian access to public spaces," Seattle City Council Member Teresa Mosqueda told Capitol Hill Seattle Blog. I'm into it.

Doesn't this study come out every year? Well, again, drivers in Seattle suck. So do the roads. So do the cars.

A new study has confirmed what most local residents already know - Seattle is one of the worst places to drive in the United States.https://t.co/ruhpvR8XGc
— KOMO News (@komonews) September 3, 2019
I don't know who this baseball guy is: But he loves Elliot Bay Book Company. Fun Fact: My dad was a professional baseball player and my cousin plays for the Phillies. I can't throw a ball.

How can F. Scott Fitzgerald get @CoryGearrin out of a jam in Yankee Stadium? What is like when a pitcher is claimed off waivers while you're with him? All questions answered here, in my latest for @TheAthleticMLB: https://t.co/CA65eUNOT4 pic.twitter.com/L1a1iNToDE
— Alex Coffey (@cafecita_) September 3, 2019
Kristen Stewart was told to be less lezzy if she wants to be successful in Hollywood: Allegedly. "I have fully been told, 'If you just like do yourself a favor, and don't go out holding your girlfriend's hand in public, you might get a Marvel movie," Stewart told Harper's Bazaar UK.
Walmart will stop selling some types of guns and ammunition: But only some. The Amazon competitor announced today that its stores will stop selling short-barrel rifle ammunition and handgun sales (in Alaska). The meek discontinuation is in response to the people and employees recently gunned down in its stores.
California boat fire update: All 33 passengers and one crew member are believed to be dead in the horrific boat fire that occurred Monday in open water off California. The Coast Guard announced it has suspended search efforts. The cause of the fire has not been determined.
Sadly, Dave Reichert will not be running for governor: Rich is crushed.

Anyway, obviously I'm devastated by this news. Fingers crossed for Dino Rossi, Joe Fain, Mark Miloscia, Bill Bryant again, or some guy named Kevin.
— Rich Smith 🥀 (@richsssmith) September 3, 2019
Trump's administration announced it will divert $3.6 billion in military construction funds to: Build that border wall! Chuck isn't happy.

It is a slap in the face to the members of the Armed Forces who serve our country that @realDonaldTrump is willing to cannibalize already allocated military funding to boost his own ego, and for a wall he promised Mexico would pay to build. https://t.co/sv2ys87bw1
— Chuck Schumer (@SenSchumer) September 3, 2019
The man behind one of the country's biggest gay conversion therapy camps would like to come out about something: He's gaaaaAAAaaaay! Very surprising!

Anyone out there trying to talk someone else out of being gay is really trying to talk themselves out of it.
— Dan Savage (@fakedansavage) September 3, 2019
No space for Iran: The US slammed Iran's space agency with sanctions today, accusing it of using the space program as a cover for creating missiles. The quote from Secretary of State Mike Pompeo: "The United States will not allow Iran to use its space launch program as cover to advance its ballistic missile programs."
North Carolina is gerrymandered to death: Three judges in North Carolina have thrown out the state's legislative district maps because they violate the state's constitution. "The 2017 Enacted Maps, as drawn, do not permit voters to freely choose their representative, but rather representatives are choosing voters based upon sophisticated partisan sorting," wrote the judges. New maps must be completed in TWO WEEKS.
Are we approaching the death of binge watching? Disney+ announced last week that it wasn't going to let users binge its new series all at once. Instead, the new streaming service will be old fashioned and release series episodes weekly. (I think this is a great move.) Now, it looks like Netflix's programming may also be going in that direction, as they're set to have multiple series dropping weekly rather than all at once. In a tweet, the company pushed back against claims that they are transitioning away from a binging model.

the weekly release of licensed titles (like Great British Baking Show) isn't new and in hopes of keeping Rhythm + Flow's winner a surprise, we're trying something new! but not happening with more shows than that
— Netflix US (@netflix) September 3, 2019