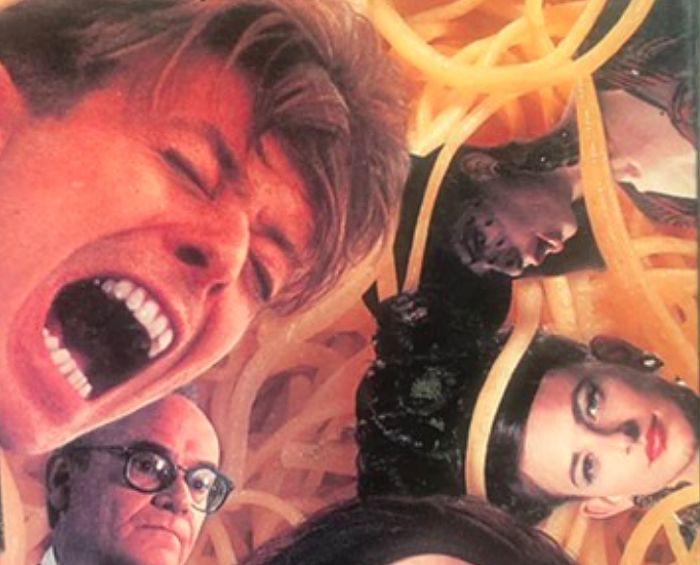 Welcome to Unstreamable, a weekly column that recommends films you can't find on major streaming services. This week:
The Linguini Incident
,
Losing Ground
,
The Nomi Song
, and
Take My Eyes (Te doy mis ojos)
. Find our other recommendations
here
.
The most remarkable part of this film is that almost no one's heard of it—and David Bowie is the lead! And he's quite good in it! The film's VHS cover features the tagline, "He wants to be tied down. She wants to be tied up. It's not what you think." On first glance, I thought, or rather,
hoped
this was some sort of Americanized version of director Pedro Almodóvar's
Tie Me Up! Tie Me Down!
(1989), but, as the tagline suggested, it was not what I thought.
Instead, The Linguini Incident is a comedy about a strange man from the U.K. who needs to get a Green Card ASAP (played by Bowie, a man who "wants to be tied down"), and an eccentric woman who is trying—unsuccessfully—to be a professional escape artist (played by Arquette, a woman who "wants to be tied up" and has this great line: "You don't know how hard it is to escape from a straight jacket with tits"). The cast is a bunch of proto-hipsters who live in New York City in the early '90s. They all work at a surreal restaurant that sports a giant Salvador Dalí clock and makes its waitstaff wear uniforms made of silver lamé. It's got, dare I say, A Fish Called Wanda vibes, but without the English slapstick comedy.
Shout out to new reader Milo Miller in Milwaukee who emailed me the suggestion, writing, "I first saw it on a date years ago, and finally tracked down a VHS copy which we've since digitized for our own personal enjoyment, but it's pretty rare and weird. Also totally delightful." I agree that it's rare, weird, and totally delightful. Miller runs the Queer Zine Archive Project. Check it out—I recommend "Butcher Queers #3." CHASE BURNS

***
Losing Ground
was one of the first feature-length dramas since the 1920s to be directed by a black-American woman. It screened at film festivals, but never got a full theatrical run until nearly thirty years after Collins's death at the age of 46.
In this semi-autobiographic tale, Sara Rogers (Seret Scott) is an extremely serious but well-loved professor who struggles to find a passionate release in her life. She understands logic, but not how to completely let loose. This is in marked contrast to her husband, Victor (Bill Gunn) a charming, abstract painter who begins to move into more figurative work. After he sells a painting to a museum, Victor rents a summer house upstate to sink more fully into this new phase of his career, though Sara longs to be close to the city so that she can study "the ecstatic" for a paper she's working on.
The tension in the film comes from this dichotomy between Sara's reason and Victor's passion. She's order, he's chaos; she's rational, he's irrational, etc. And when potential lovers enter both of their lives, Sara and Victor are forced to confront the insecurities in their own relationship, as well as their own perceived failings as people. Sara utters one of my favorite lines that I've heard recently in a film: "The actual sex doesn't bother me. Victor has sex all the time, with a color, a room, the way the light falls across a building. All that private ecstasy." All that private ecstasy. Could be yours, too. JASMYNE KEIMIG
***
The Nomi Song
features a lot—
too many
—talking heads, but it's saved by the fact that it's one of the too-few documentaries on German experimental vocalist
Klaus Nomi
. I was struck by a scene where Nomi, early on in his career, performs for a rowdy group of New Wave weirdos and completely, totally silences them. They're awestruck. But not by his flamboyancy, which was arguably par for the course for the New Wave scene, but by his operatic countertenor. The doc's talking heads who were in the audience that night comment on how AMAZING and BEAUTIFUL it was to see and hear a performer so
serious
, so Classical, in their funky avant-garde space. Even in the most experimental spaces, the introduction of Classical forms can inspire astonishment.
Vindication
. Which I've always found so silly—the New Wave doesn't need the presence of Classical music to be vindicated. That's no slight to Klaus Nomi. I continue to love him and mourn his premature death.
CHASE BURNS
***
This film fucked me up. I checked it out after getting a recommendation from my Spanish friend when I professed how much I loved Luis Tosar's eyebrows (
they are amazing
). However, Tosar in this film is not so amazing.
Take My Eyes opens with Pilar (Laia Marull) in her destroyed-looking apartment, frantically packing a bag, grabbing her kid, and hurriedly leaving for his sister's place. When Pilar's sister, Ana, goes to retrieve more of Pilar's things from the apartment, she discovers medical records that prove her brother-in-law, Antonio (Tosar), has been abusive to the point of sending Pilar to the hospital multiple times. Ana commits to helping her sister find a job and having a safe place to stay.
But it's not as simple as that. See, Pilar knows many things to be true: that Antonio is abusive, which is wrong; that she is risking her life by staying and not telling anyone about the abuse; that she would like to be independent and have a job of her own. But also that she still wants to be with Antonio. And when he comes around telling her that he's in therapy and actively taking measures to get better, that affection and history Pilar has with her husband returns.
There were many opportunities for this story to go wrong, but director Icíar Bollaín deftly handles abuse with a finesse that makes the multi-layered story feel real and compelling. Especially the scenes with Antonio in group therapy with other abusive men. The leads give world-class performances; Marull's Pilar exudes both a strength and vulnerability that collides with Tosar's terrifying and deeply insecure Antonio. JASMYNE KEIMIG