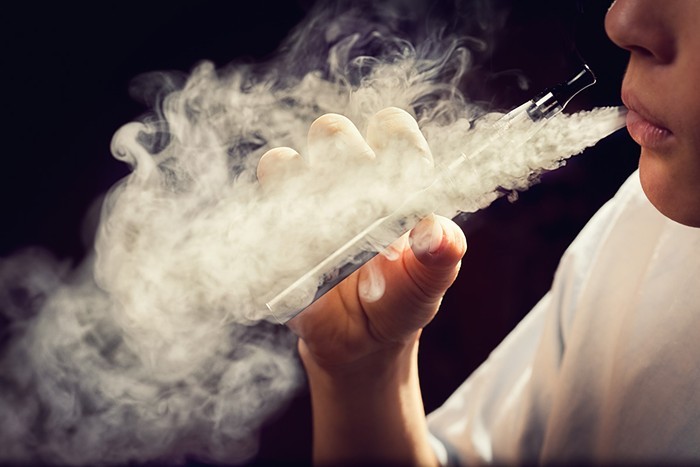 A Puyallup Tribal Police Officer filed a lawsuit Monday against five legal pot businesses, claiming he fell ill with a severe lung illness after using legal pot vaporizer cartridges sold by the five companies. The cop is also suing the company that sold him his vaporizer battery.
I'll get to more details of this case in a second, but first let's pause and meditate on the fact that a cop is (1) admitting to consuming pot and (2) that cop is now suing a vape processor, aka his weed dealer, because he allegedly fell ill while getting stoned. Welcome to 2019.
The new lawsuit comes as a mysterious lung illness spreads across Washington and the country with over 500 people falling ill and seven deaths, according to the Centers for Disease Control (CDC). This lawsuit appears to be the first such case in Washington, where authorities say at least six people have fallen ill, but other lawsuits have been filed in other states.
Public health experts, including the CDC, the Washington Department of Health (DOH), and King County's health department, have said that they are confident that vaporizers are causing this outbreak of severe lung illness but no health department has yet to establish a clear link between a specific vape product and the illness.
The lack of a clear link isn't stopping Charles Wilcoxen, the Puyallup Tribal Police Officer, from suing the companies he believes got him sick. According to the lawsuit, Wilcoxen, 44, started using cannabis vaporizers in January of 2018 for "pain relief, stress relief, and sleep" but then fell ill on September 11 of this year. Wilcoxen suffered from trouble breathing, nausea, and a headache, and when he went to the hospital doctors found evidence of "lipoid pneumonia caused by vaping." Wilcoxen states he was hospitalized for three days and is still suffering from injuries.
Vaporizers require two components to work: a battery that provides the heating source, and a cartridge full of oil that is heated until the oil becomes a steam-like vapor that is inhaled. Wilcoxen is suing both the company that he bought his battery from, an Everett vaporizer vender called Canna Brand Solutions, and the five cartridge companies he had recently purchased cartridges from: Conscious Cannabis, CannaNW, LeafWerx, MFused, and Janes Gardens.

Mark Lindquist, one of Wilcoxen's attorneys, told
The Stranger
that Wilcoxen used these five vaporizers during "the relevant time period when he became ill." The lawsuit does not offer any evidence that these specific vaporizers are to be blamed for the illness, other than the fact that the plaintiff says he used these cartridges before falling ill. Lindquist said they are having the items "examined and analyzed" and are confident further analysis will establish a clear connection.
"We expect the medical evidence will prove it's more likely than not that this vaporizer and these vape pods caused the illness," Lindquist said in an e-mail.
A representative from Canna Brand Solutions declined to comment for this story. The five other named companies did not immediately return requests for comment. I'll update this story if I hear back from them.
Vape additives like vitamin E acetate and diacetyl have been seen as possible causes of the illness but the CDC has said those two chemicals have not been linked to all suspected cases of the lung illness. Those two chemicals are not currently banned from pot vaporizers in Washington state but two state lawmakers are calling for these chemicals to be banned from products, according to the Seattle Times.
The lawsuit does not name the state's Liquor and Cannabis Board or the Department of Health, even though these were legally purchased devices that are regulated by the state agencies. Lindquist said further plaintiffs may be named and that he expects "more plaintiffs will join our lawsuit."