"Kurt Cobain Burning Down a Luxury Condo Block"
I'm going to say this slowly and carefully to you all: Kurt Cobain would not have given a fuck about the condos on Capitol Hill or the Central District or anywhere in Seattle. If he were still alive—may he rest in peace—I bet he'd be camped out in Medina or Los Angeles with his millions of dollars, grumbling about the changing culture for sure, but not on the frontlines of the battle for affordable housing. Please, prove me wrong, but until then, let's cool it on using dead rock icons to further political agendas they may not have been interested in! It's corny!
"Chubby Ghost with Legs"
I nearly lost my shit when I saw this on E Pine Street. It's so freaking cute, I want it to bounce off the sticker into my palm. The little ghost even has a bellybutton! Quick, where on my body should I get this tattooed!?
"Clown Tits"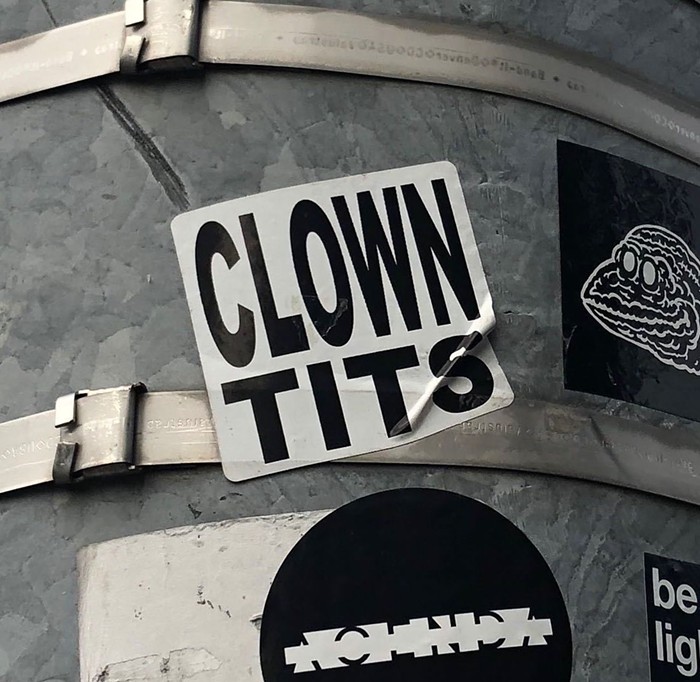 Absolute, pure, unbridled chaos.
"Owning Your Own Body in its Entirety"
I think a lot about ownership of my body—it's been the container for my consciousness for 25 years and something I have not been able to separate my self from. Though sometimes when I walk down the street and someone catcalls me or if I'm in the doctor's office and the doctor denies something to me or says or touches me in a way that makes me uncomfortable, I get the sense of my body very much not being mine. But it is mine, unequivocally. Good stewardship of your body is hard, but important!
As always, if any of these stickers belong to you, please email me at jkeimig@thestranger.com.