Welcome to Unstreamable, a weekly column that recommends films you can't find on major streaming services. This week:
Cell 211
;
The Black Balloon
;
Turn Me On, Dammit
; and
I Downloaded a Ghost
. Find our other recommendations
here
.
***
Cell 211
Spain, 2009, 113 min, Dir. Daniel Monzón
I lived in Spain for two years and every Monday evening I'd meet up with my friend Fran over beers for an hour of language exchange—the first half in Spanish, the second in English. Fran looked like an Iberian Paul McCartney. He liked movies and recommended
Cell 211
to help my Spanish. Also, he knew of my love for actor Luis Tosar and his thick brows.
The drama follows Juan (Alberto Ammann), a prison guard, on literally the worst first day ever. While being shown around by his colleagues, he gets injured just before a prison riot breaks out and, in the confusion, the other guards leave him in an empty cell in the heart of it all. When he wakes up, the penitentiary has been hijacked and Juan's mistaken by the prisoners for a prisoner. He's taken to head honcho, Malamadre (my beloved Tosar), a violent criminal who will control the prison until his demands are met. In order to survive and stop the takeover, Juan has to game everyone to get home to his pregnant wife Elena (Marta Etura).
This is a (predictably) violent and dark entry into the prison drama genre, but I agree with the snarling and cruel Malamadre: all he wants is better food, better medical attention, and better living conditions—basic human rights denied to him in prison. And he'll die trying to get it.
Cell 211 won eight Goya Awards (the Spanish Oscars), with my sweet Galician Tosar taking home one for Best Actor. Thanks, Fran! JASMYNE KEIMIG
Available for rental on DVD at the Seattle Public Library y Scarecrow Video.
***



I'm working my way through every movie that casts Toni Collette as a stressed-out mom, which brings us to
The Black Balloon
.
In Australian director Elissa Down's first feature-length film, the Mollison family is attempting to make things work for their son Charlie (Luke Ford), a boy with severe autism who communicates exclusively through sign language. Maggie (Toni Collette) is trying her hardest to chill out, as she's very pregnant and her doctor has ordered her to relax, but Charlie makes that difficult—his unpredictable tantrums send him running off into the neighborhood, breaking into houses, and pissing in other people's toilets. Maggie's husband is usually at work, and her other son, 15-year-old Thomas (Rhys Wakefield), is becoming more and more embarrassed by his brother.
Down's script is inspired by her own childhood. She grew up with two siblings on the autism spectrum, and Charlie is based off Down's youngest brother. Having a similar childhood as Down—both of my younger siblings are on the autism spectrum—I was interested in Black Balloon, although I always wince when neurotypical actors play autistic characters. That concern aside, the film swept the 2008 AACTA Awards (Australia's Oscars), winning Best Film, Direction, Original Screenplay, Editing, Supporting Actor (Wakefield), and Supporting Actress (Collette). Notably, the film also stars Australian supermodel Gemma Ward. CHASE BURNS
***



I remember when I was a horny 15-year-old. I'd watch and masturbate to five-minute porn clips and GIFs on Tumblr—R.I.P. But in Norwegian comedy
Turn Me On, Dammit
, 15-almost-16-year-old Alma (Helene Bergsholm) has a penchant for masturbating to the wild, steamy stories of a phone sex line operator named Stig. She eventually racks up the phone bill so high, once discovered, she's forced by her mom to get a job to pay it off.
Alma is humiliated, clearly. Especially since this revelation comes right after the popular Artur (Matias Myren) rubbed his naked boner on her thigh outside a party (to her delight) but then denied it in front of the entire school (to her dismay). Alma then becomes a horny outcast, spending her days flicking one out to romantic fantasies in her head, while wishing she could dip from her stupidly small town. What's a girl to do!? And where's the line between reality and made-up fantasy?
This sweet teen sex comedy is super pervy and relatable, but never exploitative. Turn Me On, Dammit was shot with actual teens who needed acting lessons before the shoot began, but you'd never guess it—Helene Bergsholm as Alma is a delight. Shout out to film critic Marya E. Gates for the recommendation. I found it in her Female Filmmaker Friday series on her blog Cinema Fanatic (which I've been following since she was on Tumblr and whose recommendations are hugely responsible for my own film literacy!). JASMYNE KEIMIG
Available for rental on DVD at the Seattle Public Library and Scarecrow Video.
***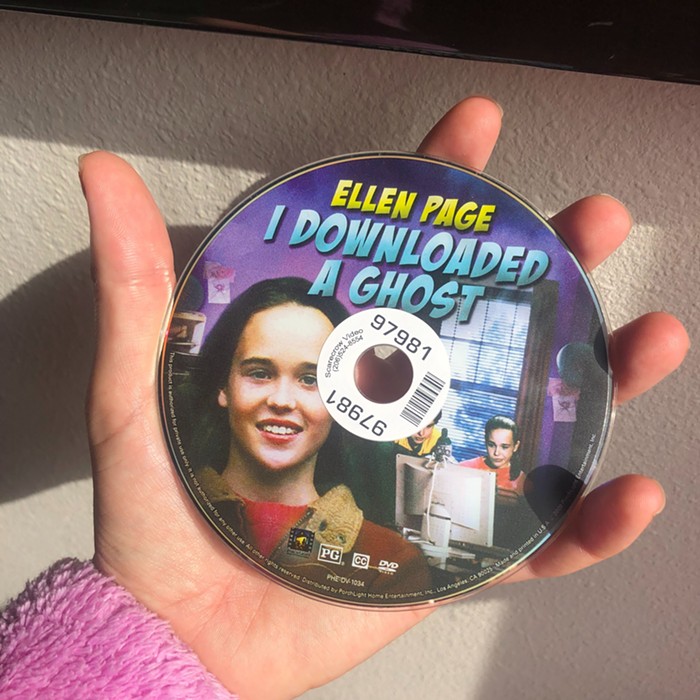 I think this film's title is so funny. I only rented it because it stars a baby Ellen Page—but the film's description must be noted:
The description for this is "Young Halloween buff accidentally downloads recently deceased stand-up comic." pic.twitter.com/5P2OdqQQMQ
— Chase Burns (@chaseburnsy) October 2, 2019
Downloading a "recently deceased stand-up comic" is perhaps one of the most unique forms of misery ever concocted.
I Downloaded a Ghost is your standard early-2000s Disney Channel Original Movie fare, but noteworthy because of Page, who plays a tomboy who hates makeup and wants to spend her free time hanging out with ghosts in her spooky shed. Maybe somewhere deep down there's an allegory about lesbianism in there.
Rent this if you are responsible for kids and want to introduce them to Ms. Page. If you're looking for an even younger Page, check out Trailer Park Boys, although probably without kids present. CHASE BURNS