Odds are you're not a dockworker or the owner of a major shipping line, so why should you care about the Port of Seattle, much less who runs it?
Good question—to which I, one of your five pretty much unknown port commissioners, have a very good answer!
Sponsored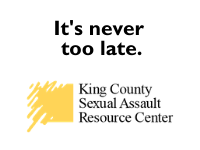 Free, confidential, inclusive support and information about sexual assault is available 24/7
Consider the giant octopus. That, my friends, is the Port of Seattle. Arms everywhere, tentacles everywhere, massive but also intelligent. At the same time, stealthy and mostly unnoticed by human eyes.
It's amazing that the Port of Seattle is able to exist year after year, octopus-like, in relative local obscurity. But it does, despite being responsible for a greater diversity of operations than most other ports in the nation, with significant impacts to our local economy and environment, not to mention an almost $2 billion capital and operating budget.
In general, the public only pays attention to the port when there's an election or a controversy, like during the Kayaktavist vs. Shell Oil rig standoff. But the public should also be engaged with the port's mission.
Granted, the port lacked a concise and consistent mission statement until I led a commission effort to draft one. But now we've got it all approved and official, which makes me extra motivated to write this port-explaining missive.
Bored already? Okay, how about this: If you're living in King County, you're paying for and benefitting from the port one way or another. The same is true in much of the rest of Washington state.
So settle in and let me tell you, as briefly as I can, how this mostly-ignored public entity came into being, what the hell we do, and how you can keep a closer eye on our many, many tentacles.

A HISTORY CARVED LONG AGO
While tribal canoes were the region's first freighters, the glacially carved depths of Puget Sound, with its protected harbors and proximity to Alaska and Asian markets, gave Washington ports a natural advantage for commercial trade.
Our port's beginning dates back more than 100 years, to 1911, when King County residents passed an initiative creating the nation's first independent municipality to engage in port operations and commerce. The aim, at the time, was to reign in the influence of the railroads that dominated access to, and use of, the waterfront. (Today, the railroads' monopolistic control of freight rates and prioritization of fossil fuels over produce remain the largest challenge to our ability to compete with BC ports).

This history underscores the importance of keeping the Port of Seattle the people's port, which elevates the need for it to conduct itself transparently and accountably. But with little awareness of its existence, a key component of the transparency equation is missing.

ANATOMY OF THE OCTOPUS
So let's take an eyes-wide look at the port, shall we?
Its operations can be separated into eight divisions or—to stick with the octopus metaphor—"arms."
Unlike most other ports in the country, the Port of Seattle operates both an airport and seaport. Sea-Tac currently handles over 50 million people a year and is among the nation's fastest-growing airports, resulting in unprecedented construction and community impacts, both positive and negative.
Our maritime operations include: four recreational marinas; Fishermen's Terminal; three cruise ship berths; a grain terminal; major real estate holdings, including 60 acres of public access that include nine public parks, ten shorelines, and large swaths of industrial lands; and significant economic development programs including tourism, advertising grant programs, as well as expanding opportunities for diverse communities to access maritime and industrial careers of the future.
Yet another arm of the Port, which also distinguishes it nationally, is the joint operation of its cargo terminals with the Port of Tacoma. This collaboration with an independent executive, overseen by the commissioners of both ports, is called the Northwest Seaport Alliance and it constitutes the nations fourth largest container shipping gateway. While still a work in progress since its inception four years ago, the alliance has proven to be a far better arrangement than having Washington's two largest ports compete with each other.
Anyway, like I said, a GIANT octopus.
I'm restraining myself from going further and detailing the port's numerous environmental programs—which I've been championing—as their own separate tentacles because they're incorporated into all the port's arms of operations. But in short, they tend to focus on reducing the port's carbon footprint and air emissions (such as through advancing the use of sustainable aviation fuels and electrification of waterfront operations, as well as through restoration of the Duwamish River and other habitats—including underwater acoustic habitats, by quieting ships to help our endangered orca find salmon).

JOBS, JOBS, JOBS—AND TAXES, TOO
As a generator of more than 230,000 port-related jobs, this massive, publicly-funded agency clearly has significant influence on the whole region.
A less popular aspect of the Port is its taxing authority.
Washington Ports (all 75 of them) are among the few in the nation able to assess a property tax ($70 for a half-million-dollar home, equaling 1.3 percent of your King County property taxes).
This guaranteed tax revenue of $74 million a year enables the port to make long term investments in job-creating infrastructure (for example, docks and overpasses), undertake major environmental cleanup and habitat restoration efforts, and push forward on other measures to improve your quality of life.
No property taxes are used to pay for the port's largest expenses associated with airport construction and operation. Those initiatives are self-sustaining, and also generate significant local and state sale tax revenues.

WE WORK FOR YOU (AND WE DON'T GET PAID ENOUGH)
Unlike most other ports in the nation, here the public gets to hire and fire its port commissioners, who run county-wide for election to four-year terms.
Port Commissioners like me are responsible for setting policy and providing oversight of port operations, as well as approving the port's budget and hiring the Executive Director. The Executive Director, in turn, manages more than 2,000 staff and an almost $2 billion dollar budget (which, in 2019, was comprised of 51 percent capital and 23 percent operating expenses).
Rather than being compared to a corporate board accountable to the financial priorities of its shareholders, as elected officials Port Commissioners we are also charged with stewarding the public's broader interests and being accountable to the residents of King County.
However, there remains a major obstacle preventing the port from being more accountable to the public.
While I'm honored and humbled by the almost to 20-point margin I won my first race four years ago, and the 72 percent of the vote I garnered in this year's primary, it's a source of frustration to me to be entrusted with so much responsibility while still having to hold down another job.
I've come to appreciate what public service means, but I could serve the public far better if the compensation was commensurate with the responsibilities.
None of this is an attempt to aggrandize the role of the Port or its commission, or to try to erase past mistakes.
Rather, as air travel strains SeaTac's capacity we need to build to meet the demand while finding another regional airport to serve the future. With the demolition of the Alaskan Way Viaduct and container operations consolidating, developers are eyeing the conversion of industrial lands to commercial and residential uses. These are tectonic times at the airport and seaport, as well as in Port leadership, which underscores the need for greater public and commission oversight.
In short, the more attention you pay to us, the more accountable we can be.
* * *
Want to help the Port of Seattle remain the people's port?

We have public meetings twice a month and an online newsletter, and the Northwest Seaport Alliance has meetings once a month and offers a variety of publications.

In addition, there are a series of special public meetings scheduled that could be of interest.
Briefings on the draft 2020 budget and 5-year plan:
October 22, 5:30-7:30, Pier 69 Headquarters
October 28, 5:30-7:30, Sea-Tac Airport Conference Center

Scoping Meetings on new Cruise Ship Terminal at T-46:
October 30, 5:30-7:30, S. Seattle Community College Georgetown Campus
November 4, 4:00-6:00, Embassy Suites at Pioneer Square
November 7, 11:30-1:30, The Foundry, 4130 1st Ave S.
About the Author: Fred Felleman has been a conservation leader in the Pacific Northwest for the past three decades. He studied the feeding ecology of killer whales for his Masters of Science in Fisheries from the University of Washington. He was elected to the Seattle Port Commission in 2015 and currently serves as Vice President. He is the founding chair of the Energy and Sustainability Committee, co-chair of the Highline Forum, and the Port's tribal liaison. He's committed to reducing the impact of port activities on neighboring communities while helping to advance inclusive economic opportunities.