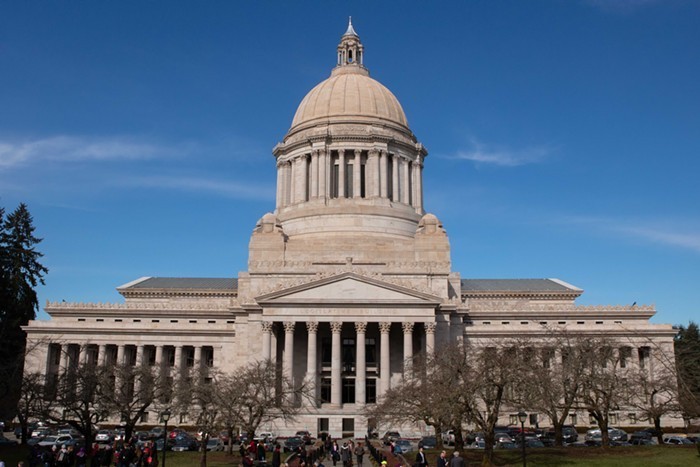 This is the conclusion of a five-part series on rent control in Washington state. In part one, I lay out the need for rent control. In part two, I lay out the case against it. In part three, I show how and why California and Oregon passed rent control laws despite the case against it. In part four, I ask incumbent and incoming council members what they think about the issue, and wrestle with Council Member Sawant's rent control bill. In this final installment, I take the temperature of key state lawmakers and discuss a potential ballot threat.
If Washington state lawmakers wanted to win rent control next year the way California and Oregon won rent control this year, here's what you'd expect to see.
Next month, Governor Jay Inslee would signal his support for Rep. Nicole Macri's bill to lift the statewide ban on rent control, or else he'd champion another policy she's been working on, one that looks more like the laws passed in the other west coast states. Meanwhile, Macri would be linking arms with Seattle Rep. Frank Chopp and Sen. Rebecca Saldaña to work their networks and win over their colleagues. Incoming House Speaker Laurie Jinkins would make passing a statewide rent stabilization law her personal mission, and Senate Majority Leader Andy Billig would stand beside her with his fist in the air. A broad coalition composed of tenants advocates, union leaders, health care advocates, educators, business leaders, and sympathetic landlords would stand ready to lobby. The threat of an initiative would help, as it did in California. And a high profile victory from a politician who recently ran on rent control could help build momentum, as it did in Oregon.
A lot of that is not happening right now, thanks partially to next year's shorter session and the flurry over Tim Eyman's initiative potentially blowing holes in the transportation budget. But some of it is.
The Mood in Olympia
Rep. Macri says she's talked to different advocates around the state and believes "there is energy to introduce something in 2020" around anti-gouging legislation. She doesn't have a draft yet, but she thinks the legislation will be "more along the lines of what we saw pass in Oregon and California, as a starting point," which is to say a cap on rent increases at 5-7% plus the cost of inflation.
However, her "top priority" this session will be her "just cause" bill, which would prevent landlords from evicting tenants without cause. Currently, landlords in cities not protected by such laws can evict tenants for no reason with only 20 days notice. Last session that bill was poised for a vote on the House floor, but it never got there, mostly because the other modest eviction reforms gained a lot of momentum.
As she pushes for the just cause bill, she thinks it will be "important" to talk about ways to prevent economic evictions through rent stabilization for reasons we talked about in the third installment of this series. Passing eviction reforms is good, but landlords can get around them by hiking rents and essentially "economically" evicting tenants.
This year both Burien and Federal Way passed strong renter protections around evictions, Macri notes, suggesting broad interest in these ideas outside Seattle.
That said, Macri thinks other lawmakers across the state need to hear more from their constituents about the high cost of rental housing. "You have to get 75 legislators and a governor on board with a policy idea, so it just takes time to build that movement," she added.
Rep. Cindy Ryu (D-Lynnwood), a commercial landlord who chairs the House's housing committee, said she doesn't like the idea of allowing cities to implement rent control, and further advised advocates not to use the term "rent control."
"People get defensive," she said.
She could envision "some sort of cap," but when she floated a 10% cap past a few landlords, they balked at the idea. Ryu prefers legislation that would reduce environmental review paperwork for developers who want to include affordable housing in their buildings.
A spokesperson for Rep. Frank Chopp said he's following Rep. Macri's lead on "some housing policy" but has "broader ideas about housing." The spokesperson said Chopp has been "personally supportive" of lifting the rent control ban "for years."
House Speaker Jinkins didn't respond to a request for comment, but last month she told Crosscut she didn't know if rent stabilization was effective policy.
Over in the Senate, Sen. Patty Kuderer, who led on eviction reforms last session, said lawmakers need to "wait and see" what happens in California, New York, and Oregon. "My concern is a loss of inventory at a time when we're trying to build more housing," she said.
Kuderer said the Senate will have a working session next year on rent stabilization outcomes in those states. "If it shows us that there's no loss of inventory, then we'll have the kind of information we'll need to make a rational and informed decision," she added.
So, unlike Oregon and California, key lawmakers aren't expressing a burning desire to pass rent stabilization or anti-gouging laws in Washington, nor are they particularly interested in lifting the ban so cities can make their own choices on the issue. But they might find some fire for it soon.
The Initiative Threat
If Olympia doesn't act to rein in rents next session, Washington CAN political director Xochitl Maykovich says she'll "explore" running a statewide initiative on the 2020 ballot, a ballot that will likely draw the largest and bluest voter base Washington has ever seen. "I fully intend on making a ballot measure threat a real threat," she said.
Though she wouldn't go into details, the measure would likely establish a broad "landlord code of conduct."
"If we're forced to do something on the ballot, it's not just going to be a rent cap," she added.
Raising a couple million and gathering enough signatures for an initiative will be tough for an organization that hasn't run one statewide before, but Maykovich said her group, which boasts over 44,000 members according to its website, is composed of "dreamers with a winning track record."
This year Washington CAN backed the Stable Homes initiative in Federal Way, which imposed the strongest rent protections in the state and passed by a stunning 10 points. The initiative ends no-cause evictions, prohibits retaliatory evictions, prohibits eviction discrimination, and allows immediate family members to live with renters without facing eviction so long as it doesn't break occupancy codes. And it's got teeth. If a landlord breaks any of its tenant protections, they'll owe 4.5 times the unit's rent, plus attorney fees and court costs.
When asked if she thought the threat of a ballot measure would kick lawmakers into gear, as it did in California, Rep. Ryu said "it could, but it better be pretty well-worked." She added that ballot initiatives "are not always the best way of writing policy," and said the move could backfire "if it came out of Seattle" due to a narrative of general antipathy for the city on the east side.
Renters make up 37% of the households in Washington, and rent gouging is hitting communities all across the state, from Seattle to Wenatchee to Spokane. Though it might be a partisan issue in the legislature, people from all over the political spectrum have expressed interest in rent control as a way to get relief. As Oregon tenant advocate Katrina Holland said, "Everybody is a renter."