It's time to stop doom-scrolling, motherfuckers! Drop boxes are closed and the first round of results for Washington state's primary election are posted riiiiiight
here
. King County is reporting
here
.
UPDATE:
Read our
seven big takeaways
from last night's first drop.
JAY INSLEE CRACKS 50%, REPUBLICANS PREFER DENSE COP OVER DAFFY GRIFTER
Gov. Jay Inslee is leading
with 52.29% of the vote and 639,597 votes. Loren Culp, a small-town police chief who was accused in a lawsuit of "botching a child sexual-abuse investigation and intimidating the victim with threats of a false-claims charge," according to
the Seattle Times
, is coming in second at 16.38%. Voters appear to have roundly
rejected chair thief liberator Tim Eyman
, who is sliding in fourth at 7.05%. Culp and Eyman both threw in-person parties tonight, so I wouldn't count on all of their supporters being around for the general.
Sponsored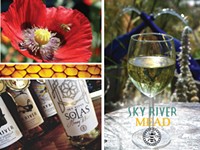 Find out at Sky River Mead.
Once reserved for Kings and poets. Old-world inspiration for the modern palate. Made locally for you.
In the race for lieutenant governor, the Stranger-endorsed Marko Liias appears to have made it through the primary with 16.65% of the vote and 199,425 votes. Republicans Ann Davison Sattler and Marty McClendon are behind him with 11.54% and 10.78% of the vote, respectively. To no surprise, Denny Heck is in the lead at 27.78%, with 332,745 votes.
AND HOLY SHIT! HOLLLLLLY SHIT. HOLYSHITHOLYSHIT. LOOK AT THESE STATE LEGISLATIVE RACES...
Democratic psychiatric nurse
Ingrid Anderson is leading
moderate Dem Mark Mullet 48.4% to 47% in the 5th Legislative District's State Senate race. Anderson's lead might grow if the later ballots trend Democrat, I mean progressive, I mean Democrat, which would see Mullet chasing Anderson all the way to the general, driven by
his lust for creating giant tax loopholes
for big business, blocking capital gains tax bills, and voting against affirmative action bills, I guess?
Meanwhile, this Tacoma-area Senate seat is looking FLIPPABLE AS HELL. Democrat T'wina Nobles is leading Republican Steve O'Ban 51% to 49%. If Nobles maintains this lead through November, the 28th LD will only be sending Democrats to Olympia. And down in the 29th LD, which is also in the Tacoma-area, things are looking kinda close between twenty-year incumbent Steve Kirby and his progressive challenger, Sharlett Mena. Republican Terry Harder is winning with 39.4%. Kirby is leading Mena by 6 points, 33.3% to 27%. That's not an impossible gap to close, depending on how these late returns swing.
CHECKING IN ON CHOPP
Longtime Capitol Hill Rep. Frank
Chopp is leading
the field in his district (43rd, position #2) with 53.7% of the vote, but
Stranger
-endorsed community organizer and nonprofit director Sherae Lascelles is currently running in second with 28% of the vote, outpacing Seattle LGBTQ commissioner Jessi Murray by over 10 points.
Lascelles, clothed in cerulean blue and pink leopard print, is drinking a Sugar-Free Zero Ultra Monster right now. We ask what the flavor is but Lascelles clarifies that Sugar-Free Zero Ultra IS the flavor and if we are asking for the color it is white. Chaos. Pure chaos. Love it.
Lascelles says they were crying "for about an hour and a half," but only figuratively. They literally "almost cried at the first drop." Lascelles is a little bit shaken, to say the least, at how the vote shook out tonight. "I didn't expect to have a good chance," Lascelles says. "I will be honest to say I didn't expect such a spread."

As the evening wears on, Lascelles imagines that around midnight, with some other beverages (likely glittery champagne) in their system, they
might smear their eyeliner and shed a happy tear
.
Jessi Murray's election night party was meant to be a showing of Alexandria Ocasio-Cortez's "Knock Down the House" but it didn't work out. "Projectors don't work so well during the day," Murray tells us. She says she was surrounded by close friends and had sushi. She's expecting an uptick in votes in the coming days but isn't sure "if it will be enough to switch the order of the candidates."
Frank Chopp didn't respond to our calls. We suspect that he is asleep. UPDATE: Chopp is not asleep. In a text, he tells us:
"Seventy percent of the votes cast are for Democrats, and I am pleased with the strong first place showing we have tonight. I'm proud of the coalition of labor, student, and education groups, pro-choice advocates, and diverse community leaders that have given our campaign great momentum. I look forward to continuing to advance our progressive agenda! Frank"
STRANGER-ENDORSED CANDIDATES BERRY, HARRIS-TALLEY, AND HACKNEY ARE AHEAD
Liz Berry, the lobbyist who runs the trial lawyer's association, is sipping on her favorite drink right now. She tells us she's in shock because she's leading with 49.5% of the vote. Her drink tastes fantastic. It's the margarita her husband makes. The recipe?
1 lime, Casamigos, Cointreau, simple syrup, and lime
(she said lime twice). "We sort of know that
late voters are kind of progressive Stranger voters
—and I'm not just saying that because it's you I'm talking to—we think that the votes are going to keep trending toward us in the following days and I'm kind of in shock to be in honest with you."
Sarah Reyneveld, an assistant attorney general running against Berry, has 42.8% of the vote. She is drinking rosé and feeling good. "I think Liz Berry, our opponent, tried to buy this election," Reyneveld says. "We got outspent 3 to 1." Reyneveld is focusing on her people-powered campaign headed into the general "with strong momentum."
Kirsten Harris-Talley, the former interim Seattle City Council person who re-introduced the head tax and the current person we want to lead us in the 37th district, is currently in the lead. We don't want to call it yet 'cause mail-in voting but
she's coming in first with fucking 49.66% of the vote
. Round that number up and you get a solid 50% baby! She told us
she's drinking a Dr. Pepper
and she's crying with her "big gummy smile" right into her soda. To keep the lead she's "going to do what we always do, continue to show up for community. And community will continue to show up for us."
Jumping over to Legislative District 11 Position 1, former federal prosecutor
David Hackney is beating 18-year incumbent Zack Hudgins by nearly 6%
. Hackney currently has 42.1% of the vote. He tells us he's drinking soda water while at a socially distanced gathering at the Inner Urban Hotel in Tukwila. There are six people at two tables, he tells us.
"The 11th district is ready for change," Hackney tells the SECB. "They're looking for a leader who is going to stand up for critical issues. Despite my opponent's tenure, they want more. They've listened to my message." He's optimistic. Cautiously so.
As a first-time candidate this lead will boost his profile. He's hoping it can help his team recruit even more volunteers and reach as many voters as is permitted with social distancing to "put our message out there."
I FORGOT I HAD CHURROS
WASHINGTON STATE DEMOCRATIC CHAIR TINA PODLODOWSKI WEIGHS IN...
Podlodowski thinks it "looks like a really good night for Democrats in every single race." She calls the State Senate race in the 5th LD between incumbent Sen. Mark Mullet and psychiatric nurse Ingrid Anderson
"a real interesting one."
"That district was primarily Republican in 2016, and the changes Democrats have been able to make there have been astounding. You've got Rep. Bill Ramos at 61%, Rep. Lisa Callan with no challenger, and the Senate challenger with the lead in the primary," she says.
If Dems expand their lead in the general election, Podlodowski says there are "so many things we want to do in terms of the public option in Washington State… making sure wealthy people are paying their fair share in taxes, growing clean energy jobs, and dealing with institutional racism. I think we have the opportunity to elect at least five African American women to the state legislature, and if we can bring all five across in November that will make me burst into tears."
OH LOOK! CORPORATE DEMS LEADING CONGRESSIONAL RACES!
Former Seattle Chamber of Commerce CEO
Marylin Strickland is leading
a close race for the 10th Congressional District's open seat with 21.4% of the vote so far. Former Reps Beth Doglio and Kristine Reeves trail her with 14.4% and 13.17%, respectively. Socialist trucker Joshua Collins, who relied heavily on a large social media following, has so far only garnered less than 1% of the vote share. Right now, it's looking like
73.4K Twitter followers = 969 votes
.
Unfortunately it's looking like Rebecca Parson, the progressive challenging Derek Kilmer in the 6th Congressional District, won't make it through the primary. She's trailing Republican Elizabeth Kreiselmaier by over 13 points, 12.1% to 25.6%. Meanwhile, Kilmer is leading with 49.5%.
Down in the 3rd CD, incumbent Republican Jaime Herrera Beutler is fending off a second challenge from Washington State University-Vancouver professor Carolyn Long. Beutler is leading Long 54.6% to 41%. Long got much closer in the primaries when she ran in 2018's blue wave election cycle, which swept Kim Schrier into office in the 8th Congressional District.
Speaking of which, Schrier is currently spanking her major Republican challengers (Amazon dork Jesse Jensen and Keith Swank). But with only 44.5%, she'd lose if the Republicans in the race combined their current vote totals. Democrats in this race have 48.7% of the vote in the 8th, while Republicans have 48.2%. Lookin tight folks!!!
MORE FROM THE DEPARTMENT OF NO SURPRISES...
Seattle Congresswoman
Pramila Jayapal is smashing it
with 80% of the vote, and Seattle Congressman Adam Smith is also smashing it with 74% of the vote. In CD 1, Suzan DelBene is comfortably leading Republican Jeffrey Beller, Sr with 56.5% of the vote. In CD 2, Democratic incumbent
Rick Larsen is leading
with 52% of the vote and nobody else close to him. Incumbent Republican Dan Newhouse will face off against Democrat Douglas E. McKinley in the 4th CD, but the Trumpian Congressman shouldn't be too nervous with 57% of the vote share. And Washington's highest-ranking Congressional Republican incumbent, Cathy McMorris Rodgers, is leading Democratic challenger Dave Wilson by 26 points, with 50% to 24.4%. Those two will likely face off in the general, and
McMorris will likely keep her seat
.
RICH SMITH WEIGHS IN ON THIS CINNAMON BABKA FROM DINGFELDERS DELICATESSEN ON 14TH AND PINE
"It's the best babka I've ever had. It's like the whole thing is the middle of the cinnamon bun. There's gotta be 5 to 10 pounds of cinnamon in this thing. Since it's Dingfelders, you'd expect it to be $20, but it's only $4 for this mega slice."
I KNOW YOU ALL WANNA KNOW HOW BOBBY IS DOING
Bob Ferguson, our Attorney General who
we might have a crush on
, is sitting pretty at 56%. We're not too worried about the Republican coalition gunning for Bobby Ferg's seat, though when you add up all the candidates who split the conservative vote it amounts to a sizeable 43.2%.
And in other state exec races... Democrat Mike Pellicciotti is leading Republican incumbent Duane Davidson by 8 points in the State Treasurer race. We guess everyone is ready for a Dem to manage our money. Fuck an austerity budget, are we right ladies?
The State Auditor's race, as is typical with the State Auditor, is not too flashy. But, incumbent Democrat Pat McCarthy is leading 48.1% against Republican Chris Leyba (NOT vulva) who has 40.7%. Stick it out, Pat.
Hilary Franz has 51% in her reelection bid for Commissioner of Public Lands which is good. But, gosh, we'd love for it to be bigger. It looks like she'll be squaring off against Sue Kuehl Pederson, a retired former environmental analyst and power analyst with Seattle City Light. (Also a Republican.)
Chris Reykdal should be more ahead. He's currently at 40.3% to get re-elected for Superintendent of Public Instruction. His main competition, Maia Espinoza, is against the comprehensive sex ed bill that passed last session. Ughhhhh teach the kids about LGBTQ+ inclusive sex ed. It's 2020 for God's sake (see? we can appeal to the god crowd too and capitalize that windbag once in a while). Espinoza looks like she will be facing Reykdal in the general. She's got 24% of the vote. If Reykdal's opponents unify against him, it could spell trouble in the general.
WOW, THANKS FOR STICKING WITH THIS LONG SUGAR-FREE ZERO ULTRA MONSTER-FUELED TIRADE! HERE'S A PICK-ME-UP FROM TAMARI BAR!
Since the pandemic started, Tamari Bar has printed these uplifting messages on their to-go containers. We told Kan, a bar manager at Tamari Bar, that we feel joy and a sense of connection when we read these. He told us his crew does, too.
We love you, Kan
.
We thought some of you LOSERS could read these messages and maybe find hope.
BLACK DEMOCRATIC CANDIDATES ARE DOMINATING
This may be an incomplete list, but I think all Black Democratic candidates are leading their races or will be making it through the primary. (If I'm missing any, please let me know in the comments! Or slide into my [Rich Smith!!] DMs!!)
Former Seattle Chamber of Commerce CEO Marilyn Strickland is leading her nearest competitor, Rep. Beth Doglio, in the 10th Congressional District by 7 points. Depending on how the next few ballot drops go, former Rep. Kristine Reeves could close the gap with Doglio and come in second, which would mean two Black candidates would face off in this seat in the general.
Progressive Democratic Challenger David Hackney is leading 18-year incumbent Zack Hudgins by nearly 6 points.
Democratic Rep. Jesse Johnson is leading the race to keep his Federal Way seat down in the 30th LD with 58% of the vote.
Kirsten Harris-Talley is leading the statehouse race in the 37th LD by a lot right now.
T'wina Nobles is currently leading incumbent Republican State Sen. Steve O'Ban by 2 points.
Looks like Rep. Debra Entenman will hold her seat in the 47th LD, as she's bringing in 58% of the vote at the moment.

Jamila Taylor is leading comfortably in her Federal Way State Rep race.

April Berg is running in second in her race to represent the 44th LD in Olympia, so she'll make it through the primary. If you combine her 33% with Democratic candidate Anne Anderson's 21%, she beats Republican Mark James's 46%, so she's in a good position.
Joy Stanford is leading with 46% of the vote in the 26th LD, but with 53.5% of the combined vote share, the Republicans are leading. (Includes Republican incumbent Michelle Caldier with 36% and Republican Alisha Beeler with 17.5%.
With 28% of the vote, Sherae Lascelles will likely face off against incumbent Dem Rep. Frank Chopp for his seat in the 43rd LD.
Down in the 17th LD, Tanisha Harris is currently only trailing Matt Shae-adjacent Republican incumbent Vicki Kraft, by four points, 48% to 52%.
LOSE THE MULLET? LOSE THE MULLET.
The
Democrats are on track to lose one seat in the State House
and to gain one seat in the Senate, or
two
if you include Sen. Mark Mullet. Even if the Dems lose a seat in the House, they'll have a 15-seat majority. A one-seat gain in the senate would increase their majority to 6 in that chamber.
Though Democrats T'wina Nobles and Helen Price Johnson are leading their races against Republican incumbent senators, right now incumbent Democratic Senator Dean Takko only has 46% of the vote in the 19th LD. Combined, his Republican challengers command 53.8% of the share. If this dynamic holds in all these races, we'll end up with +1 Dem Senators.

Republican Greg Gilday is leading in the 10th LD with 44%, but the combined Democratic vote in that race surpasses him, so Dems might pick up this seat left open by Republican Norma Smith. Democratic Puyallup Mayor Julie Door leads incumbent Republican Rep. Chris Gildon by 2.5 points in the 25th LD, but the combined votes for the Republican candidates best her. Meanwhile, incumbent House Dem Brian Blake is running behind Republican challenger Joel McEntire 48% to 52% in the 19th LD, and incumbent House Dem Sharon Shewmake is 3.6 points behind Republican challenger Jennifer Sefzik up in Whatcom County's 42nd LD. So, all told, Republicans stand to flip two seats in the House.
WOO! That's all for tonight, Sloggers. We'll be back tomorrow morning-ish with more analysis from tonight.
In an earlier draft, we misspelled the liquor Cointreau as quantro. We regret the error. We have made no other mistakes. Stop DMing us.