Polar vortex turns America upside-down:
Get a load of this paragraph from the
New York Times
: "Snow blanketed Gulf of Mexico beaches and people went ice sledding on the roads of southern Louisiana. Alabama was warned of brutal ice storms in some places and of possible tornado outbreaks in others. Temperatures were lower in Austin than in Anchorage, Alaska." So far at least 20 people have died, mostly from car crashes.
So MuCh FoR gLoBal WaRmInG.
Texas' power grid went down, leaving millions without heat on the coldest day in decades: The grid, which the state purposely isolated from larger national grids in order to escape federal regulation, failed when "demand for electricity to heat homes" overwhelmed the system, reports the Houston Chronicle. The "catastrophic" failure of the grid prompted some to bundle up in freezing apartments and others to shack up with people across Texas in the middle of a pandemic.
Sponsored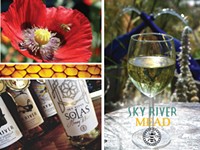 Find out at Sky River Mead.
Once reserved for Kings and poets. Old-world inspiration for the modern palate. Made locally for you.
Water stored in the bathtub froze solid last night. That's how it's going in Dallas. pic.twitter.com/cJdUMDT6pN
— Brandon Friedman (@BFriedmanDC) February 16, 2021
Though media initially blamed frozen wind turbines for the grid failure, the real culprit turned out to be gas.
ERCOT expected to get low capacity factors from wind and solar during winter peak demand. What it didn't expect is >20 GW of outages from thermal (mostly natural gas) power plants.https://t.co/udeeTUHkRU#TexasFreeze #RollingBlackouts pic.twitter.com/VEyQkiJURH
— Daniel Cohan (@cohan_ds) February 15, 2021
Crashes spiked during the snowy weekend: The Washington State Patrol said crashes on state and interstate routes in King County were up 300% compared to two weekends ago, Trooper Rick Johnson told the Seattle Times.
No serious person is worried about "overheating" the economy with a large stimulus package: This week Democrats plan to "finalize" Biden's $1.9 relief package, and only a few conservative economists relayed their concerns about the potential for inflationary pressure to the New York Times, and even then they only offered weak, qualified warnings. We know the spending will pump badly needed cash into the economy, and we know the Fed will keep interest rates low. The risk of doing too little greatly outweighs the risk of some prices maybe (but probably not) rising.
Most Americans think the Senate should have convicted Trump: Nearly 60% of them, in fact, Politico reports. That number shows little change from polls taken before the impeachment. Respondents to the poll "viewed the senators' votes as acts of partisanship."
Meanwhile, Republican support for Trump increased: According to a new POLITICO/Morning Consult poll, 59% of Republican voters want "Trump to play a major role in their party going forward," which represents a nine-point bump up compared to a poll conducted before impeachment.
Biden hosts televised Town Hall on COVID-19 response: CNN's Anderson Cooper will interview the President in front of "an invitation-only, socially distanced audience" at The Pabst Theater in Milwaukee. The talk starts at 6 p.m. PST.
The best thing big tech can do in response to COVID is support progressive tax bills: The jokers running PR for the largest corporations on the planet are pitching the Biden administration a bunch of half-assed COVID-19 response programs to help speed along the vaccine rollout. The problem with the rollout, as public health officials keep saying, is a lack of vaccine supply combined with chronically underfunded public health departments forced to coordinate with a fractured health care system. In response to that problem, the geniuses over at Amazon are offering their "expertise in IT and operations to help in vaccine distribution," while Airbnb is "suggesting it help create 'vaccine depots' using its vast network of real estate across the country," and, most helpful of all, "Google is looking to give free ad space to public health authorities," reports Politico. Airbnb aside, these companies profited off the pandemic, and now they're offering free ad space. Incredible.
Random podcast rec: I love listening to Peter, Rhiannon, and Michael talk about why the Supreme Court sucks.
This week's episode is Atkins v. Virginia, where the Court held that states CANNOT execute the intellectually disabled. The bad news is there's a pretty big loophole.https://t.co/ozrRaqBLsp
— 5-4 Podcast (@fivefourpod) February 16, 2021
The UN told Myanmar's junta to quit shutting off the internet: After a military coup earlier this month, Myanmar's military "has been regularly blocking the web to try to stifle dissent," reports the BBC. The UN said let freedom of assembly reign or prepare to face "severe consequences."
U.S. Secretary of State Tony Blinken "outraged" by rocket attack in Iraq: A Shia group called "Awliyaa al-Dam, or Guardians of Blood" claimed responsibility for a rocket attack near a U.S. base in Iraq that killed a civilian contractor, "several American contractors," and one American service member, according to Al Jazeera. Five civilians were killed, local papers say. More on the Guardians of Blood: "About a dozen such groups have cropped up in the past year claiming rocket attacks, but US and Iraqi security officials say they are front groups for prominent pro-Iran factions including Kataib Hezbollah and Asaib Ahl al-Haq."
A 30-year-old with "long-haul" COVID-19: "I used to go to sleep thinking: Tomorrow. Tomorrow I'll start to feel better. I don't really do that as much anymore. I'm trying to come to terms with the fact that this virus isn't something I'm about to get over. This might be it. Maybe this is who I am." Read more from long-haulers over at the Washington Post, preferably while you're eating indoors at your favorite restaurant, you psychopaths.
Important q: I've lived in Seattle since 2011 but I'd never watched Fraiser until this year. I have been less of a person for it.
Over at the Frasier subreddit, members don't shy away from asking hard questions of the fandom pic.twitter.com/3JslYsOSIt
— henno (@jrhennessy) February 16, 2021
Seattle parents split on remote learning: Seattle Public Schools "reports that of the 10,742 eligible students, 46.8 percent of families said they want their student to return to in-person learning, 40.9 percent preferred to continue remote learning, and 12.3 percent did not respond," reports West Seattle Blog.
Governor Inslee will announce info on "returning to in-person learning" today at 2:30 p.m.: Inslee's presser comes a few days after the Centers for Disease Control released their guidance for reopening schools. CNN quoted CDC director Dr. Rochelle Walensky saying the department was not "mandating that schools reopen" but rather offering schools "a long-needed roadmap for how to do so safely under different levels of disease in the community." Washington DOH deputy secretary for COVID response Lacy Fehrenbach and Enumclaw School District superintendent Shaun Carey will join Inslee at the presser.
Thinking about running for office some day? King County Councilmember Girmay Zahilay is giving tips:
I want to help make elected office an option for everyone. Especially people who are harmed by unjust policies. Once a month I'm going to hold a free workshop for people to learn more about running for office and meet mentors.

Info about the first @buildthebenchWA in next tweet! pic.twitter.com/99hajioXIl
— Girmay Zahilay (@GirmayZahilay) February 16, 2021
KING 5 poll finds opposition to gas tax: But it's not that bad, actually. With a 6% margin of error, 35% said they support an 18-cent gas tax increase over two years and 12% were not sure. Fifty-two percent said they oppose it. About 50/50 support within the margin of error as the earth chokes to death on fossil fuels? I say double it.
Two hurt, one arrested after driver allegedly flees traffic stop: As police stopped the driver of an RV in West Seattle Monday, the driver allegedly reversed and hit an SUV and then hit a tanker truck and a pedestrian, according to police. Police later arrested the driver. A 79-year-old pedestrian was seriously injured, according to KIRO.