Lark chef/owner John Sundstrom says despite protests by a local animal rights group, he will not stop serving foie gras. He says he and his staff respect the protesters' right to their opinion; his approach has been to be "open and nonconfrontational and let them exercise their rights." The protests are in their fourth week.
Two weeks ago, Sundstrom met with representatives from the group—the Northwest Animal Rights Network—and both sides expressed their positions, which appear to be irreconcilable. Sundstrom says, "We just feel like they're being extreme, to take away people's choice.… They say they're not giving up, and we're not going to cave in to them. It's a big drag, and in a lot of ways it's kind of silly."
NARN intends to protest at Lark "EVERY FRIDAY 7-8PM UNTIL THEY REMOVE FOIE GRAS FROM THE MENU."
Sundstrom says some customers have been "extremely upset" by the protests, but not as intended—some have gone outside to tell the protesters that targeting a small business is wrong and that they ought to be ashamed.
Another unintended result of the protests: Foie gras has become more popular at Lark. "We see foie gras sales go up on Friday nights," says Sundstrom. Some people order it to "spite the protesters" chanting outside, he says, while others want to see "what the fuss is about." "We don't shut the blinds unless a customer asks," he says. Some neighbors have been annoyed by the noise, which was "super loud" the week before he met with NARN representatives; after talking it over, the protesters reduced their volume (though on Friday, the chanting outside Lark's windows could be heard clearly for some distance on 12th). Sundstrom says that while the police have come by to check in, neither he nor other Lark staff has called them.
Lark's foie gras comes from Sonoma-Artisan Foie Gras, founded in 1985 by a couple from El Salvador who apprenticed with the Dubois family in the Perigord region of France. Details about their practices can be found on the Sonoma-Artisan Foie Gras website, which says, "Sonoma-Artisan Foie Gras is committed to the highest standards of animal welfare, and utilizes humane techniques in the raising and feeding of ducks."
Here celebu-chef Anthony Bourdain visits a foie gras farm. Fast-forward to 1:45 for force-feeding footage and Bourdain's discussion with a veterinarian about the practice:
I remain firm in my opinion from this previous post: Groups like NARN should focus on larger issues—the practices and environmental impact of giant agricultural corporations like Tyson and Hormel, for instance. Other animals are suffering; geese raised for foie gras, humanely treated, are not.
Sponsored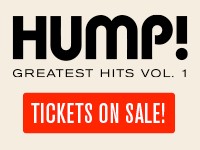 What are YOUR favorite HUMP! films? Start with HUMP! Greatest Hits, Volume One! Relive the memories!