Wanna buy a restaurant? You're in luck—places are for sale all over town (maybe even your favorite place). A sampling from Craigslist:
FOR SALE
• Trattoria Mitchelli (closing down any day now, after approximately one billion years; Stranger reader-reviewers will not miss it by any means)
• Merchant's Cafe (at First and Yesler; this place has THE MOST BEAUTIFUL old-fashioned interior—I have long wished that it would be transformed into something marvelous)
• Lampreia (perhaps Seattle's premiere fine-dining establishment; it is moving, not closing, which is good, because the stuffy, goofy decor needed a major overhaul anyway)
• Cafe Stellina (still open; reader-reviewers seem to fall into extreme camps of love or hate)
• the Triangle Lounge (still open after the departure of restaurateur Tom Hurley)
• Saito's Japanese Cafe & Bar (still open serving some of Seattle's best sushi, has been for sale for a while)
• Beato (closed for quite some time)
• Blackbird Restaurant & Lounge (ditto)
• Cyndy's Pancake House (which is apparently not becoming a strip club after all)
King Cobra is also for sale. Plus more, more, MORE restaurants—dozens of them, the ones that do not wish to be named—after the jump.
Yikes.
"Establised [sic] Downtown Coffeeshop", "Funky Eclectic Capitol Hill Restaurant/Bar", "Elegant Sake Bar & Bistro", "North Ballard Bistro", "Queen Anne Restaurant and Lounge", "Cafe, Sandwich lunch spot" (Belltown), "Restaurant Lounge" (U District/Wallingford), "Restaurant and Lounge in Belltown", "Restaurant with Lounge Bar" (Queen Anne), "Downtown Restaurant and Bar", "Club Lounge & Restaurant" (U District), "Sports Bar and Brewery" (Seattle), "Restaurant with wine and beer" (Madison Valley), "Take Out - Eat in Restaurant" (Queen Anne), "Restaurant and Lounge North Ballard", "Restaurant with Lounge" (Lake Union), "Restaurant and Nightclub" (Seattle), "Restaurant Nightclub Bar" (Downtown Seattle), "Sports Bar" (Greenwood/Green Lake), "Casual Dining Restaurant" (South Lake Union), "Dinner Club and Night Club" (Pioneer Square), "TERIYAKI on Greenwood AVE", "TERIYAKI & KOREAN Restorant" (King), "Busy Street Corner Location Downtown Seattle Bar", "Restaurant/Cafe" (Georgetown), "Teriyaki Shop in Seattle", "Belltown Restaurant", "Popular UW Coffee Shop", "Excellent Teriyaki Shop in Bellevue"
Sponsored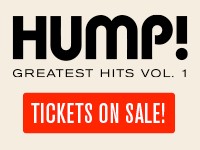 What are YOUR favorite HUMP! films? Start with HUMP! Greatest Hits, Volume One! Relive the memories!