When I was researching this list and considering the history of photography in Seattle, I immediately thought of Imogen Cunningham.
Born in Portland in 1883, Cunningham came to Seattle in the first years of the 1900s to attend the University of Washington. When she graduated, in 1907, she went to work in the local studio of Edward Curtis.
Curtis was a prominent shooter, and the job was a plum beginning for an aspiring photographer. But Cunningham soon grew bored, and by 1909 she had struck out on her own, studying the chemistry of photography in Dresden, meeting Alvin Langdon Coburn in London and Alfred Stieglitz in New York. She would eventually become one of early art photography's great stylists and portraitists, a master manipulator both of subject and print.
After those early world travels, she came back to Seattle and married Roi Partridge. They lived here about a decade, but her mature work wasn't made until she moved to San Francisco in 1920.
Still, she made a series of images that caused a stir in Seattle in 1915.
They were of Roi, nude, frolicking at Mt. Rainier—which meant a few reversals: First off, guys don't frolic. Second, husbands shoot wives (see Stieglitz and O'Keeffe).
Several of these were printed in the Seattle paper The Town Crier. According to Gail Gibson of the G. Gibson Gallery, which represents Cunningham in Seattle, Cunningham said at the time, "A critic on another paper wrote a very harsh criticism—a terrific tirade on my stuff as being very vulgar. ...It didn't make a single bit of difference in my business. Nobody thought worse of me."
Controversy aside, the photographs are enchanting and genderbendy even now, not to mention a testament to Cunningham's skill with a print and the strange coolness of Roi (an artist in his own right). Here are all three remaining, courtesy of the Imogen Cunningham Trust. (Click to enlarge.)
Sponsored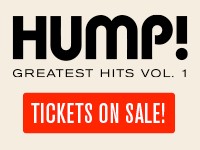 What are YOUR favorite HUMP! films? Start with HUMP! Greatest Hits, Volume One! Relive the memories!