Michael Ian Black just posted the news on his blog:
Is this exciting? I guess so. Here's my fear about it: people often remember things as being better than they were. The first Thanksgiving, for example. People think, "Oh it was so great." Guess what? There was too much corn, not enough turkey, and a lot of scarlet fever. I'm definitely not saying getting The State DVD is going to cause scarlet fever, but then again, who's to say? I mean, medical science has made a lot of advances over the past three hundred years, but they still have no idea what causes scarlet fever (except for the fact that they do know).

So yeah, the State is coming out on DVD.
All 24 episodes and over 90 minutes of extras will be available July 14th (complete info at the State's page at MTV.com).
Here's the trailer:
Sponsored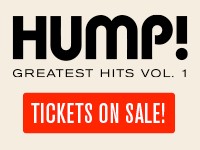 What are YOUR favorite HUMP! films? Start with HUMP! Greatest Hits, Volume One! Relive the memories!