Seattle's Hawaiian-Korean taco truck Marination Mobile has been voted the winner of Good Morning America's Best Food Cart Challenge. The electorate? The viewers of Good Morning America—very few of whom, presumably, have ever eaten at Marination Mobile or any of the other three finalists (Garden State in Portland, Street Sweets in New York, and Local 647 in Delaplane, Virgina). The modern world is confounding! Still, congratulations to Marination Mobile.
Here's some G.M.A. video about the win. And you can read Dominic Holden's review of M.M. over here.
Sponsored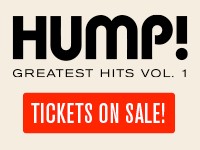 What are YOUR favorite HUMP! films? Start with HUMP! Greatest Hits, Volume One! Relive the memories!