McGinn in a charming neighborhood watch vest
Yesterday afternoon, Mayor Mike McGinn and a cadre of city officials, including SPD Sergeant Chris Fowler, forayed on foot into the International District and Pioneer Square. Their mission: Listen, gab, eat a sandwich.
Sponsored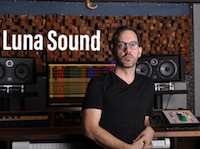 Luna Sound can cover your production, recording & mixing needs. Mention the Stranger ad for a 15% discount!
Noticeably absent from the tour was City Council Member Tim Burgess, who was slated to attend. A call to his office this morning revealed that he canceled but staff provided no answer as to why, which is a shame because at one point, a heckler joined the tour, clapping his hands and shouting "Give me change! Give me change! I want change! The black man promised me change!" It was unclear if he was talking about President Obama or bus fare. Either way, a wasted photo opp for Burgess, who is pushing an aggressive solicitation bill (the bill wouldn't address this panhandler who was obnoxious, but not violently threatening).
"I want to know, what are the specific things we can do to make this neighborhood better?" the mayor asked the crowd.
Realistically, this walk doesn't do anything immediate. But people LOVED it. "I can't believe he's really walking with us," said one small Asian grandmotherly lady, who was wearing a reflective Neighborhood Watch vest.
"Just wait until next week when he invites you to join him on his tandem bicycle tour* of the city," I said.
"I don't ride bicycles but I might for the mayor," she said.
If anything, the neighborhood walks—which will be happening on a near-monthly basis—bolster a sense of connection to the city and accessibility to the neighborhoods. About 75 other people were there representing the community. To McGinn's credit, it's this sort of connection to neighborhoods that former mayor Greg Nickels lacked.
Hyeok Kim, Executive Director of the Inter*m Community Development Association, says there's a lot of trust-building that's gone undone with city officials. "If you're a refugee who's fled a militaristic country, calling SPD won't be your first choice," she says. Seeing more police on foot patrol—a tactic supported by McGinn, Burgess, and pretty much every advocacy group in the city—is a good start towards developing community trust, she added.
During the three-hour tour, residents talked about the need for better street lighting, more outreach by police, and then showed civic leaders where to score drugs after 6 p.m. The tour ended in Pioneer Square with a look at alley art behind Elliott Bay Book Company, and a discussion of how to make alleys more pedestrian friendly. Then the mayor ate a sandwich. And the people rejoiced.
*A call to the mayor's office reveals there are no plans for a mayoral tandem biking tour of the city. Yet.