Originally posted at 2:05 PM. Updated and moved up.
But the judge refuses to order school to host prom:
Sponsored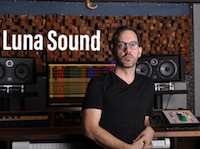 Luna Sound can cover your production, recording & mixing needs. Mention the Stranger ad for a 15% discount!
A federal judge ruled Tuesday that a Mississippi school district violated a lesbian student's rights by refusing to allow her to bring her girlfriend to the prom, but he said he would not force the school to hold the event.... U.S. District Judge Glen H. Davidson denied the ACLU's request for a preliminary injunction. He said he'll still hold a trial, but he did not set a date, meaning any ruling would likely come too late to have the prom when it was originally scheduled...

But Davidson said a private prom parents are now planning will serve the same purpose as the school prom. He wrote in his ruling that "requiring defendants to step back into a sponsorship role at this late date would only confuse and confound the community on the issue."
Um... if by "serve the same purpose," the judge means, "discriminate against Constance McMillen just as effectively," then, yes, the private prom—to which Constance and other LGBT students are not invited—will "serve the same purpose" as the school's cancelled prom.
And as for this:
School officials said in court they decided to call off the prom at Itawamba Agricultural High School because McMillen's challenge to the rules had caused disruptions.
Under cross-examination yesterday school officials were forced to admit that the "disruptions" they complained about—emails, phone calls, faxes—came after they cancelled prom, not before. It was the bigoted actions of the school board that caused disruptions, not Constance McMillen's request to take her girlfriend to prom.
The ACLU points out that this ruling—while not entirely satisfactory (and in some areas willfully obtuse)—is a victory for Constance. She won't be able to go to court to have prom reinstated. But with the finding that her constitutional rights were violated Constance has standing to sue Itawamba County for damages.
UPDATE: From the ruling...
"The Court finds that Constance's First Amendment rights have been violated and therefore, she has established, by a preponderance of the evidence, a substantial likelihood of success on the merits with respect to her First Amendment claim."
UPDATE 2: Click here for a PDF of today's ruling.
UPDATE 3: So is Constance invited to the private prom?
"Well the judge basically says, 'You guys SAID this [private] prom is open to everyone, so I am holding you to that,'" writes Chris Hampton, of the ACLU, in an email. "If they don't get an invitation to her, I am sure that will be coming up at trial."
Previously the Clarion Ledger reported that Constance did not receive an invitation to the private prom being organized by parents of other students at Itawamba Agricultural High School.
UPDATE 4: I just spoke with Constance by phone.
Your reaction to the ruling?

I was really happy, even though the school doesn't have to put on prom. And I understood that it would be hard to move prom back to school from the furniture market. But I'm still happy because the court recognized that the school board violated my rights. The court recognized that I have a right to bring my girlfriend to prom.

The judge said there was no need to order Itawamba County School Board to reinstate prom because a private prom is being planned, and this private prom will "serve the same purpose" as it's "open to everyone." Have you received an invitation? Are you planning to attend?

No, I haven't received an invitation. But from what I understand right now they're not sending out invitations. They told me yesterday that everyone is invited—that's what they said in court, that's what school board chairman Eddie Hood said in court. If that's so, then, yes, I will probably attend, more than likely.

With your girlfriend? Wearing a tux?

With my girlfriend, in a tux.

Do you think you'll be welcome at the private prom?

I hope so. There's still, like, a lot of people who are angry right now. I didn't go to school today, my nerves are shot. But I'm hoping that things will calm down now and people will chill out about this at school. And I'm hoping that I'll be recieved okay, back at school, and at the prom.

A high school in Georgia told a boy—like you an honor student—that he couldn't take his boyfriend to prom, but reversed itself this week. Do you think your case had anything to do with that school's decision?

I think that it could have, and if it did I'd be very, very pleased. Maybe the school realized from my case that they couldn't do that, that it was unconstitutional. And I would be very pleased if what I'm doing influenced that boy's school to do the right thing. That's the whole point in how much media attention I've cooperated with. The more word gets out the more peple realize that they can't do that to gay teenagers, the more young people know to get ahold of the ACLU if they're getting discriminated against, the better.

I see that you have more than 400,000 supporters on Facebook now.

It's wonderful, the support I've gotten. It keeps me pushing when it gets hard. It helps to know that there are people out there who feel that this is just as important as I do.
UPDATE 5: From the ACLU's take-no-prisoners press release:
"Today's ruling isn't just a win for Constance and her girlfriend—it's a win for all the students at her school, and for all lesbian, gay, bisexual, and transgender students who just want to be able to be themselves at school without being treated unfairly," said Kristy Bennett, Legal Director of the ACLU of Mississippi. "Public schools can't just stomp on students' free expression rights just because they don't want to deal with these students, and if schools do try to do that they'll be dealing with us."

"We are grateful and happy that IAHS's attempt to cancel the prom has been seen for the thinly-veiled ruse to violate Constance McMillen's First Amendment rights that we always knew it was," said Christine P. Sun, Senior Counsel with the ACLU national LGBT Project, who represents McMillen along with the ACLU of Mississippi. "These school officials should be ashamed of themselves for trying to scapegoat a young girl and then trying to lay the blame for their bad behavior at her feet."
If you haven't made a donation to the ACLU's LGBT Project yet, please make a donation now.