It's almost here: The World Cup final—the Netherlands vs. Spain—is Sunday at 11:30 a.m. Click through for addresses and more info, and get to your bar really early (or roll out of bed and enjoy the LiveSlog while drinking at home). Note that now twothree bars are showing the final in 3-D (which The New Yorker's Nancy Franklin says is pretty cool). New listings courtesy of three-dimensional Chow intern Matthew Bathan.
NEW! • GORDON BIERSCH downtown: Opening at 11:30 a.m. on Sunday, Gordon Biersch claims to be the first and only bar in town showing the game in 3-D. While they may be the first, they are not the only. Gordon Biersch, say hello to Sport Restaurant & Bar...
NEW! • SPORT RESTAURANT & BAR near Seattle Center: Opening at 10:30 a.m. on Sunday, Sport will be serving $3 domestic beers and $4 microbrews. Unlike other bars (but very much like Gordon Biersch), the game will be displayed in 3D. Throw in the smell of grass and mansweat, and you've just saved yourself a trip to South Africa.
NEW (courtesy of Fnarf)! • MURPHY'S PUB in Wallingford: This Irish standby is also showing the final in 3-D, with reportedly properly poured Guinness (it's breakfast in a pint glass!). Doors open at 6:45 a.m.—redefining beer o'clock in fine style.
• THE GEORGE & DRAGON in Fremont: Seattle's soccer stronghold the George & Dragon will show ALL World Cup matches LIVE. The joy of victory, the agony of defeat, and the inevitable ties are all better experienced at the George, where everyone's a fanatic and all are fueled by tons of pints and decent fish 'n' chips. In 2006, the George was voted one of the top 10 places to watch un-American football in the U.S. by GQ, and rightly so. My brother and I went to watch a match in 2006 in the George's special parking-lot World Cup setup, and it was awesome.
• THE DRAY in Ballard: Showing live coverage of ALL World Cup matches, the Dray is a sweet spot that's all toasty-colored wood, with pretty great sandwiches and a mighty impressive beer selection.
• THE 5 POINT downtown: Showing all matches LIVE, while cheating tourists and drunks as usual.
• LA ISLA in Ballard: This Puerto Rican place will have full live coverage of all World Cup games, with breakfast and drink specials (get something with rum).
• KELL'S in the Pike Place Market: Showing all games live. Ireland's not in the Cup, but Kell's is still bound to be a football madhouse in which to get fluthered in the fine Irish style.
Lots more after the jump and in comments.
• POST in the Pike Place Market: Complete live coverage at a bar where Sounders have been known to guest-bartend.
• AZZURRI VINO BAR in Fremont: Full live coverage with occasional decisive (and, as appropriate, derisive) commentary by awesome Italian proprietor Michele Zacco. Favorite drinks at this low-key, thrown-together neighborhood place: Peroni and wine. Bonus/warning: Children may be present.
• FADO downtown: Seattle's version of this coast-to-coast Irish-themed chain is showing complete coverage of the World Cup Games, with food and drink specials such as a breakfast sandwich and a beer for $10, which doesn't seem all that special. According to its website, "Fado is the only place to watch World Cup 2010 in Seattle." Fado LIES. Nonetheless, it will likely be mobbed.
• ST. ANDREWS BAR & GRILL in Green Lake: Open for ALL games, including the 4:30 a.m. matches, this bastion of Scottish fandom will be giving out a free shot for every goal Scotland scores or any goal scored against England. Note, however, that Scotland is not competing in the 2010 World Cup. St. Andrews not only has a sense of humor, they also have 80 single-malt scotches available. Here's what it was like there at one 2006 World Cup match.
• ABBONDANZA PIZZERIA in West Seattle: Each and every game shown live for all you West Seattle soccer fanatics!
• SPITFIRE in Belltown: Mammoth upscale sports bar Spitfire will broadcast all games live, because Spitfire "specializes in creating experiences around televised competitive events." Also: a new brunch menu.
• THE BALTIC ROOM on Capitol Hill: The Baltic Room will be opening 30 minutes before kickoff of every match, serving Caffe Vita coffee, Macrina pastries, and cocktails (starting, as legally permitted, at 6 a.m.).
• ALL NATIONS SOCCER BAR & RESTAURANT in North Seattle: Showing ALL games live (as befits a place co-owned by the director of the All Nations Cup soccer tournament), but you must make reservations for the 4 a.m. matches.
• FOX SPORTS GRILL downtown: Along with live coverage of all World Cup games, the Grill of Fox Sports will deploy a World Cup breakfast buffet.
• SUMMIT PUBLIC HOUSE on Capitol Hill: Opening at 11 a.m. Fri./Sat./Sun., the Summit will rebroadcast earlier matches and all others will be shown live. During rebroadcasts, DO NOT talk about who won if you already know. Seriously. The Summit's patrons are damn serious about their un-American football. Bonus: The pizza from the place next door is way, way better than it used to be (meaning it's actually good).
• KANGAROO & KIWI PUB in Green Lake: Opening at 6 a.m. to World Cup spectators, the Kangaroo & Kiwi will be serving egg-and-bacon pies to its early risers. With paraphernalia from its inspirational landmasses plastered all over the place ("Parking for Kiwis Only, All Others Will Be Towed"), this place will be insane for the Australia games.
• THE SPECTATOR in Queen Anne: Opening at 7 a.m. with live coverage of all except the super-early-morning matches and breakfast served from 7 to 11 a.m., this lower Queen Anne sports bar claims to be "a utopia for the common man." Ladies, seek your utopia elsewhere.
• THE ELITE on Capitol Hill: Showing most but not all of the games, the Elite's an airy, wholesome gay bar where everyone's welcome and discussion is bound to turn to jock straps and the contents thereof. Bonus: good strong drinks to go with the good one-liners.
• CAFÉ PRESSE on Capitol Hill: 7 a.m. and later games will be shown live, while 4:30 a.m. games will be rebroadcast at the more civilized hour of 9:15 a.m. (with more re-runs of matches in the afternoons). If you want a perfect omelet and a Lillet with your World Cup, this is the place. Some people are glued to the game; some have one eyeball on it while reading the newspaper with the other.
• ROANOKE PARK PLACE TAVERN on Capitol Hill: The Roanoke has not been booted out of its space yet—they'll be open at least until August, and they'll be showing most World Cup matches. Local soccer teams have gone here to drink after games since the beginning of time, and the 'Noke is a Seattle treasure: Go while you can. Also! Above-average pub food and ping-pong on the back deck for halftime.
• THE MARKET ARMS in Ballard: This brand-new English pub from the owners of the George & Dragon will be showing lots of the matches live.
• BALLARD LOFT in Ballard: Open for all 7 a.m. games but not the crack-of-dawn ones, with a $3 World Cup Happy Hour—bloody Marys, wells, and all draft beer—on game days from 7 to 11 a.m.
• EARL'S ON THE AVE in the U District: Opening for 7 a.m. games with breakfast and "kick ass drink specials."
• ANGELINA'S, BEVERIDGE PLACE, and THE CELTIC SWELL in West Seattle: All are open special hours for some, but not all, of the World Cup. More West Seattle W.C. listings are here, courtesy of West Seattle Blog.
• NEW! EMPIRE ESPRESSO in Columbia City: Showing all games live on a behemoth 47-inch screen, with great coffee and panini for the 4:30 a.m. matches and then great beer/wine (or, you know, coffee if you must) and panini for the later games. Also: In the back, there's a big garage door that opens onto a courtyard in case of cooperatively awesome weather.
PLUS! More bars showing every single game live: SHULTZY'S SAUSAGE in the University District; MURPHY'S PUB in Wallingford; JIMMY'S ON FIRST in Sodo; THE IRON BULL in Wallingford; THE ATTIC ALEHOUSE AND EATERY in Madison Park; BUCKLEY'S ON QUEEN ANNE on, well, Queen Anne; BUCKLEY'S IN BELLTOWN in, yes, Belltown; and STELLA CAFÉ AND THE DILLER ROOM downtown.
Assembled with an assist by editorial intern Leda Perticone.
Sponsored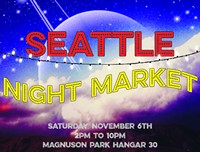 Shop, snack and booze your way through 75+ local shops & retailers. 21+ with vaxx or negative test