I wrote about Monk of Twisted Monk back in March ("The Kinktrepreneurs: Seattle's Other Urban Craft Uprising"). Monk makes a line of high-quality, high-end hemp bondage rope that's popular with kinksters locally and all over the world. You can check out his products here. Like a lot of local businesses, Monk does his best to be green. But Monk's rope isn't as green as he'd like to be.
Whatever Lifts Your Luggage...
"We use organic, fair trade hemp, mostly grown in Romania, although some is grown in Hungary," says Monk.
Every year Monk imports roughly $50,000 worth of hemp. The rope he imports is treated, finished, and dyed in downtown Seattle, before being shipped off to costumers TM customers all over the world (including, yes, TM customers back in Eastern Europe). Monk would rather get his hemp from a local supplier—he'd rather contract with a local farmer—but it's illegal to grow industrial hemp in the USA. (For the record: you can't get high smoking industrial hemp. But you can die trying.)
"We talked with a researcher here about what we would have to do to grow it locally and legally," says Monk, "but it would've cost something like $125,000 just to do a test. The DEA and ATF would've required a 24/7 security presence, an on-site surveillance system, a ten foot razor-wire topped fence around the whole thing."
Those requirements, of course, made growing industrial hemp—even just as a test—impossible.
"I would love to buy local," says Monk. "I can't."
Whatever Pays The Bills...
Would an order for $50,000 worth of hemp even be worth a local farmer's time?
"That's a huge order for a family farm," says Ellen Gray, president of the Washington Sustainable Food and Farming Network. "Say we can get a school to contract with a small farmer for $50,000 worth of carrots annually. That's the kind of order that can keep a family farm in operation. Most small farmers only net between $40,000 and $50,000 annually."
"If this business owner could say to a farmer, 'Hey, we need so much hemp every year and we are willing to agree to a price,' then the farmer can grow that product and know he's going to get a set price. Those are the sorts of orders that stabilize a farmer's cash flow. Having some predictability in the market is a real strength, a real asset to a farmer."
So being free to grow industrial hemp to supply Twisted Monk—who in turn would supply rope to bondage fans all over the world—could save a local family farm?
"Definitely," said Gray, "absolutely."
Sponsored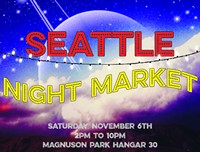 Shop, snack and booze your way through 75+ local shops & retailers. 21+ with vaxx or negative test