Three readings tonight.
At Elliott Bay Book Company, Donald P. Ryan, Ph.D will read. Ryan,who press materials refer to as an "eminent archaeologist," reads from Beneath the Sands of Egypt: Adventures of an Unconventional Archeologist.
Town Hall hosts Arthur Brooks, who will read from his new book The Battle: How the Fight Between Free Enterprise and Big Government Will Shape America's Future. I bet you twenty bucks that there will be teabaggers at this reading.
And Larry Doyle reads at University Book Store. Go Mutants is a novel about a mutant who doesn't fit in. Doyle wrote I Love You, Beth Cooper, which is better than the movie adaptation of the same name. I started Go Mutants, and it looks like an entertaining sci-fi romp of a book that imagines what would happen if every 50s sci-fi film ever written was real. This is the reading of the night.
The full readings calendar, including the next week or so, is here. And if you're planning on staying in and you're looking for personalized book recommendations, feel free to tell me the books you like and ask me what to read next over at Questionland.
Sponsored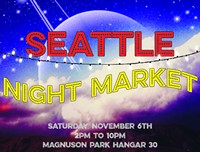 Shop, snack and booze your way through 75+ local shops & retailers. 21+ with vaxx or negative test